A group of students from Wigan and Leigh College have gone behind the scenes of BBC's Question Time to see what a career in television might be like.
Students from the college's level three media course and A-level professional honours programme took part in backstage preparations and pitched questions to David Dimbleby during a script rehearsal.
During sound checks, the show's long-time presenter took the time to ask them about their studies and their interest in politics.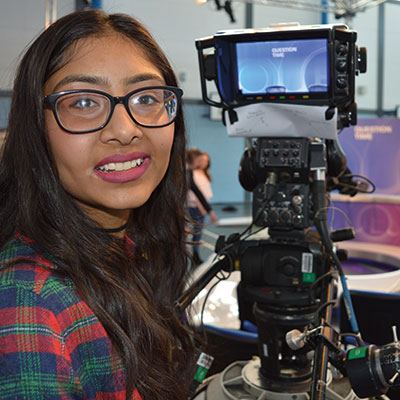 Students also had the chance to shadow camera operators, audio engineers and producers at the BBC during the rehearsal, to see how the programme was put together.
Maria Babu, a student on the A-level professional honours programme, said: "It was truly an incredible opportunity to be involved in such a high profile television show such as Question Time. The BBC team were so supportive and willing to answer lots of questions about the technology used on sets and about the show. I got an amazing insight into the world of politics and television."
The college's professional honours programme offers students the option of studying a combination of A-levels and professional qualifications, along with work experience and internships.
"This has been an incredible opportunity for our students wishing to pursue careers within this industry," said Anna Dawe, the college's principal.
"This experience has been invaluable in providing them with opportunities to inform their career aspirations as well as engaging them in current affairs."