Four-time Olympic sailing champion Sir Ben Ainslie will be using boats hand-built by City College Southampton apprentices when he takes on the 35th America's Cup challenge, writes Billy Camden.
If Sir Ben Ainslie is successful in winning his second America's Cup in 2017 then he'll have a group of 80 City College Southampton apprentices to thank.
For the group studying at the college's Marine Skills Centre has spent the last two years constructing and perfecting the pair of boats he will be racing with.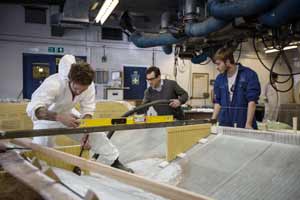 The level two and three apprentice boat builders and engineers were commissioned by Sir Ben's racing team, Land Rover BAR, to build two ribs (Rigid Inflatable Boats).
They used skills involved in building the mould, composite construction, fairing, painting, and fitting the boats out with tubes, electronics and engines.
Apprentice Drew Matthews, aged 19, said: "I especially enjoyed being able to see the crew and facilities behind the project and how much effort it takes to get the boat in the water and keep it running. I really enjoyed testing the docking rib.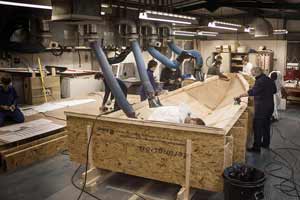 "I got to experience a side of boatbuilding that I do not normally see."
And to top off the experience, six of the apprentices headed to Land Rover BAR's home in Portsmouth to meet the man himself and see their finished product on the water.
Jay Patel, 19, said: "It was my first time working with composites and I really enjoyed it. It is different to my normal way of working. It was great to meet Sir Ben and listen to the advice he gave us."
Jordan Amery, 17, said: "It was great to see behind the scenes at BAR and to get an insight into America`s cup racing.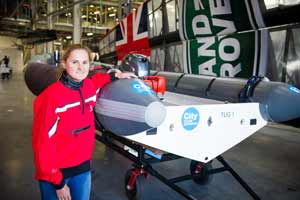 "The skills we've learned will definitely help in my future career. Working on the ribs you can see how the skills can be developed into the level at which America's cup boats are built."
The college's marine lecturer, Darren Patten rotated the apprentices so the highest possible number of students had the opportunity to work on the project.
He said: "This has been an incredible opportunity for our apprentices.
"The project has taught them everything from the building of the mould, through the composite construction.
"More importantly, it's given them vital experience in being commissioned for a real project and who better to say you've built a boat for than Sir Ben?"
Main pic: City College Southampton apprentices visit Land Rover Bar's HQ to meet Sir Ben Ainslie. From left: Alex Bolton, aged 17, Jordan Amery, 17, Jack Foster, 18, Sir Ben Ainslie, Drew Matthews, 19, Jay Patel, 19, and Danielle Thomas, 18