A team of student chefs staged a kitchen takeover at a local hotel and went head to head in a culinary battle. Samantha King reports
Six student chefs from Sunderland College took over the kitchen of the Washington Holiday Inn for a day, to creat their own three-course menus.
Splitting into teams of two, the culinary trainees went head to head under the watchful eye of the hotel's head chef Mariusz Urbanczyk, and battled it out to see who would be crowned takeover champions.
The winning team, who created the dish that was most popular with guests, was made up of Eleanor Wilson, Morgan Brickle and Connor Mills.
The students made quite an impression on the hotel's general manager Paul Mandeir, who said he was "delighted" with the way the day went.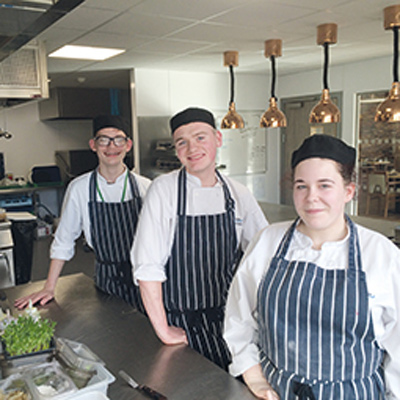 He added: "It is clear from the delivery of service that the students will excel in the hospitality trade. All of the guests who attended enjoyed the food and left delighted with the event."
The event wasn't just to determine who the best chefs were however, with £160 raised on the day going to the Holiday Inn's chosen charities, Grace House and Greenfingers.
Rob Stewart, Sunderland College's curriculum leader for hospitality, tourism and engagement, said: "We were really pleased to help support local charities and give the learners an opportunity to see inside a different type of kitchen to any they'd seen or worked in before.
"They all put in a lot of effort to prepare for the event and so hearing such positive feedback from the diners made it all worthwhile."
Last September, the college's catering students were moved into brand new facilities, which included a bakery, a training kitchen, two learning kitchens, plus a new commercial restaurant, City Bistro.
"With the facilities our students are used to cooking in day in day out, they are gaining the knowledge and skills they need to become top chefs," added Mr Stewart.
"We encourage them to do as many work placements as they can in restaurants while they are studying with us and along with the experience they gain in City Bistro – which is fast becoming one of the most popular restaurants in the city – they are getting a great head start in the industry."
The takeover was arranged with the help of Reed NCFE, which joined forces with Sunderland College in 2014 to create a job zone offering work experience opportunities and careers guidance.
Katrina Blyth, employment broker for Reed NCFE, said: "The students have had the chance to create their own menus, cost their menu, prepare and, ultimately, take over the professional kitchen at the Holiday Inn, cooking for a restaurant of people.
"This has proved to be a real eye-opener for the students in terms of the hard work that goes in to running a real-life, working kitchen and they have all done a wonderful job."