Nick Boles MP has resigned from his role as skills minister.
In a post on his Facebook page, posted at 3.40pm today, Mr Boles said that it was the "right time for me to return to the back benches".
His resignation, which he confirmed on Twitter, comes almost exactly two years to the day that he was first appointed to the role.
His Facebook statement said: "As David Cameron prepares to visit HM the Queen and tender his resignation I want to add my voice to those praising his remarkable service as Prime Minister and leader of the Conservative Party.
"It was a huge privilege to be part of his government.
"I want to thank him for offering me the opportunity to serve my country.
"I believe that this is the right time for me to return to the backbenches.
"I have greatly enjoyed my time as minister for skills and minister for planning."
Mr Boles said two skills-related achievements were among the things he was most proud of from his time in office.
One, he explained, was the "introduction of the apprenticeship levy which will encourage more employers to offer apprenticeships and increase spending on apprenticeship training by £1 billion a year by 2020".
The other, he added, was the "development of the government's Skills Plan which heralds a transformation in the status and quality of technical education in England".
In the past six months Mr Boles has repeatedly refused interviews with FE Week (see table below). In fact, his lack of engagement with the media over FE and skills reforms, particularly apprenticeships, proved to be very frustrating for us and our readers.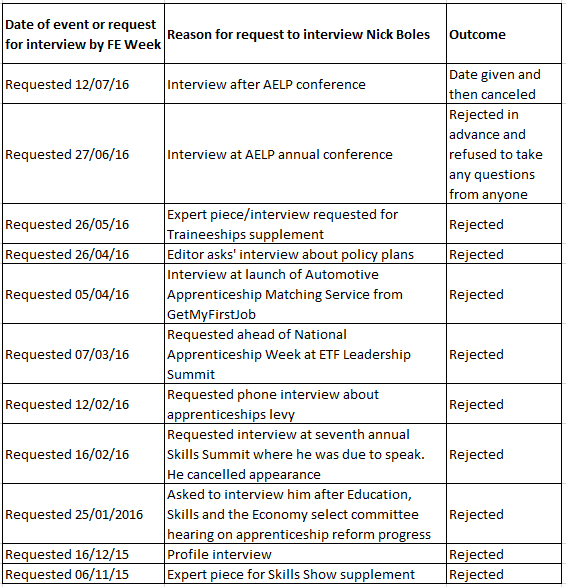 Despite the lack of engagement in recent months, Mr Boles has featured regularly in FE Week during his time as skills minister, often in cartoons. Here's a selection of our favourites: