A new logo is being launched by Ofsted for providers rated 'good' – seven months after FE Week exclusively reported how the inspectorate threatened legal action over "unauthorised" use of its logo promoting grade two ratings.
The apparent U-turn follows shocked and angry sector reaction to our original story last September.
We revealed that Ofsted had sprung a surprise by threatening legal action for unauthorised usage of its logo to advertise 'good' ratings – even though it had been common practice among colleges and training providers – with FE Week learning from sources a week later that the inspectorate could revisit the unpopular policy.
Now a spokesperson for the inspectorate has said today: "Ofsted is launching a new logo [see above] specifically for use by education and children's social care providers that have been rated good.
"All providers judged by Ofsted to be good can now download and display an official 'Good provider' logo.
It added: "We have also redesigned our 'Outstanding provider' logo for use across all the areas we inspect.
"We created these new designs following feedback from some of the organisations we inspect, and after conducting a review of our existing policy and guidance on the use of Ofsted's logo."
Ofsted has also updated the system through which good and outstanding providers can obtain their copy of the logo.
"Providers can now use their unique reference number to download the relevant logo in a variety of formats for use on their own websites, stationery and other materials," the spokesperson said.
"Organisations without a unique reference number should contact us for further advice."
When asked by FE Week to respond to the claim that this amounted to a U-turn, apparently driven in-part at least by our reporting, the spokesperson said: "We decided the time was right for a review of our logo policy, taking into account all the feedback we have received from providers, which in some cases was brought to our attention by the press."
Ofsted also conceded today that it was conscious that parents and learners rely on Ofsted as a "mark of quality".
"Therefore, only providers currently holding a good or outstanding grade for overall effectiveness can apply the relevant logo to their branding materials.
"And we do not allow the use of our main Ofsted logo by any third parties, other than in specific circumstances we have agreed to. Guidance on how the logos can be used should be checked first."
The move was welcomed by Mark Dawe, chief executive of the Association of Employment and Learning Providers.
He said: "We are grateful to FE Week for highlighting the issue after some AELP members drew it to our attention and it's great that Ofsted have come up an excellent solution in response.
"In all our lobbying surrounding the apprenticeship reforms and the roles of the various regulatory bodies involved in safeguarding the quality of the programme, we have made it very clear that an Ofsted grade sets a benchmark that is universally recognised by employers and learners.
"Therefore it's right that good providers should be able to market themselves with this new logo. This is a very positive step."
FE Week's story last September reported how in one letter received by an unnamed training provider, which had deployed a version of the logo on its website, the education watchdog said it would bring legal action to bear if the logo was not removed from its materials within 14 days.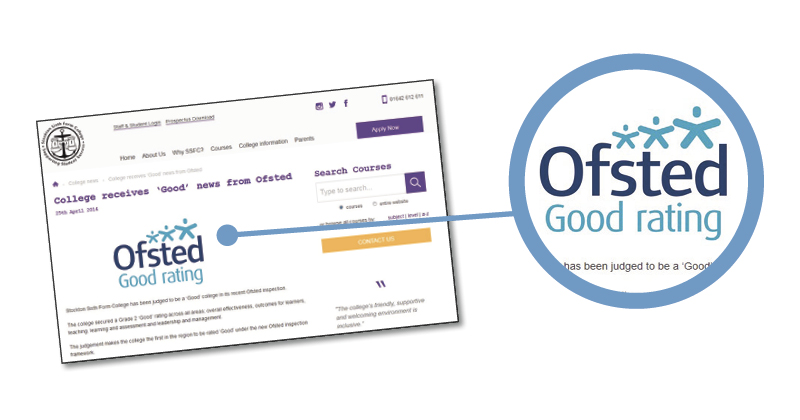 The letter said: "It has been brought to our attention that you are displaying a logo identical with or similar to the Ofsted logo which is protected and also registered by Ofsted.
"This logo appears at the foot of every page of your website without our express permission.
"The Ofsted logo is covered by Crown Copyright. 
"You should be aware that the unauthorised use of our logo may give rise to a civil action against you. To avoid this, please remove the Ofsted logo from your website."
Institutions awarded an 'outstanding' overall grade had long since been allowed to use a specially designed "outstanding provider logo" on their branding.
And even though obscure policy guidance which has been in place since the year 2000 clearly states that "we do not issue a good logo", many providers graded "good" over the years had been using modified versions of the logo in their materials.
Following a bemused reaction from FE Week readers to such warnings, we then revealed a week later that Ofsted could be heading for a U-turn over its decision.
A spokesperson for Ofsted denied to FE Week at the time that there had been a "formal" review, and said the policy was "very much as it was last week", but added: "We do look at policies across the board on a regular basis."