The overall achievement rate for apprenticeships fell last year by 2.2 percentage points to 64.7 per cent.
National achievement rate tables (NARTs) published this morning by the Department for Education reveal the fall comes after three stable years when just over two thirds of apprentices passed the course (see table above and click here for the documents).
The old style apprenticeships being phased out by the end of July 2020 represent 82 per cent of all leavers and saw an achievement rate of 68.7 per cent.
Whereas the new 'standards' being phased in to replace frameworks had an achievement rate of just 46.6 per cent, representing 54,590 (18 per cent) of all leavers (see table below).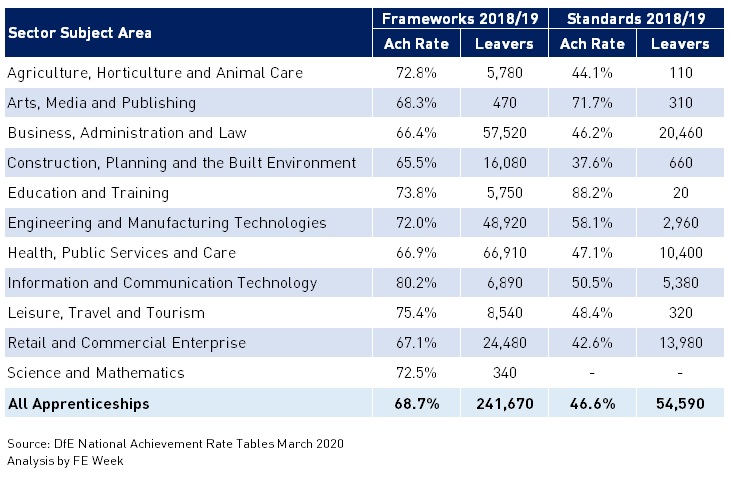 The government's Minimum Level policy, for the purposes of making an intervention, has been set at an achievement rate of 62 per cent for several years.
It is understood a significant reason for the achievement rate fall has been delays to apprentices completing end-point-assessments (EPA) for the new style courses known as 'standards'.
If an apprenticeship provider plans to complete the EPA by 31 July 2018, but the apprentice takes longer than planned, they are not included in the 2018/19 achievement rate figures.
In December the Education and Skills Funding Agency said: "Delays were for various reasons as the standards programme develops from its infancy, such as providers understanding how long new standards take to deliver, assessor capacity issues for some end-point assessment organisations, some providers not planning enough time for end-point assessments, and some apprentices taking longer than planned."
To take account of these delays, the ESFA has also published a "new transparency table" for 2018/19,  to include withdrawals and achievements in the three months after year-end.
The DfE said: "We estimate that including these learners would increase the national overall apprenticeship achievement rate by 0.4 percentage points, and that for standards by 3.9 percentage points."