The Augar report could be "dead" after university vice-chancellors whinged they couldn't "possibly survive" on slashed tuition fees "because we'll all have to reduce our salaries or spend on wine and beer".
That is according to the chief executive of the Association of Colleges, David Hughes, who told a Conservative Party Conference fringe event yesterday that he is "not very optimistic" the post-18 education review "will be taken as seriously as it might".
He cited a number of reasons for this, including the fact that the review, the recommendations from which were originally meant to then turn into policy, was "the last prime minister's report, not the present".
"The politics of life are that the present prime minister will take it less seriously because of that," he said.
"It was also a report that had a lot of infighting between Treasury and Number 10, between Philip Hammond and Theresa May."
Hughes then turned to university bosses: "You add to that then that the possible the nail in the coffin of the report as a whole, the vice-chancellors immediately just went for it and said we can't possibly survive on £7,500 fees because 'we'll all have to reduce our salaries or reduce our spend on wine and beer'.
"They got to Johnson, not Boris but Jo, when he was fleetingly, for about five weeks as higher education minister again, and basically just sunk the whole report by saying we can't implement the £7,500 fees as 'it's just not going to work'."
He added: "Interestingly, if you go to Scotland the average fee is about £6,500 and the universities there seem to do ok, so I don't know how that works.
"It is real shame actually, because there was a lot of really good analysis in the report and I would recommend you read, certainly the chapter on skills and FE."
Excessive university vice-chancellor pay has made headlines in recent years with many calls for the government to restrain salary levels.
The higher education regulator, the Office for Students, published its first ever survey on senior staff pay in February, which revealed how six universities in England paid their vice-chancellors £500,000 or more in salary, bonuses and benefits last year, while nearly half of all vice-chancellors received more than £300,000.
In June, The Press and Journal revealed how the Scottish government had launched an investigation into a £282,000 payment to the former principal of Aberdeen University, Ian Diamond, who is the now the chair of the Association of Colleges' College of the Future commission.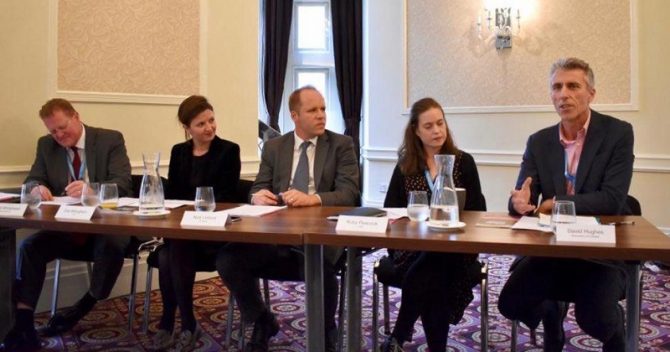 Yesterday's fringe event at the Conservative Party Conference, hosted by the Centre for Progressive Policy, was entitled Implementing Augar – building an adult education system fit for the future of work.
Hughes said it was worth reflecting on the "genesis" of the report, which was launched with an "amazing speech" by then prime minister Theresa May at Derby College – a venue choice which the AoC boss said was a "real tide turn" for FE.
"I was in the audience, sitting just behind the vice-chancellor of Derby University who I know quite well, and I heard him muttering away at how terrible this was that it was in a college and not in his university, which is about two miles away," Hughes told the audience.
"It was the start, I think, of a kind of a real tide turn when universities started to realise they weren't the chosen children of the education system anymore and that colleges have started to rise up."
He added: "It could be that it [the Augar report] is dead but the issues it was trying to address and the reason that Theresa May launched the review in the first place are so important that it won't go away."