The Education and Training Foundation has been asked to draw up a "programme of reform" for functional skills qualifications, Skills Minister Nick Boles has announced.
In a letter to providers, Mr Boles said he was tasking the Foundation with coming up with ideas to make the qualifications a "well-respected and credible" alternative to GCSEs.
It comes after an ETF review of the qualifications led by former Jersey principal Professor Ed Sallis earlier this year found they were "not broken, but could be improved".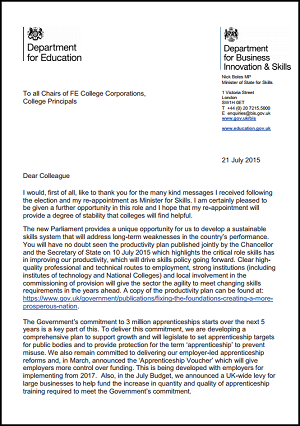 In his letter, Mr Boles said: "In my previous letter, I mentioned that I had commissioned the Education and Training Foundation to carry out a review of the best way to achieve and accredit maths and English in post-16 education outside of GCSEs.
"The Foundation's recommendations, published in March 2015, provide valuable new evidence for improving the quality and recognition of functional skills qualifications to ensure they meet the needs of employers and learners.
"I believe that Functional Skills should continue to be the main alternative English and Maths qualifications to GCSEs. However, to be well-respected and credible, it is critical they suit employers' needs and are properly taught and assessed.
"I have, therefore, asked the Foundation to set out what a programme of reform to update English and maths functional skills qualifications would involve, working closely with BIS, DfE and Ofqual."
The further review of the qualifications has been welcomed by sector leaders.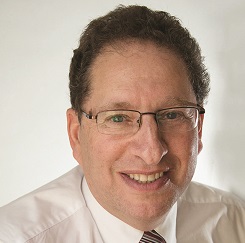 Association of Employment and Learning Providers chief executive Stewart Segal said: "We are pleased that the minister has confirmed his support for functional skills.  We believe that employers and learners value Functional Skills as a real alternative to GCSEs.
"We are pleased that the minister has asked the ETF to do this review as this will ensure that the sector will be involved in the discussions to improve the delivery of the both English and maths.
"We need to ensure all learners have an alternative route to improving their basic skills and functional skills is a different but just as rigorous as GCSEs. We look forward to working with ETF and providers on this review."
Charlotte Bosworth, director of skills and employment at OCR, said: "Core skills in English and maths are clearly critical to learners of any age engaging in learning and employment. We agree with Nick Boles that there needs to remain an alternative to GCSE.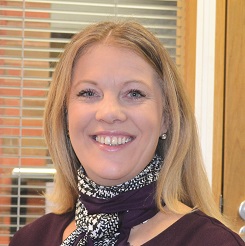 "Part of the difficulty experienced by functional skills is the lack of name recognition that the GCSE has. Partly this is due to the relative youth of Functional Skills as a qualification when compared to the more long standing GCSE, but this is partly due to too little being done to promote the existence of Functional Skills to employers.
"We advocate an alternative GCSE that is more suited to the post-16 education environment that shares the GCSE name but retains those elements of flexibility that are critical to enabling post-16 learners to succeed, for example, a more modular approach and with more frequent opportunities for assessment.
"However, we caution against jumping again to immediate qualification reform, with so much currently being reformed in the education and training sectors, it might be better to focus on engagement, at least initially, rather that launching another round of reforms."
ETF chief executive David Russell said: "Since our inception we have been delivering significant programmes of work to help providers build capacity in their teaching workforce to meet the demand for maths and English.  Our review 'Making maths and English Work for all' clearly demonstrated the demand for qualifications which provide practical maths and English skills.
"We are delighted to have been asked by the Minister to set out what a programme of reform to update English and maths functional skills qualifications would involve.  We will use our unique sector-owned position in the skills system to consult with education and training professionals and their representatives, employers and other key stakeholders such as awarding organisations, alongside BIS, DfE and Ofqual."