Blackburn College has become the first FE institution in the country to offer a forest school enrichment programme endorsed by the Council for Awards in Care, Health and Education, reports Samantha King.
Introduced three years ago, the college's forest school programme gets level three childhood studies students to take schoolchildren on weekly trips to woodlands and forests, and run enrichment activities like building mud pies, bushcraft and making hot chocolate.
The programme has now been endorsed by CACHE, an awarding body for the care and education sector which is part of the NCFE, after childhood studies lecturer Sue Croasdale submitted evidence of the programme's positive impact on her students' learning and wellbeing.
"We have a lot of students that come to us with mental health issues such as anxiety, and the difference in their mental health and wellbeing has been fantastic," she said.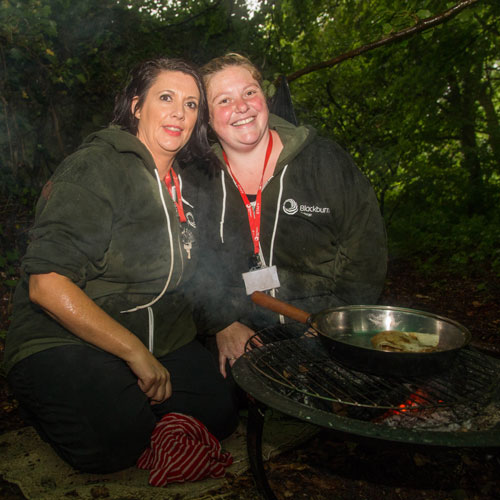 "We do about three hours in total in a forest school session to give the pupils time to run around and let off steam, and then we have quiet time and a story. We cover all aspects of pupils' development. It's very holistic and very sensory."
The idea of forest schools originated in Denmark in the 1950s, and is studied by the college students as part of a module on international perspectives on education. The programme offers them first-hand experience of implementing the approach in a real-life setting, with real pupils.
"We've assigned two children to each student, and they then carry out observations on them. We use a psychological wellbeing scale and the students tick boxes to identify if the children are participating, how they're communicating and what their social skills are like. It gives us a measure of whether forest school is making a difference to those children's lives," Ms Croasdale explained.
"I do have students that don't like getting muddy or wet, but even they can see the value it has for the children."
The programme will count towards the students' work experience quota – which is a total of 750 hours – as well as getting them out of the classroom and learning key skills in a different, more natural environment.
There are plans to roll out the forest school approach with the college's health and social care students, who will take care home residents and dementia sufferers into the outdoors to take part in gardening and even open-fire cooking.