A government report has hailed the "substantial impact" of FE in getting unemployed people back into work — and called for greater investment into provision for people looking for a job.
The report published by the Department for Business, Innovation and Skills (BIS), was based on the experiences of unemployed people and used individualised learner record data on, for example, enrolments on government initiatives such as such the Work Programme as well as "self-refer" learners out of work.
A government spokesperson said: "Analysis of over 2 million unemployed found that FE can make a substantial impact on the chances of unemployed people finding work."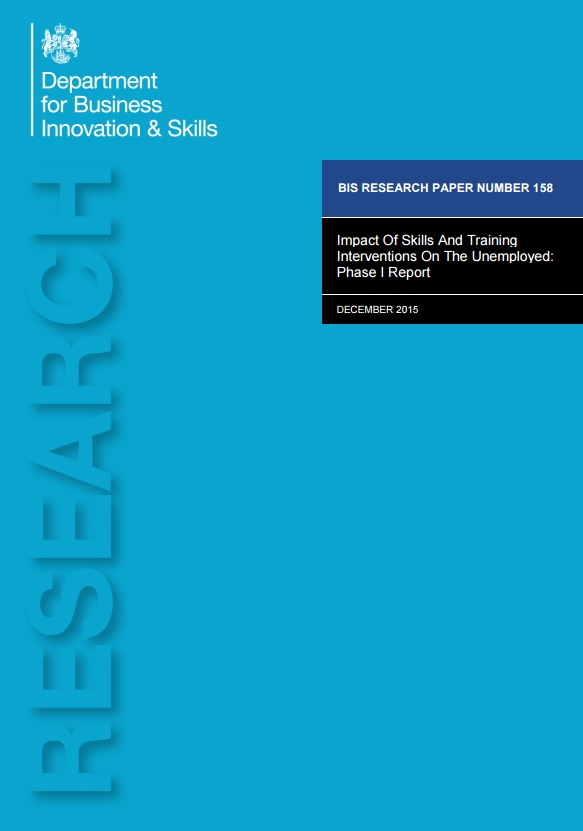 "This study show that FE learning provides good labour market returns for unemployed individuals," the report says.
"Those who engage in FE experience a greater improvement in the likelihood of being in employment than those who don't engage in FE.
"The evidence presented here implies that an expansion of FE learning for the unemployed (including at level two and below) would be beneficial, which should be taken into consideration in any decisions about changes in funding for this provision."
The 71-page report follows last month's spending review which appeared positive for FE with news of protection of the "core adult skills participation budgets in cash terms, at £1.5bn" but left lingering questions with no definition as to where "£360m of efficiencies and savings from the adult skills budget by 2019-20" would come from.
A spokesperson for the Association of Employment and Learning Providers (AELP) told FE Week: "These findings come as no surprise because our members have long delivered effective skills provision for the unemployed.
"It's a major reason why we argued against significant cuts to the adult skills budget which funds this provision and why we have pushed for contract growth in this area."

A spokesperson for the Association of Colleges said: "Colleges have always been successful in helping unemployed people gain the skills and qualifications to find a job. It is therefore pleasing that this is confirmed by the BIS research."
The report analyses the experiences of new benefit job-seeking benefit claimants between April 2005 and April 2009, and between August 2010 and July 2012, with around 2.3 million people in each group.
Among its findings were that "individuals facing the highest barriers to employment are more likely to be observed in FE learning" and that "this group also see the biggest difference in outcomes relative to those who don't engage in FE".
Of those aged 18 to 24 who had "no prior employment experience according to HMRC records", those who had some form of FE learning were between 4 and 7 per cent more likely to have found work one, two and three years after starting their benefit claim than those with no FE learning.
The report further highlighted the value of learning at level two and below for unemployed learners, which it says had previously been underestimated.
"The central role of FE in helping the most disadvantaged is also central to the methodological problems that led to previous underestimates of the value of learning at level two and below," it said.
A BIS spokesperson said it was not commenting on the report.
---
Editor's comment
Seeing substantial sense
First came the 'better-than-expected' settlement in Chancellor George Osborne's Budget last month and now this — a BIS report that is clearly, and rightly, complimentary of the FE sector.
They are two seemingly concrete indications that someone in the corridors of power is finally seeing sense.
However, the extent to which Mr Osborne's Spending Review announcements were as positive as they seemed (ok so, positive in that they were bad, but not as bad as expected) will only emerge with the unpacking of the finer details.
And the extent to which BIS officials, or indeed Mr Osborne himself, will take heed of this report with its praise for the "substantial impact" FE has on unemployed people's job hopes also remains to be seen.
Of course there's always the get-out clause in the report, when budgets are being decided upon, that "the views expressed" within are those of the authors and not necessarily of BIS.
But there can surely not be many more clear-cut arguments for the good that FE can do and more clear-cut reasons for the government to finally give the sector the backing it deserves.
Because, as the report points out, it's support that ultimately would help the government achieve its own aims of reducing levels of unemployment.
Chris Henwood
chris.henwood@feweek.co.uk