A biohazard cleaning lecturer has been awarded a medal for excellence from the qualification board City and Guilds.
Stuart Wilson, a tutor at Accrington and Rossendale College, received the award for his innovative teaching methods, which include creating realistic crime scenes using Nutella, tomato sauce and even tinned vegetable soup.
He was recommended for the award following positive feedback left by former students, many of whom have gone on to work for private specialised cleaning companies or set up their own businesses.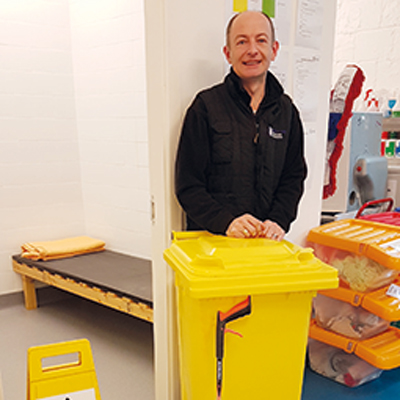 Stuart has been teaching at the college for 18 years, running courses on biohazards, crime scene and trauma cleaning, having previously worked for local authorities and the police service in north-west England.
The award is only given to outstanding trainers and tutors, and Mr Wilson said: "It's an honour to be recognised in this way for something I do every day as my job.
"I really enjoy making my lessons as interactive and engaging as possible and the fact that this important career path is being highlighted can only be a good thing. It's a dirty job, but somebody's got to do it."
Main photo: Spick and span: Stuart Wilson in his lab