The government is "strengthening" the approvals process for its register of end-point assessment organisations following an FE Week exposé that raised concerns.
In an exclusive interview with this newspaper, the chief executive of the Institute for Apprenticeships and Technical Education revealed his organisation is working with the Education and Skills Funding Agency to make the register's conditions more vigorous to "ensure we don't get any rogues slipping through the system".
Sir Gerry Berragan would not be drawn on what specific changes would be made, but did say that if the institute finds any assessment organisation that is not "fit for purpose", he will recommend back to the ESFA that they should be removed from the register.
We are definitely going to improve our assessment arrangements
The ESFA is responsible for the register, although several sector leaders have questioned why the job wasn't given to the exams regulator, Ofqual.
Last week, an investigation by this newspaper found a sole trader and a new company with no trading history were among 14 other end-point assessment organisations (EPAO) who successfully applied to the register in February.
With the total number of companies now on the register totalling 215, sector leaders urged the Education and Skills Funding Agency to "purge" the register, fearing that a dash for growth is being made at the expense of quality.
Last month FE Week reported concerns that there are currently 17 apprenticeship standards ready for delivery with no end-point assessment organisation in place, nine of which have starts totalling more than 1,500 – 1,417 of which are for the nursing associate standard.
Sector leaders also fear the EPAO register will be a repeat of what happened with the register of apprenticeship training providers (RoATP), which took on many firms that had little to no trading history.
The backlash against RoATP when it was first launched led to the government closing the register for nearly a year while it came up with a new and more robust approvals process.
The ESFA relaunched the register in December, and now, applicants must have traded for at least 12 months in order to be eligible and must provide a full set of accounts. No such rules are currently in place for the EPAO register.
As well as developing a more robust EPAO register, Sir Gerry told FE Week that the institute is going to publish a "more detailed" framework in the spring for what external quality assurance (EQA) of end-point assessments should cover.
"That will also help to quality assure the EPAOs and make sure they are fit for purpose and delivering what is required of them," he said.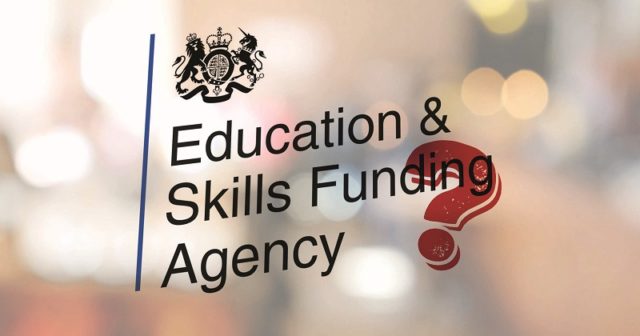 It comes after the National Audit Office criticised assessment arrangements in its apprenticeship progress report this week, which said the institute needs to "improve" to ensure they are "conducted in a fair, consistent and robust manner".
Responding to the criticism, Sir Gerry said: "Yes, we are definitely going to improve our assessment arrangements as we know more and develop, and as the demand for them increases."
An ESFA spokesperson said the application process for the register of end-point assessment organisations "is robust and we have sought to continuously develop the process to ensure it remains relevant and the bar for entry remains high".
She said management of the register is an "ongoing process", but would not reveal what is being strengthened or when the sector can expect the changes to come into force.
Asked if he thought the ESFA was the right organisation to run the EPAO register, Sir Gerry said: "The register enables people to be paid and that is what the ESFA does, it pays people. I think it is quite right that the organisation that pays them should be the organisation that verifies if they are fit for purpose."