College bailouts have cost the UK a whopping £140 million, the apprenticeships minister has admitted.
Robert Halfon confessed to the House of Commons that by March the government expects to have dropped "a total of about £140 million on propping up colleges facing extreme financial difficulties".
That money, he added during a debate on the Technical and Further Education Bill on Monday (January 9), "should have been spent on education and training priorities".
Exceptional financial support for colleges in financial difficulty was launched by the former Department for Business, Innovation and Skills and the Department for Education in 2015.
Then in February 2016, FE Week reported that the Association of Employment and Learning Providers was claiming in a webinar to members that the cost of supporting colleges could be around £100 million.
FE Week asked the SFA about the £100m after hearing this. While an agency spokesperson would not confirm the amount directly, he did not deny that the government had told sector stakeholders, including AELP, about the bailout figure before Christmas.
Mr Halfon is thought to be the first government figure to confirm the level of cash pay outs, through a comment in Monday's debate.
Mark Dawe, chief executive of AELP, said the minister was "right" to say that the £140 million of support funding should have gone straight to the frontline.
However, he added: "This is precisely why, despite the area reviews supposedly being the end of ongoing support of this type, we are concerned that the bill appears to be giving the government a blank cheque to continue when other options could be explored which might produce better value for the taxpayer and the learner."
Mr Halfon also challenged colleges on their financial proficiency during the session – suggesting a lack of know-how was behind ongoing money problems rather than funding cuts.
He said: "There should be as much financial expertise as possible in FE colleges.
"When there is real financial leadership, those colleges will always be in good financial health whatever the funding pressures."
Julian Gravatt, assistant chief executive of the Association of Colleges, challenged this, saying: "Obviously there are a few cases where colleges have mismanaged their finances but these sorts of difficulties are unavoidable where we have an unpredictable funding sy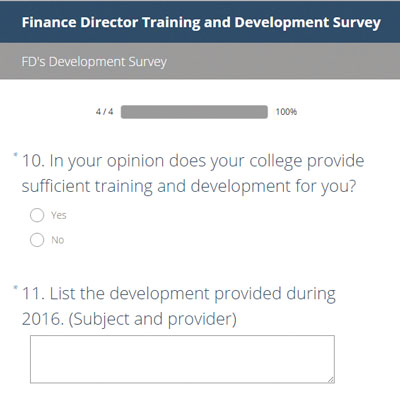 stem.
"The support is only necessary because of the funding cuts, for example the 35 per cent adult skills cut."
He also pointed out that the minister's £140 million figure included advances paid to colleges, without considering that some will be repaid.
The need for improved financial leadership in the FE sector is not a new idea. The Education and Training Foundation recently launched a Finance Director Training and Development Survey to gather information that will influence its work (pictured right).
It also appointed former City and Islington College principal Sir Frank McLoughlin in August, who as its associate director for leadership is designing courses for current and future principals.
Despite a number of challenges from shadow skills minister Gordon Marsden, the Technical and Further Education Bill passed through the House of Commons and now awaits its second reading in the House of Lords.
First published in October 2016, the bill sets out proposals for a new insolvency regime for FE colleges and also includes a proposal to extend the role of new vocational training policing body, the Institute for Apprenticeships, to cover technical education.
FE Week reporting  was mentioned repeatedly during the four-hour debate on the bill.
Mr Marsden referred to our stories on careers, awarding organisations, the Institute for Apprenticeships, Mr Halfon's "regular" columns for the paper, and our successful #SaveOurApprenticeships campaign.