An art student unveiled a pair of giant knitting needles as her submission to Wiltshire College's end-of-year exhibition and used them to attempt Guinness world record, reports Samantha King
Betsy Bond, a level three art and design student brought out two giant knitting needles – 4.4m long and 9cm wide – at her college's creative exhibition, which showcased work from courses such as creative media production, games development and music.
The 30-year-old student made the needles herself from drainage pipe filled with expanding foam, and transported them from her home to the college's Chippenham campus on a trailer.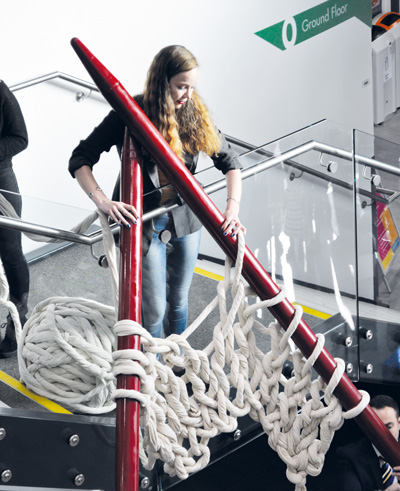 The point of the needle and stopper were then made at the college, using a 3D printer.
With the needles, she hopes to break the world record for the world's largest working knitting needles, which currently stands at 3.98m long with a diameter of 8.25cm, and was set by Jim Bolin from the US in May 2013.
"I decided to go for the record as when I found out what it was, I believed I could beat it. I wanted to achieve rather than just aspire," she said.
"Bringing all the components together, finding materials, methods and getting aesthetics right, took a lot of talking to the right people, research and imagination."
As part of the record attempt, Betsy did a demonstration of large-scale knitting to the crowd, producing 85 stitches with 16kg of Stockinette – a stretchy fabric often used for bandages.
The mayor of Chippenham, councillor Mary Norton, was on hand to act as a witness to the record attempt.
She said: "I was thrilled to be invited but really couldn't picture in my head what giant knitting would be or look like. 
I was even more shocked when I saw just how big the needles were, and have nothing but admiration for Betsy and all her hard work. She is an exceptionally talented young lady."
It was in 2010 that Betsy first came across giant knitting, having been initially taught regular knitting by her mum Gillian when she was a child. 
"I found out about giant knitting and how projects grew very quickly, which appealed to my impatient nature," she said.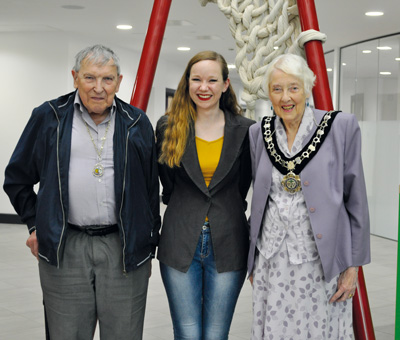 "I started to knit in public places and it always struck up lots of conversation with strangers – some just curious and others wanting to have a go – which I love. Knitting has connected humans for centuries through practical applications and recreation. 
"Through creating what I hope are the world's largest knitting needles I can communicate more, create conversation, share and pass on traditional skills."
Until she decided to break the record, the largest knitting needles Betsy had used were 60cm long with a 4cm diameter.
Betsy – who returned to college to pursue art having previously worked in hospitality – has now submitted evidence of her attempt to the Guinness Book of Records, and is awaiting the official verdict.