The proportion of apprentices that last year passed the new style 'standard' has been revealed as just 46.6 per cent, something the Institute for Apprenticeships and Technical Education said was to be "expected".
Figures (see below), published this morning by the Department for Education, show that many of the most popular standards had achievement rates below 50 per cent, with some like the adult care worker at level 2 below 40 per cent.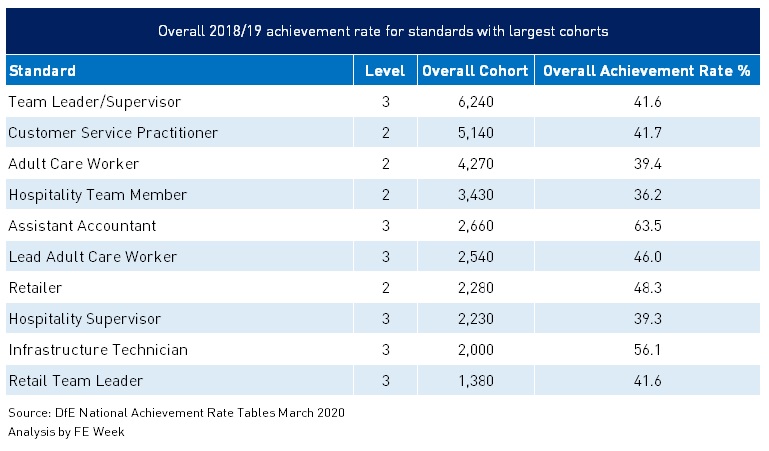 These new 'standards' are being phased in to replace frameworks representing 54,590 (18 per cent) of all leavers.
Whereas the old style apprenticeships being phased out by the end of July 2020 represent 82 per cent of all leavers and saw an achievement rate of 68.7 per cent (see table below).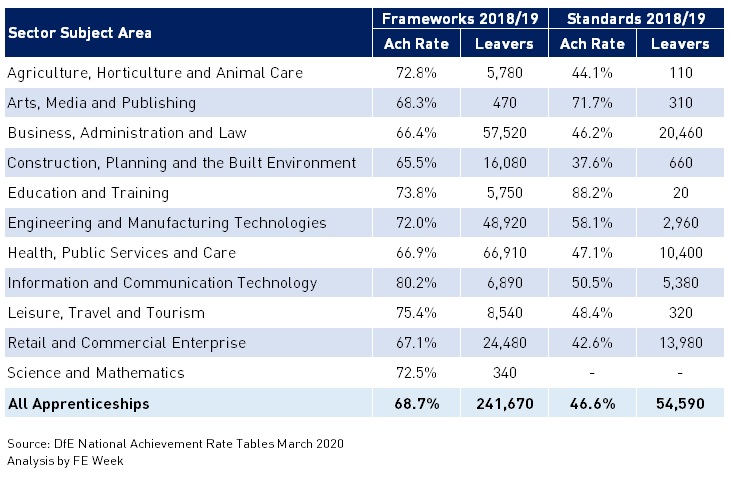 A spokesperson for the Institute for Apprenticeships and Technical Education, said: "As with any reform to qualifications, you would expect to see a fall in achievement rates on the introduction of new curriculum and assessment regimes.
"Moving from continuous assessment under old frameworks to end point assessment (EPA) under standards is what employers wanted to assure themselves of the occupational competence of apprentices.
"It has also been an important part of the reform programme's drive to improve on quality.
"Providers are having to become familiar with training to the new expectations and that apprentices can expect higher quality, more demanding training and assessment.
"Unlike GCSEs and A levels, where grade boundaries can be manipulated, apprenticeships are about skills and apprentices will be expected to demonstrate the knowledge, skills and behaviours required for the occupation in their final assessment in order to pass."
It is also understood a significant reason for the low achievement rate for standards has been delays to apprentices completing end-point-assessments (EPA).
If an apprenticeship provider plans to complete the EPA by 31 July 2018, but the apprentice takes longer than planned, they are not included in the 2018/19 achievement rate figures.
To take account of these delays, the ESFA has also published a "new transparency table" for 2018/19,  to include withdrawals and achievements in the three months after year-end.
The DfE said: "We estimate that including these learners would increase the national overall apprenticeship achievement rate by 0.4 percentage points, and that for standards by 3.9 percentage points."