Last September Ofsted began inspecting apprenticeship providers using their new framework. 
Out went the Common Inspection Framework (CIF), in which inspector judgements relied heavily on achievement rates. In came the Education Inspection Framework (EIF), in which judgements focus far more on the appropriateness of the curriculum. 
Six months into the EIF, FE Week took a look at the full inspections, comparing the apprenticeship grade profile to those published in the last year of the CIF. 
The results (see right) show the proportion of providers being hit with a grade three of four after a full inspection has risen six percentage points to 52 percent. 
But perhaps most surprisingly, whilst there appeared to be little grade profile difference between new and existing providers under the old CIF, the same cannot be said so far under the EIF, with 60 percent of existing providers receiving a grade three of four. 
So what does Paul Joyce, Ofsted's deputy director for further education and skills, make of our findings?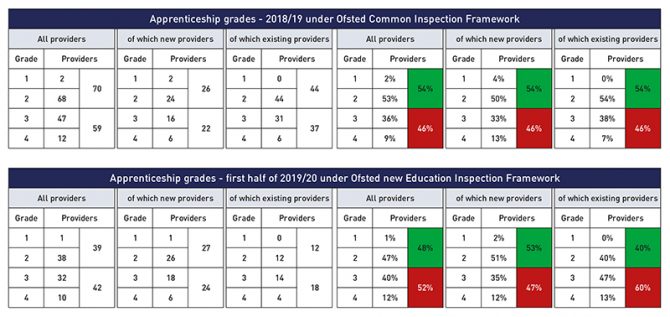 "We will continue to monitor this very closely, but it is obviously disappointing. Any provider that we find to be less than good is disappointing," he says.
Should we be worried that apprenticeship quality is declining?
"If we are in the same position after a year or after two years where we see a much higher proportion of apprenticeship providers, if we are still around the 56 percentage point mark, I'll be worried about apprenticeship provision," Joyce states.
Do the figures suggest the new EIF is tougher than the CIF?
"The new framework is different, and inspectors focus on different things in this framework compared to the last, so we know that data carries less weight under this framework and inspectors don't spend as long looking at internal data for example.
"What inspectors do in this framework far more is look at the curriculum, the sequencing of the curriculum, the link between on and off the job training and how that is coordinated and most importantly how apprentices develop knowledge, skills and behaviours that benefit them in their workplace and for their longer-term career.
"That's a very different focus than the previous framework and providers that haven't moved to that and for example are just delivering the qualification framework, they are not going to perform as well under this framework as they did under the last." 
So existing providers could be struggling with the shift away from apprenticeship frameworks (that include unitised qualifications) to standards with end-point-assessment?
Joyce says: "I've said before that standards are very different to frameworks and some providers are struggling to make the move to standards from frameworks so it's a different delivery method, it is a different assessment method with end point assessment and that requires providers to think carefully about how they deliver the apprenticeship programme.
"So it is about the curriculum and providers that are thinking about the curriculum, sequencing the curriculum, allowing apprentices to develop new knowledge, skills and behaviours to repeat and get confident and competent over time.
"They are doing much better under the new EIF than under the old CIF where some providers would focus on doing something once, assessing it once and then not revisiting it."
Is he surprised some providers appear to be struggling to adapt?
"I'm not surprised that providers are finding the challenges of working with different employers and different sectors, the levy, subcontracting, all sorts of things that are happening within the landscape, a challenge. Some are dealing with that much better than others. We're interested in quality, we'll continue to monitor that quality carefully."
But Joyce remains hopeful apprenticeship providers will quickly get to grips with the challenges and rise to the demands of the new inspection framework.
"It is interesting [FE Week] analysis six months in and obviously we're also doing some analysis.
"It is perhaps a bit early and too few inspections for us to definitively say what's better or what's worse but on the broader point about the apprenticeship landscape, we are undoubtedly seeing some really good apprenticeship provision which is nice to see."
It's all about the curriculum: example statements from reports published in the past 6 months