The Association of Colleges has sprung to the defence of its members after key performance statistics unveiled today by the Department for Education showed a lack of progress in English and maths among 16 to-18-year-olds.
The English and maths progress measures, included in today's 16 to 18 performance tables for 2016, compares learners' performance at GCSE to their grade at the end of post-16 education in these key subjects.
It is based solely on the achievements of learners that did not gain at least a grade C at GCSE, and who therefore must continue to study the subjects post-16.
It's one of a number of new 16 to 19 accountability measures introduced in this year's performance tables, which rank the achievements of 208 general FE colleges and 91 sixth form colleges.
On average, colleges scored minus 0.27 for English, and minus 0.29 for maths – which means that, on average, learners at FE colleges are not progressing in these key subjects.
In comparison, sixth form colleges scored an average of 0.47 for English and 0.41 for maths.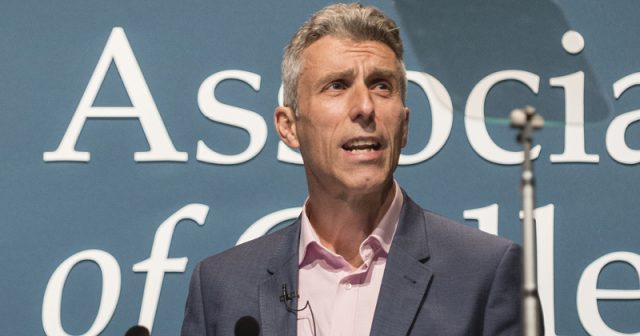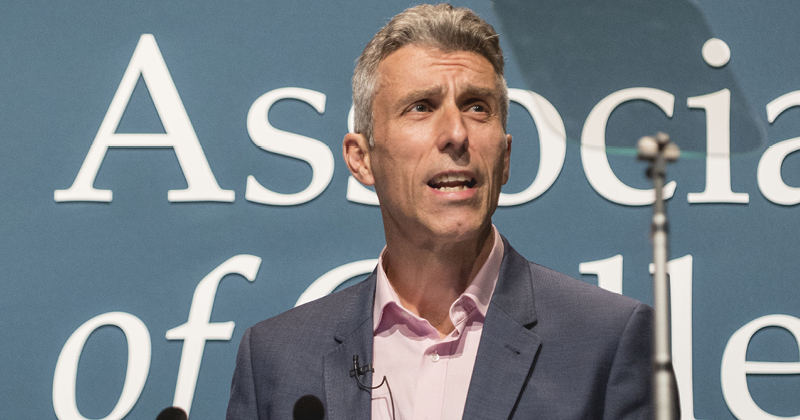 David Hughes, chief executive at the Association of Colleges, said the issue of English and maths was "complex" and it "raises many questions".
The "vast majority" of students who need to continue to study English and maths post-16 do so at colleges, he said, "and that means for some colleges the numbers are quite staggering".
"Overall around 70 per cent of students moving onto colleges need to re-sit one or both exams and in many cases this equates to over a thousand or even over 2,000 students.
"This scale of need makes it very difficult to compare colleges with schools where the numbers are usually very low indeed, often less than a class-full," Mr Hughes said.
While some students arrive at colleges "requiring a little extra work to achieve a grade C" others need "more intensive support, time and motivation to help them progress," he added.
A college's score for the English and maths progress measure is based on how much their learners without at least a grade C in GCSE English or maths have advanced in those subjects between GSCE and the end of post-16 education.
Each grade better is worth one point, while each grade lower is worth minus one point.
For example, a student who got a grade D at GCSE, but who achieved a C at their resit would score one point, while a learner who went down from a grade D to an E would score minus one.
Students who are unable to sit their exam, or who do badly for reasons beyond the control of the institution, are also automatically given a score of minus one – although this raised concern about fairness.
The college's score is the average of all its learners' scores.
Today's statistics come after apprenticeships and skills minister Robert Halfon hinted at last year's Association of Colleges conference that the government may be reconsidering its maths and English requirements for post-16 learners. 
Other headline measures in this year's performance tables for the first time include student progress and attainment.
Again these show FE colleges faring badly in comparison with other providers.
The measures, first announced by the government in 2014, are designed to show all the key indicators of performance for colleges and school sixth forms much more clearly.
The student progress score measures learners' progress from GCSEs to their level three qualification, when compared with others with the same prior attainment at GCSE.
Providers are given separate scores for A-levels, all academic qualifications – which include A-levels alongside other qualifications such as international baccalaureate – and applied general, or vocational, qualifications.
A score of zero means that a provider is exactly at the national average.
Today's statistics show that, on average, general FE colleges scored minus 0.16 on both the A-level and academic progress measures, and minus 0.28 on vocational qualifications.
Sixth form colleges scored minus 0.03 on both A-level and academic progress, and 0.15 on vocational qualifications.
FE also scored lower on attainment than sixth form colleges.
This measure looked at the average grade achieved by learners in A-levels, academic qualifications, tech level and vocational qualifications.
The average grade achieved by A-level and academic students at FE colleges was D+, while for tech level qualifications it was a Merit+ and vocational qualifications it was a Dist-.
Meanwhile, sixth form college learners achieved a C average on A-levels and academic qualifications, and Dist on both tech levels and vocational qualifications.
FE Week asked the Department for Education for a comment on the English and maths performance measure, but had not received a response ahead of publication.