Animal management students have introduced local young carers, their college principal and the MP for the Forest of Dean to a series of critter-
eating and handling tests, reports Samantha King.
The I'm A Celebrity… style event at Hartpury College was arranged to raise awareness of Gloucestershire's young carers, and challenged them to step out of their comfort zone with four separate experiences: an eating task, an animal handling task, one in which animals were handled blindfolded, and a treasure hunt.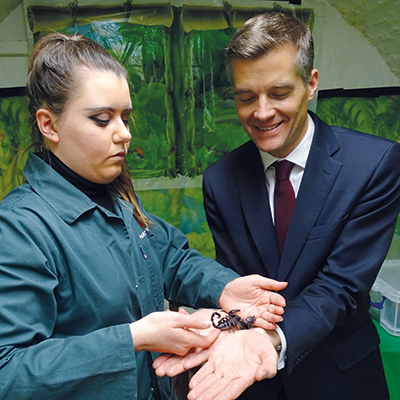 The eating task involved milkshakes made of tripe, a pizza topped with haggis, mealworms and crickets, and a liver and kidney kebab all made by the college's catering students. If anything, the handling tasks were worse, featuring tarantulas, scorpions and a blue-tongued skink.
Three teams competed in the event: two made up of carers – one of which had college principal Russell Marchant in tow – with the third team comprising members of local businesses.
The event was the brainchild of the head of department for animal management, Grace Watkins, who hopes to make it an annual occasion to raise funds for young carers.
"We had a variety of delights that they had to eat, and for bonus points they could eat extra critters including locusts," she said. "They all gave it a go, and we did have somebody who vomited."
"People did start to wonder how dark my mind was when I was thinking up the challenges. It was a gruesome event, but once I get the bit between my teeth I tend to get a bit carried away. We just ran with the idea, we haven't done anything like this before."
They all gave it a go, and we did have somebody who vomited
The MP for the Forest of Dean, Mark Harper, ended up grappling with a snake and a scorpion after he was invited by Watkins to "pop down" and see what was going on.
"It was a lucky strike really, because he was in doing a talk to our sports department. He was ever so obliging and came down and handled lots of animals, including a scorpion. He was really up for it," she said.
As well as stretching the limits of its participants, the event helped animal management and animal science students develop their people skills, specifically on how to judge whether an animal is safe in the hands of a nervous participant.
"Students assessed the approach and the attitude of the participant and put them at ease. They had to make sure that when they handed an animal over, that person wouldn't then let go," she said.