After months of grueling training, selection heats, pressure testing and tears of both sadness and joy; Team UK were bid farewell at a fitting reception this afternoon.
Close family and friends of competitors, World Skills UK alumni and representatives from World Skills UK packed out a function room, over looking the River Thames at London's British Film Museum.
Robbie Grabarz, Olympic High Jumper and bronze medalist at the 2012 Olympics Games (pictured with Me and his Olympic Bronze Medal) gave a motivational speech to the team members and shared some of his best tips, when tackling nerves before a major competition.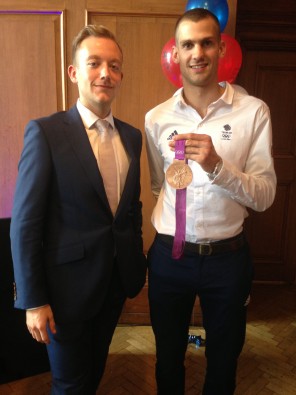 His best advice, in my opinion, was for the team to enjoy every minute of it. To be proud to represent the UK and not to worry, "you have reached this far, the hard work is already done."
Whilst thousands of students across the UK are coming the end of the summer exam season. Tomorrow morning these 34 young people will embark on a journey towards one of the toughest challenges of their lives.With the added pressure of repressing their nation.
I can't begin to imagine how they must be feeling. You would expect a fear. However the atmosphere at today's reception was far from fear. I did not meet one competitor who was not grinning from ear to ear. it was certainly an #FEparty.
The only near drama of the event, was when a a very proud mother thought I had run out of copies of the latest edition of FE Week. Fortunately we managed to find a spare copy in time — crisis averted!
Team UK will take off from Heathrow tomorrow morning ready to do our sector and nation proud.
Bring on the #FEparty.
Chris Henwood and I will be setting off on the 8:55am from Heathrow to Germany tomorrow morning so that we can bring all the latest news from World Skill Leipzig 2013. We will be posting blogs throughout the day from Monday 1 July to the closing ceremony on Sunday 7 July. A special supplement bring you the highlights of World Skills 2013 will be published on the morning of Monday 8 July.