The allocations "horror show" has got even more alarming, after FE Week found the government has been wrongly categorising giant firms including Santander as non-levy payers.
Other smaller employers have meanwhile been classified as subject to the charge launched last month, despite their payroll being drastically short of the £3 million point from which firms have to shell out.
Providers this week received the detailed calculation of their allocations, for delivering apprenticeships to small employers from the Education and Skills Funding Agency.
Alongside this, the agency sent a letter to providers admitting the non-levy proxy they used is an "approximation using the best available data" and that there are "uncertainties in this data".
Many providers sent their calculations into FE Week, and we found several examples of huge employers being misclassified, as not having to pay the levy charge.
Banking giant Santander was listed as a non-levy paying employer, despite having UK staff costs of £700 million, according to its most recent set of accounts.
Similarly, Berkeley Group Plc, a large property development firm, has a payroll close to £200 million according to their latest accounts, but was also listed as non-levy paying. And charity Mencap was on the non-levy list even though their accounts show staff costs have hit £131 million.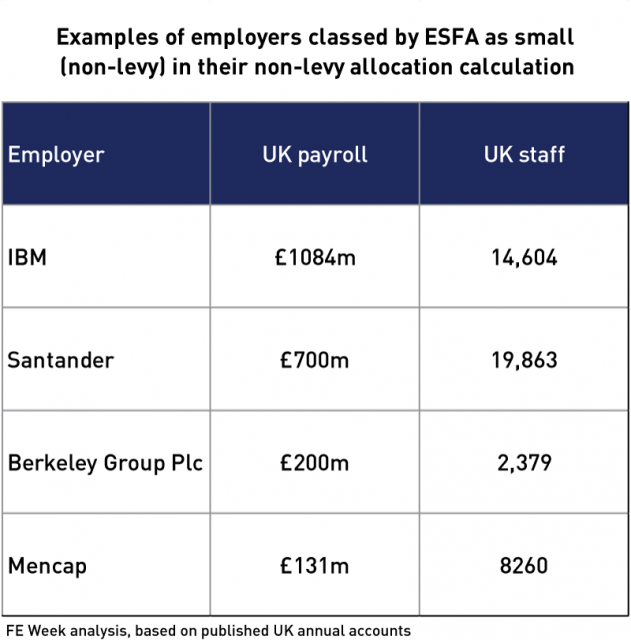 Only businesses with a total paybill over £3 million have to shell-out for the levy.
But the misclassification has also found small employers labelled as large.
One small provider told FE Week they found themselves classified as a payer, despite their payroll being "nowhere near £3 million".
Another provider sent FE Week their employer allocation spreadsheet, in which they identified seven that they claim were incorrectly labelled as levy payers, adding their impact was wrong by "as much as 70 per cent" and that "needless to say we are working on a business case to send to the ESFA."
After being shown the serious mistakes in employer classifications, Association of Employment and Learning Providers boss Mark Dawe said there was a danger of "irretrievable damage being done to employers, providers and apprentices as well as to the apprenticeship brand unless ministers take immediate action".
News of the faulty calculations is the latest government-inflicted blow to hit the sector, after lead providers learned in April that their May to December allocations amounted to a fraction of the costs of their current delivery.
Mr Dawe subsequently pleaded with the government for an immediate funding increase to prevent widespread "closures and redundancies", which was swiftly rejected.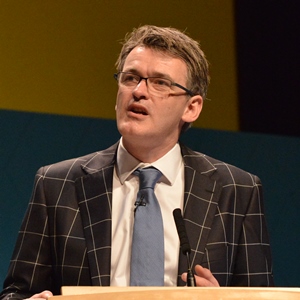 FE Week then revealed last week that this "horror story", as labelled by Mr Dawe, had claimed its first victim.
A longstanding provider with 18 years' experience told us it would be forced to close within months, as a result of the massive cuts, while many other providers warned they faced imminent disaster.
After being shown the ESFA letter to providers admitting there was "uncertainties" in the calculations data, FE Week asked the agency to explain how the non-levy proxy was arrived at, but the agency refused to comment.
It would only say the department had communicated to providers that if they believed their allocations had been calculated incorrectly, they should work it through with their ESFA provider manager.
Mr Dawe told FE Week: "We were told there weren't going to be winners and losers out of this allocation process, because the same calculation formula was being applied to all main providers and colleges.
"But clearly these mistakes over employer classifications have resulted in unfair allocations. This is why AELP is calling for the ESFA to double the allocations now to providers."
Analysis: How we think they got it wrong
Our analysis suggests that the ESFA's classification mistakes stem from employer information provided by Blue Sheep, a specialist data company.
The ESFA has a licence for employer data, which is typically used to determine the size of an employer for funding purposes.
The database includes employer IDs as well as staff numbers.
We believe that where the staff number in the Blue Sheep database is below 150, the ESFA has classed them as non-levy-payers – choosing this figure based on the average wage of around £20,000, a sum which when multiplied by 150 equals £3 million.
For example, for Santander the employer ID and staff number shown in the Blue Sheep database is 80 – thus classing it as non-levy-paying.
However, this is inaccurate information for the purposes of estimating total payroll at £3 million, as the database uses multiple employer IDs for one employer where they have multiple sites.
Therefore, a huge employer with lots of sites will have lots of employer IDs, each with a small headcount. Santander appears to have nearly 1,000 different Employer IDs.
The SFA's most recent expenditure sheet shows that it pays £371,000 per year for the use of Blue Sheep data and services.
The Education and Skills Funding Agency has dug itself a huge hole. Incredibly, it's still digging.
As readers will know, it was in the interest of "stability" that it decided to pause the non-levy tender, after demand from over 1,000 providers well outstripped the paltry £440 million that was available.
Instead it is extending pre-May contracts until December, which left some relieved and others – those without direct access to any funding – disappointed.
But the sense of relief and pretence of stability hasn't lasted long, as the value of the contract extension appears well below expectation, in some cases by as much as 70 per cent.
The ESFA told providers this week how it arrived at these allocation figures, but still refuses to answer key questions about how much was dished out overall.
It has also refused to tell FE Week or providers how global firms have ended up wrongly classified as non-levy, so we've had to figure out for ourselves how the 'mistake' occurred.
While it's clearly unfortunate the data isn't accurate and that there isn't more funding for small employers, why refuse to fully explain how much and in what way it's been allocated?
Starving providers of funding is bad, but also keeping them in the dark is appalling.