The Association of Employment and Learning Providers (AELP) has warned the government to hold off introducing its apprenticeship levy for "three or fours years", urging it to build capacity first.
Chancellor George Osborne unveiled his plans at last month's summer budget. The revenue raised from the large employer payments will go towards funding all post-16 apprenticeships in England.
The government has said it wants to introduce the levy in this Parliament, but is set to launch a consultation on the plans before outlining further details in the Spending Review this autumn.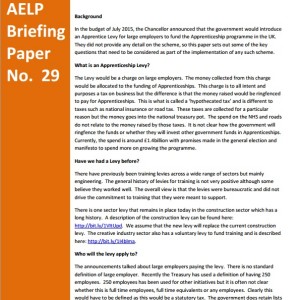 But the AELP, in a briefing paper published, said a potential start date of 2017/18 would be "too early".
"We should ensure we take sufficient time to implement this effectively," the paper read.
"We are also at the start of a challenging growth programme. We believe we should build the capacity of the system over the next three or four years before the levy is introduced."
A Treasury report said the new scheme would "put control of funding in the hands of employers via the digital voucher scheme to ensure that it delivers the training they need".
"Crucially, this will enable an increase in the quality of apprenticeships at the same time as an increase in quality."
The plans have divided opinion in the sector and AELP added: "Our main policy recommendations are based on a principle that we should maximise the choice for learners and employers.
"Although the levy may be a route to raise money in these difficult economic times, there are dangers that in the long term we will create a focus on the financial aspects of the programme and we will not be able to control the quality of a programme where many employers would not have chosen to be involved.
"This is a cultural shift and we should not rush the introduction of the programme."
A spokesperson for the Department for Business, Innovation and Skills said they would not comment because the plans are subject to consultation with businesses.
The AELP's four-page question and answer briefing paper aims to help its apprentice provider members plan future provision.
It states the levy will be based on a percentage of payroll costs, which it believes will be an annual charge.
It adds the current apprenticeship system relies on employers making a huge contribution to the cost of the programme, be it recruitment, induction or training materials.
"Creating a levy charge will mean that the finance directors of large employers will take a much closer interest in the cost of the programmes," the report adds.
"This could be seen as a positive step forward but there will certainly be questions over employers contributing these essential non cash contributions."
AELP said the levy could provide an incentive for employers to want to deliver training "in house", moving away from the requirement to be externally inspected by Ofsted.
"It will be very important to maintain strong controls over this contracting process whilst giving employers control over the decision of who the employer uses to deliver the training."