Just a fraction of the 25,200 FE loans taken out between August and October last year were for apprenticeships, government figures have revealed.
The Statistical First Release (SFR) on Thursday, January 30, showed that less than 0.4 per cent (100) of the loans paid out to learners over 24 were given to apprentices.
And, taking on board application figures for the period, just one-in-four apprentice applicants took out a loan.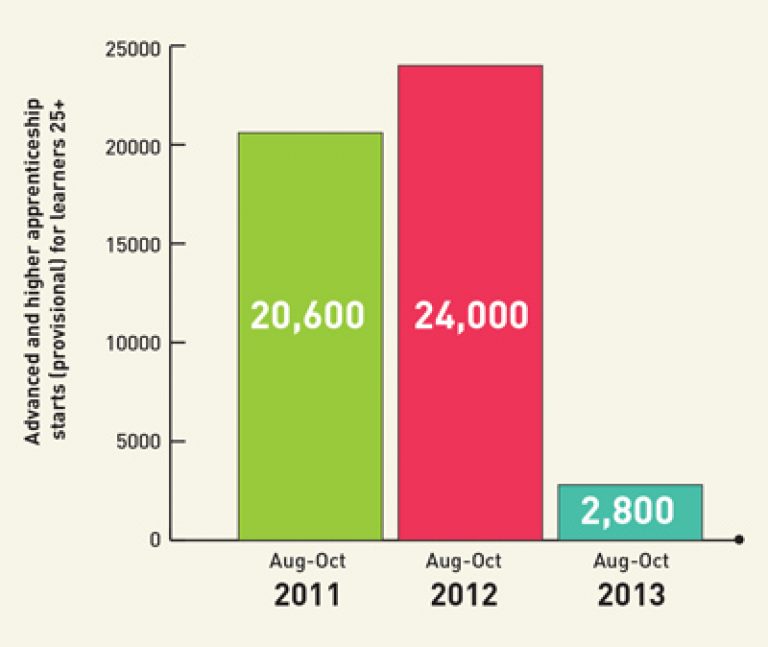 But the SFR, which for the first time shows FE loans uptake, contained further damning figures for the FE apprentice loan system.
Its provisional data showed that 2,800 people aged 25 or over started an advanced or higher level apprenticeship between August and October.
The figures compare to the provisional number of 24,000 in the same period in 2012 — a fall of more than 88 per cent.
It has reinforced the view among sector leaders that extending the scheme to apprentices was a mistake and comes just over a month after Business Secretary Vince Cable told FE Week that apprentice FE loans were being scrapped.
However, they continue to be processed by the Student Loans Company.
David Hughes, National Institute for Adult Continuing Education chief executive, said: "We have always had concerns about this policy and it quickly became evident that it was not working.
"This has been highlighted today by the substantial fall in the number of people, aged 25 and over, who are on advanced and higher level apprenticeships.
"These provisional figures are just 12 per cent of those reported at this level last year.
"We are pleased the government has decided to scrap loans for advanced and higher level apprenticeships, but we are anxious to see what will replace them.
"We need clarity on the funding arrangements so that more people over 24 will be able to take advantage of the opportunities these apprenticeships offer."
A spokesperson at the Department for Business, Innovation and Skills declined to answer questions about the fall in 25+ apprentice numbers or comment the possibility it was linked to the loans debacle.
He said: "These are provisional figures and we have had some data collection issues which affects the validity and makes it difficult to draw conclusions.
"It is important to know that we will have fuller and more accurate data at the end of the year."
He was also unable to confirm when loans would stop being processed for apprentices.
The SFR figures came the same day as monthly FE loan application numbers were published.
They showed that of the 2,021 loan application made in December, just 162 were for apprenticeships.
It means the total number of application since the scheme started in April was 57,205 — of which 695, or 1.2 per cent, were for apprenticeships.
National Union of Students president Toni Pearce said: "Asking adults to pay up to £4,000 a year to study for A-levels, BTecs and even to work as apprentices was always the wrong way to go, and hugely unfair to people who want to study or re-skill later in life.
"Such sky-high fees are clearly a major deterrent for many adults who wish to study in further education."