Working Men's College, a specialist designated institution in North London, is celebrating an 'outstanding' Ofsted grade. Rebecca Cooney reports 
When Ofsted published its report late last month, Working Men's College principal Satnam Gill (pictured right) described the result as a "real tribute to the amazing work" by teachers and students.
He said: "On leaving, the lead inspector said 'This is what adult education should be'."
In the  report, published on April 30, the Camden adult education college gained level one in every area for overall effectiveness, level one for its provision in the visual arts and subject areas for English for speakers of other languages (ESOL), and a level two in the language, literature and culture subjects.
The report praised Mr Gill's "excellent leadership and clear strategic direction" and highlighted the college's success rates, which were "significantly above national averages for nearly all subjects".
According to Ofsted, most of the college's students study part time, with just 62 out of 4,204 studying full time last year, and 3,009 studying at level one or below.
The college, the oldest adult education institution in Europe, draws its intake largely from the surrounding borough, an area that has high levels of deprivation.
The report noted the "very high" standard of learners' work and the progress many of them made, despite "significant barriers" to learning.
It continued: "Learners develop many additional skills, gaining confidence and enhancing their lives and their employability.
"Many report that their lives have changed significantly as a result of their college experience."
Level two childcare student Charity Uruakpa, who came to the college after struggling to become a lawyer, said: "My tutor made me realise there's more to life than disappointment, and now I'm going to have a second career.
"I think this college is truly excellent — they know how to give people second chances here."
Twenty-seven per cent of the residents of Camden are from ethnic minority communities, and the college's ESOL provision was described as not only "outstanding" but also as "stimulating" and "fun".
Inspectors praised teaching at the college, particularly the high expectations that the "well-qualified, empathetic and knowledgeable" tutors had of students, resulting in "learners who are highly motivated and undertake further independent study and research". They also praised the care and support at the college.
Mr Gill added: "It is wonderful that during a period of considerable financial problems for adult education, Ofsted has recognised that WMC is a fantastic place to study, that we deliver outstanding results for our learners and the local community."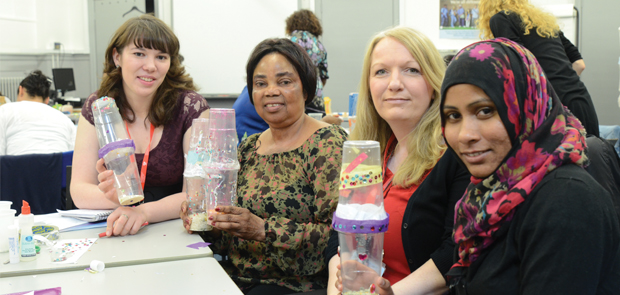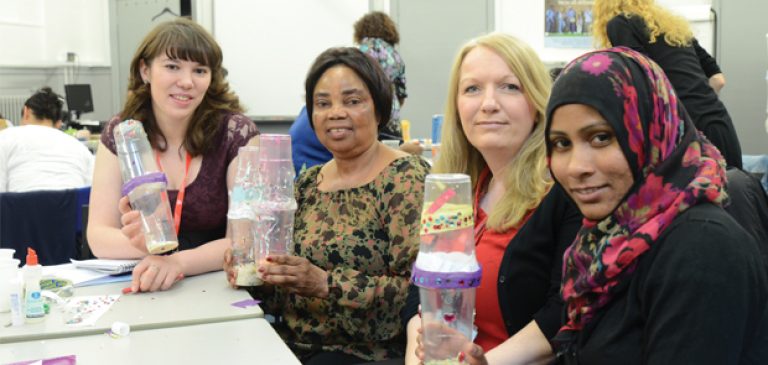 From left: Rebecca Cooney, childcare learner Charity Uruakpa, 42, tutor Sarah Bowman, and learner Jamila Khan, 23, displaying their homemade musical shakers
FE Week reporter Rebecca Cooney went to 'back to college' to find out more about London's outstanding adult education institution…
I'd be lying if I said I wasn't a bit nervous about the classes on my whirlwind tour of some of the courses at Working Men's College, including graphic design, ceramics, childcare and most daunting of all, life drawing.
I struggled to put my finger on what seemed unusual about the modern foyer of the red-brick Edwardian college building, where posters for public lectures held in the 19th century sat alongside television screens advertising today's courses, until I realised most of the students coming in and out of classes weren't teenagers — their ages seemed to range from around 18 to 80.
In my life drawing class, former TV producer, 68-year-old Paul Kafno, told me he'd attended the class for eight years.
"I did a life drawing class at university, and I wasn't any good at it, so I thought 'when I retire I'm going to learn to do it properly'," he said.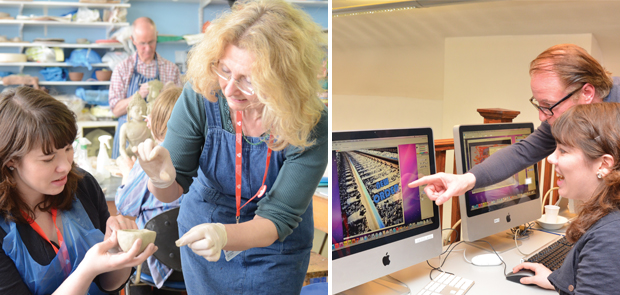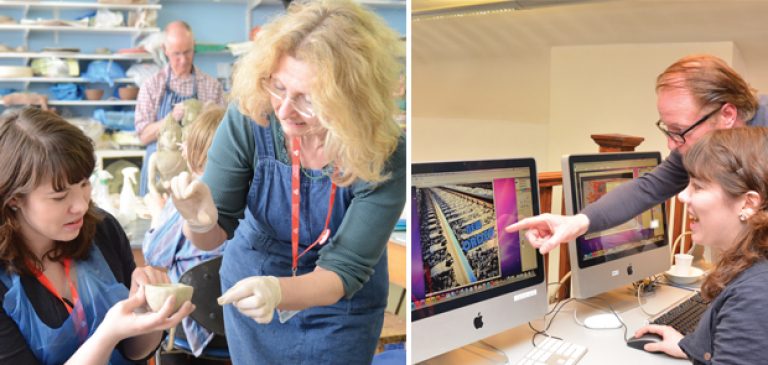 From left: Reporter Rebecca Cooney learning basic ceramics techniques with tutor Joanna Voit and Creating an album cover in graphic design class with help from tutor Tony Jennings
Similarly, while I was being taught to make a basic (and wobbly) pinch pot by ceramics tutor Joanna Voit, one of my fellow students, a retired languages teacher who was sculpting an impressive peacock, told me she took up ceramics because she wanted to do something with her hands.
Childcare student Jamila Khan, 23, hoped that her course would help her to achieve her dream of working in a nursery.
"The course has helped me to understand how to work with difficult children and gave me work experience, which is important when you want to get a job," she said.
"I wouldn't want to go to any other college."
It's easy to see how Working Men's College got its grade. I loved all of the classes I went to, and more importantly, the learners clearly did too.
Tutors were supportive, patient and helpful, whether teaching learners wanting to go on to higher education or into employment, or learners simply exploring different sides of their personalities. Or trying to teach me to make a pot in 25 minutes.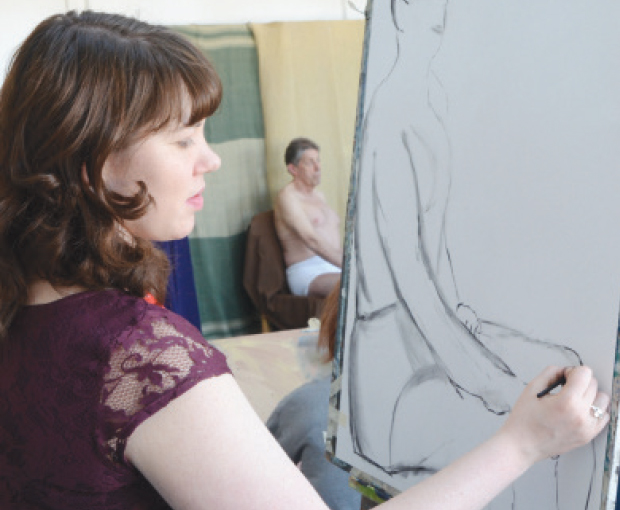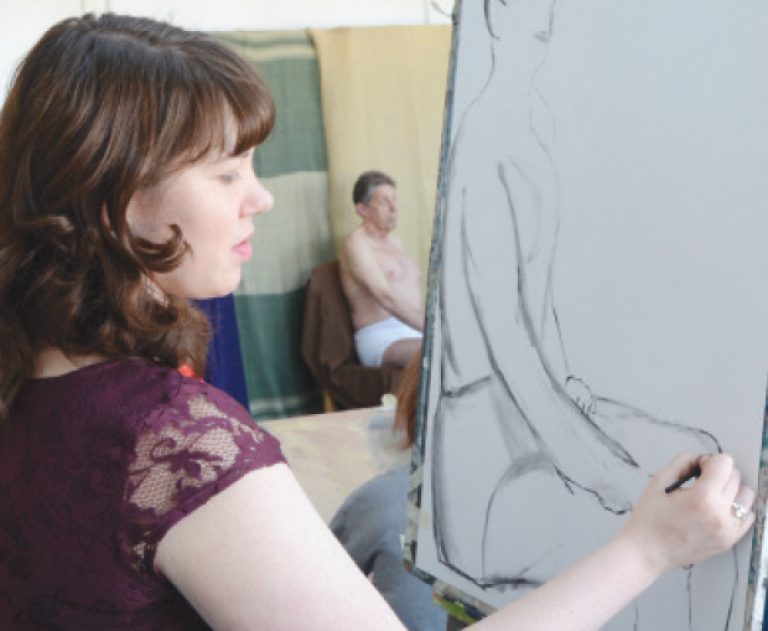 Rebecca Cooney concentrating on shading in life drawing class 
———————————————————————————————————————————————————————————–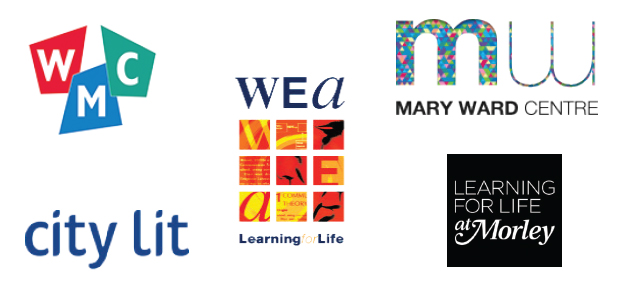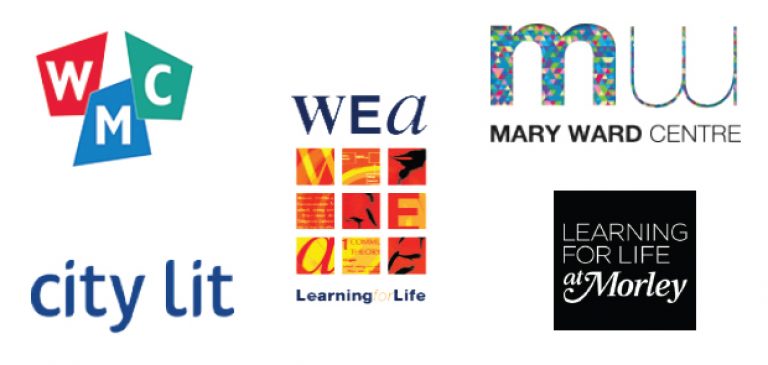 What is a specialist designated institution?
Working Men's College is a specialist adult education institution, as designated in the 1992 Further Education Act. In London these types of specialist designated institutions (SDI) include Morley College, the City Lit, the Mary Ward Centre and the Workers Educational Association. SDIs are classed by Ofsted as adult and community learning providers.