A lead animator from the studio behind blockbusters Chicken Run, Wallace & Gromit and Shaun the Sheep paid a visit to creative media students to give them a lesson on making one of their most famous creations: Gromit, reports Samantha King.
Jim Parkyn, a senior model-maker from the Oscar-winning studio Aardman Animations, spent a day at Andover College in Hampshire delivering stop-motion animation workshops to creative media production, media studies and film students.
The designer – who has worked at Aardman for 17 years – showed students how to recreate one half of the studio's most popular animated duo Wallace and Gromit using plasticine.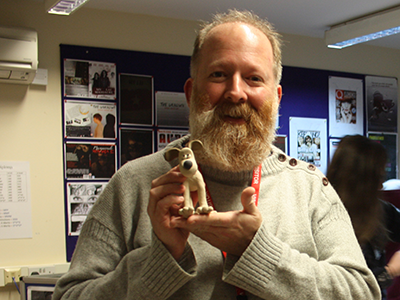 "Gromit is an interesting character to make. What seem like mistakes can often contribute to the character's demeanour and during these workshops, we see all different kinds of Gromits, from Gromit puppies to mature versions, with a vast array of emotions," he said.
Creative media lecturer Donna Hardy, who organised the day, said: "I think the students soon realised how technical model-making is. Quite a lot of them – certainly the boys – had done a lot of stop-motion with Lego as kids, but none of them had really done any plasticine work before.
"It gave them the skills to use if they wanted to go further, although I think some of them decided plasticine probably wasn't for them afterwards."
Jim was also on hand to give words of encouragement to those looking to pursue careers in animation, sharing advice on how to get a foot in the stop-motion door.
"With nothing more than a lump of clay and a camera phone, you can go anywhere. There are no restrictions as to what you can do in society today," he said.
With nothing more than a lump of clay and a camera phone, you can go anywhere
"Digital skills are vitally important in the film and media industry, from specialist skills in editing stop-motion animation right down to using social media to self-promote your work. You have to adopt many different hats to be successful today, and things like social media, website creation and so on are a great platform to get your work out there."
Ms Hardy added: "Even the students that don't have an interest in animation – and aren't, by their own admission, creative – enjoyed the workshops.
It was interesting for them to speak to someone who had quite obviously worked on things that they loved as kids, especially things like Shaun the Sheep.
"They loved Jim, and afterwards they were tweeting him and he was replying to them, so they feel like they're all part of Aardman now in a way."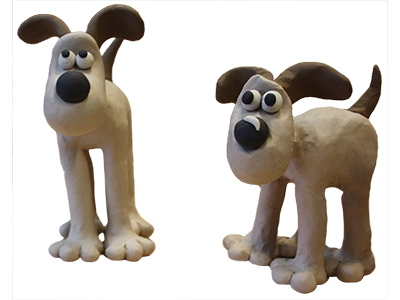 Aardman Animations was first established in 1972, and has so far had 10 Oscar nominations, winning four, and has also had many BAFTA nominations and awards.
"In a digital age, students being exposed to these fundamental and traditional making skills are a great balancing experience – understanding this initial stage of creation validates where all great ideas begin," said Martin Simmons, the deputy principal of the college.