A rtistic students from Sussex Downs College have teamed up with a local children's charity, Rockinghorse, to create a special mural for sick children.
The team of five, all studying applied art and design, spent six weeks creating the wildlife-themed artwork in the children's emergency department at the Royal Alexandra Children's Hospital in Brighton.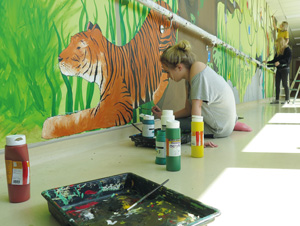 The vibrant mural features a variety of wild animals and insects.
It is hoped the painting will relieve anxiety for children and parents when they have been admitted to the A&E unit.
Student Vita Measure-Hughes, 17, said: "I am hugely grateful for this opportunity and being able to give back to such a fantastic hospital that helped me a lot when I was younger.
"I hope our mural helps patients and families by making their stay a little bit easier, along with the wonderful staff who are still just as engaging and caring as they were for me 15 years ago when I was an inpatient."
Main pic: From left: Sussex Downs College students Isabel Macpherson, Vita Measure-Hughes, Amy Godfrey, all aged 17, and Archie Benton and Samantha Clark, both 18, with the finished mural