Welcome to FE Week's liveblog of A-level and level 3 results day 2021!
UPDATE: The live blog is now closed. Sorry if your pictures didn't make it in – we've been inundated with stories and there simply hasn't been time to add them all. We really appreciate you sending them so thank you. Congratulations to all the learners who got their results today and best of luck for the future.
Hundreds of thousands of students who have been studying qualifications up and down the country will today find out whether all their hard work has paid off, and what their next step in life will be.
More than 200,000 students will collect AS and A level results today, alongside learners on level 3 vocational qualifications, such as certain BTECs.
We'll be sharing some of the success stories from colleges, sixth form colleges and providers from across England on this live blog, so stay tuned!
---
Twin brothers achieve same BTEC result
Twin brothers and fellow Sunderland College students Keanu and Kenu Bell are both looking to progress to higher education after achieving distinctions in their level 3 engineering BTECs.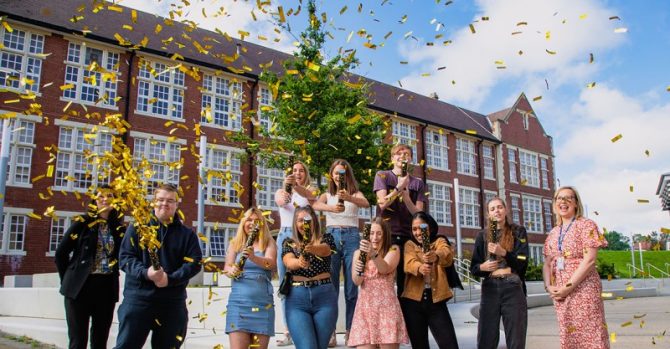 Keanu said they are "both happy with our results," while Kenu said: "Remote learning from home was difficult at first, but we had lots of resources available, and the tutors were so helpful."
A-level student Tia Anderson, who the college says is among one of the top ten runners under 20 in the country, has crossed the finishing line with a distinction*, A* and A in BTEC sports science, A-level law and criminology, alongside her talented athlete scholarship.
She is "over the moon," she said, and will be studying forensic psychology and criminal justice at Liverpool John Moores University.
---
Teachers took A-level student 'under their wing' while family was hospitalised with Covid
A Capital City College Group student has spoken about how his teachers helped him through his A-levels after several family members ended up "seriously ill" in hospital with Covid.
Muhsin Mahmud is going to study broadcasting and journalism at City, University of London after securing three As in politics, media studies and English literature and language.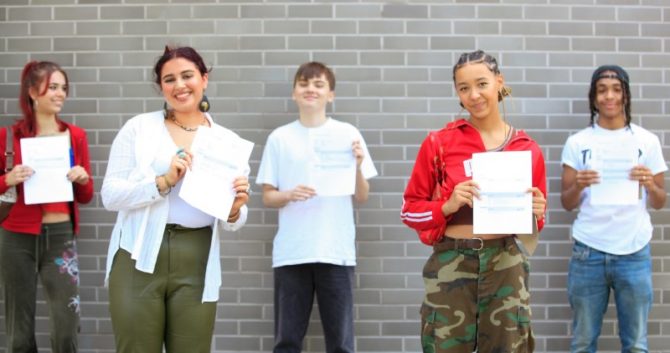 He called it a "privilege" to be taken under his teachers' wings while he was having a "difficult time" during the pandemic, adding that: "The assurances I received from them during that period of deep uncertainty really helped me through it."
His is one of a number of success stories from the group today.
Another involves City and Islington College student Lily Burge-Thomas, who is going to study architecture at Cambridge University where her mum studied classics.
Lily said she was "totally ecstatic" after a "difficult two years," and paid tribute to the "amazing, really supportive" teachers.
"I came from a school where they really pushed you very hard, to the college where you had to push yourself and be a lot more self-driven.
"I don't know if it was the tough love of my old school or the kindness and support at the college, but I got the results."
---
National scheme guides college's disadvantaged students through A-levels
Several students at West Nottinghamshire College have succeeded in their A-levels with help from a national scheme to help students from disadvantaged backgrounds progress to the UK's top universities.
Phoebe Beardall was one of those who received mentoring and personalised tuition from The Access Project.
"My mentor was really helpful and the project provided me with an English tutor, so when we went into lockdown it was like having an extra lesson each week. It was invaluable."
She achieved the top grades in English literature, history and media studies and is now going to study literature at the University of St Andrews in Scotland.
Connor Davis was another student who received help from The Access Project, and said it "helped me make sure I was working on all the right skills and knowledge with my history studies and heading in the right direction".
With an A* in sociology and A grades in history and law under his belt, he is now set to study history at Durham.
But his celebrations will have to wait a little though as: "I've got to do a shift at work tonight, but I'll definitely be celebrating later on!"
---
NHS hopeful gets top marks despite only moving to England in 2019
A student who only moved to England in 2019 has achieved top marks in her A-levels, and is now going to study medicine at Leeds, with an aim to have a career in the NHS.
Aanam Munawwar had only passed her qualifications in India when she attended an open day at Leeds Sixth Form College two years ago.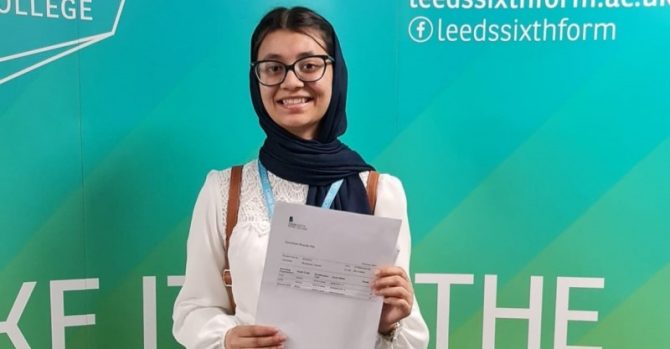 "All my subjects were equivalent to GCSEs except English so I had to take the winter  exam for that, which I passed," she said.
She chose the college "because it provides a diverse and inclusive learning environment where I knew I could meet new people and make amazing friends".
The decision has paid off for her, as she is now well on her way to have a career in medicine.
"I made the decision to study medicine after attending taster sessions and completing my work experience, which allowed me to reflect on the challenges that the healthcare workers face.
"I also enjoy teamwork and want to become a part of a multidisciplinary team to help in patients' management and treatment.
"I wish to make my family proud of me. Looking ahead, I am determined to pursue a career in medicine and contribute towards our NHS."
---
Sixth form student takes degree apprenticeship over university
A sixth form student is taking up a degree apprenticeship as a trainee scientist after receiving her results today.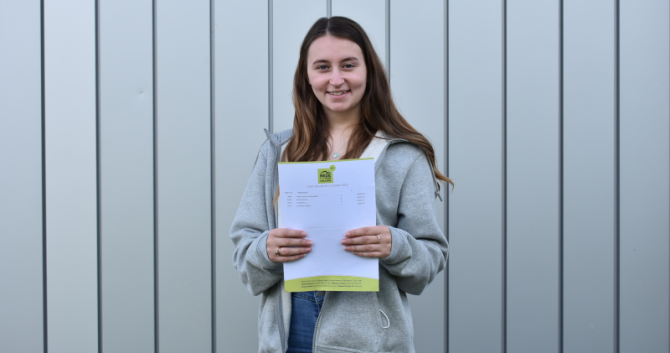 Hayley Jones has taken up employment with sustainable technologies company Johnson Matthey after achieving an A in chemistry, an A in maths and a B in physics.
She says she had presumed she would go to university, but once she heard about apprenticeship opportunities during an online visit to Johnson Matthey, she thought "it sounded like too good an opportunity to miss".
So Hayley will be learning on the job, while also studying a chemistry degree at Nottingham University.
"This way I still get to go to university but I also work alongside it."
---
Halfon pays tribute to local college on results day
Education select committee chair Robert Halfon has paid tribute to Harlow College, which is based in his constituency.
One of its students, Amir Schultschik, is hoping to get an offer from the University of Cambridge after achieving A* in maths, further maths, and physics. Other students have won places at Kings College London, University College London and the University of Exeter.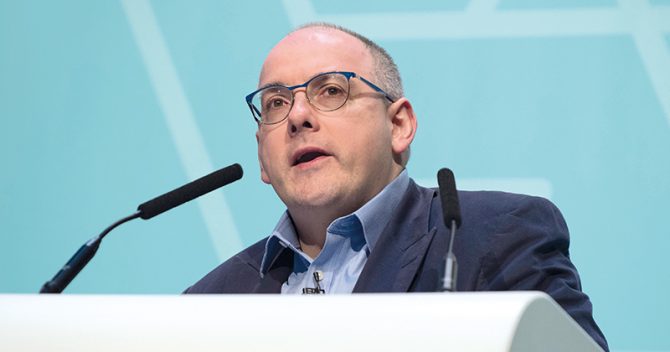 "I would like to thank every teacher and member of support staff who has worked so hard to keep our young people learning and I would like to congratulate every student for their brilliant results," Halfon said.
"As MP for Harlow, I am so proud to say that we have one of the very best colleges in England in our town and that has been proven true again today.
"I would like to wish every student the very best in their future endeavours and I look forward to continuing to work with the college management team to secure further investment into our great college."
---
Health and science professionals of tomorrow pick up results from Barrow Sixth Form College
There were hugs and high-fives aplenty for results day at Barrow Sixth Form College today.
A number of their students are going on to study science and health courses, including Darcie Wallace, who achieved As in biology, maths and chemistry and is going to study dentistry.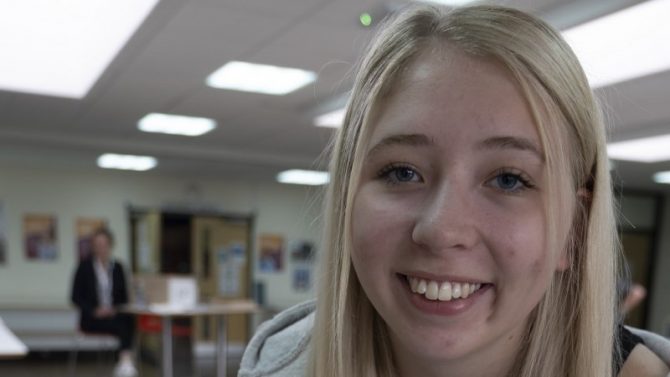 "I was awake at 5.30am and trying to stay calm," she said, adding that although she had worked hard, she was still "surprised" by the results.
Art and design student Adam Smith has got the results he needed to study biology at Newcastle University.
"I want a career as a research scientist, I wasn't expecting to get such good results. I definitely think I've gained new skills in lockdown that I wouldn't have in college and I'd like to thank everyone who helped me along the way," he said.
---
Halesowen student opting for gap year before university
As students decide their next steps after receiving their A-level results, Halesowen College's new alumni are taking a variety of options.
Having achieved two A*s and an A, Lucy Davis is planning to take a gap year to travel before attending university in 2022.
This is after she said she had a "phenomenal" time at the west midlands college.
Fellow student Lauren Woodall, who is going to the University of Exeter is "absolutely elated" with her one A* and 2 As, and "can't thank the staff at Halesowen College enough for all the support I've received".
---
First family member to attend university among Middlesbrough's successes
A Middlesbrough College student is set to become the first in his family to attend university after achieving A*s in maths, chemistry and physics.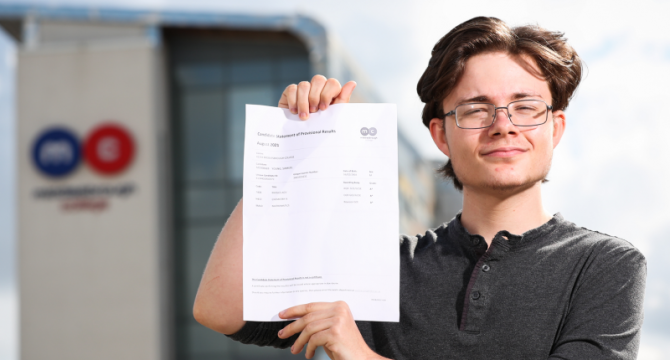 Sam Young, from Stockton, will be going to Durham University to study physics and astronomy but "was so nervous waiting for my results.
"Every aspect of my time at the college has been incredible and my tutors in particular, Linda, Tom and Janet, have been brilliant. I couldn't have imagined anyone better and my grades are a reflection of them if anything," said Sam, who is aiming to become a doctor of science.
---
Sports star wins university place to study condition which robbed her of footballing future
A student who was on track for a professional football career before being paralysed with a mystery condition has won a place at Leeds to study her problem.
Lydia Shale went from being a hopeful for Darlington and County Durham football team when she suddenly found herself unable to walk, lying in a hospital bed with a paralysed arm, aged just 14.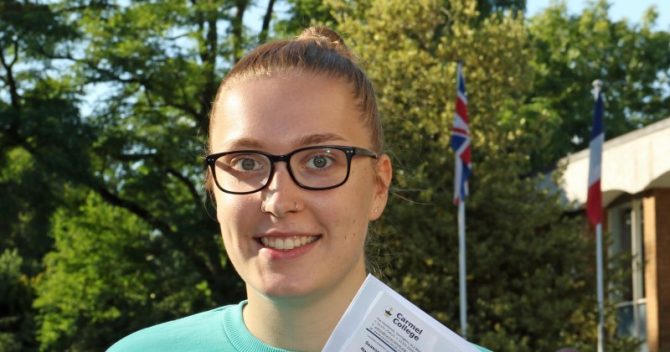 Despite her thinking she should be "the last person to be ill as I was ridiculously fit and healthy," the now 18-year-old was diagnosed with functional neurological disorder (FND) – a condition where the brain struggles to send messages to the muscles.
The lifelong condition meant she could not walk for seven months and missed the whole of year 10.
She had to complete her GCSEs in one year, but has now gained the highest grades of distinction* in her BTECs in sport and human biology, as well as a B in her maths A-level at Carmel College.
Lydia will now go on to read a sport and exercise science degree at Leeds University, and has four research projects lined up to look into FND.
As there is "not much research" into the condition, she wants to: "raise awareness and research the causes of FND to help others particularly as it seems to be on the increase because of long-Covid and reactions to the vaccine."
---
Student achieves top grades after finishing year 11 in India
A South Gloucestershire and Stroud College student, originally from Mozambique, is well on her way to achieving her dream of owning her own business after securing top grades in her A-levels.
Sharmin Seco, aged 19, finished year 11 in India before she studied her GCSE maths and English at the college prior to completing her A-levels.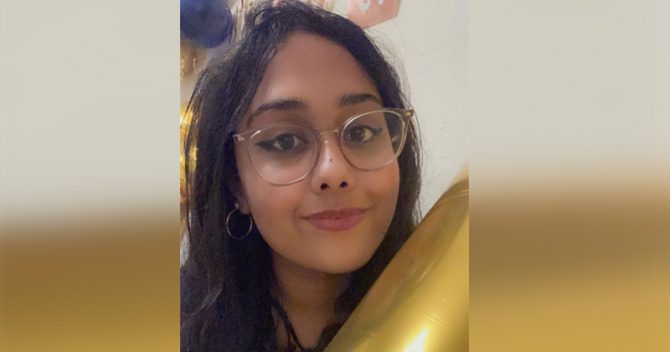 Today she found she had achieved an A in accounting, an A* in business, an A in economics and an A in her extended project and will be going on to study business at Bath University.
"I am very happy to achieve my dream of studying at the University of Bath and this couldn't be possible without the support I received from my teachers at SGS College," she said.
"They have been absolutely exceptional and brilliant and even more during Covid times. SGS will always be a part of me, and I cannot wait to start my next chapter." 
Fellow student Corey Gibbons received an A* in maths, an A* in physics, an A* in physical education and an A in AS further maths and will also be studying at Bath, for a degree in sports and exercise science.
He hopes to become a sports scientist, a physio therapist or a sports and conditioning coach, and says he is "ecstatic with my results. I couldn't have hoped for any better."
---
South Devon students 'over the moon' with their results
Students at South Devon College have paid tribute to their "absolutely amazing" tutors after being "over the moon" with their results.
Over half of the college's cohort achieved between an A* and a B.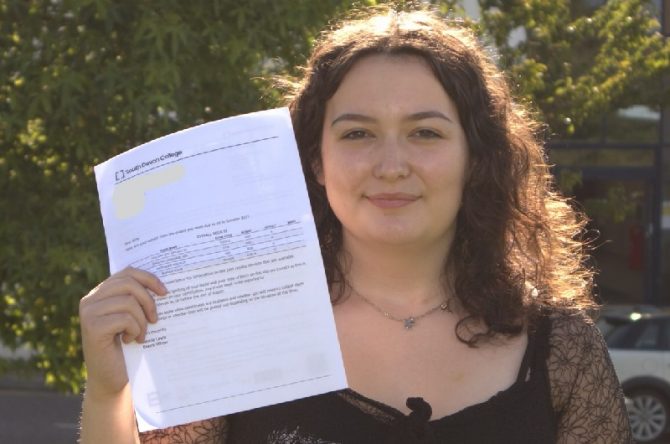 Student Amy Barber received an A* in business, A* in English language, A* in her extended project qualification and an A in history and will be going on to study history and international relations at Kings College London.
She said she was "over the moon with my results," as it showed "the hard work really has paid off".
On the lockdown, she said it "gave me time and the opportunity to focus, especially so I could complete my business A-level in one year.
"But, on the other hand our learning has been affected and it was easy to lack motivation.
"Inevitably there is a lot of scrutiny about this year's grades. And I don't think it any of it can be helped – the pandemic meant that our education this year wasn't ideal, but we have to make the most of what we've got – we have to move forward."
---
College highlights 'outstanding' pass rates across range of subjects
Blackburn College has highlighted its 100 per cent pass rate across a range of A-level subjects today.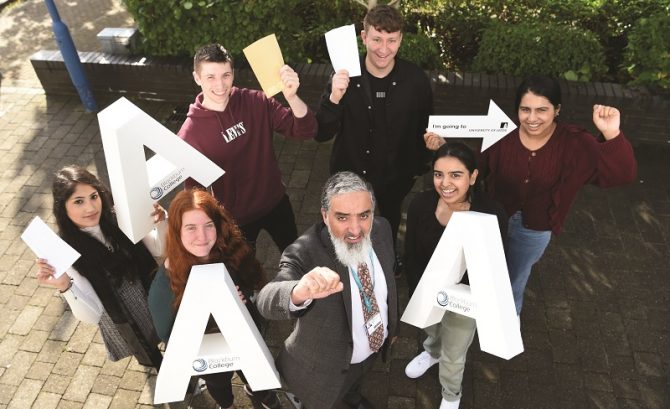 Every student in further maths, computer science and fine art have achieved between an A* and a C.
Principal Fazal Dad said: "These are outstanding results that pay testimony to the efforts everyone at Blackburn College makes, which of course includes our students, in order to achieve these results."
Overall, the college saw that 41.4 per cent of its A-Levels have been graded A* to B.
A number of students are now progressing onto university, including Jessica Thomas, who is going to study civil engineering at the University of Leeds.
She achieved an A* in fine art, A in physics and a B in her extended project, and said: "I choose to study at Blackburn College after attending a Saturday art class where I had a great time with the tutor and experiencing the facilities.
"This was definitely a big part of me deciding that Blackburn College was where I would continue my studies."
---
Student studied through 'pain and discomfort' from back problem to secure top grades
A Derby College Group student has "breathed a sigh of relief" as the A*, A and C grades in her A-levels means she can now turn her attention to upcoming surgery for scoliosis.
Joanne Grzelka was diagnosed with the condition, which is a curvature of the spine, during her GCSEs.
Yet the 19-year-old "powered through" those qualifications and then her A-levels and is planning to use her recuperation time from the operation to plan her future options.
"Although I have been in some pain and discomfort over the past few years," she said, "I have tried not to think about it and to focus on my work".
She said deciding on her next steps will be difficult as: "I I love all the subjects that I have taken at college."
A number of the group's other students are going on to study law, sciences and linguistics after receiving their results.
Assistant principal Matt Ridgill said staff had "worked hard to ensure the teacher assessment grades have been supported by evidence gathered through mock examinations, in-class tests and coursework and are therefore robust and realistic.
"This has meant that the vast majority of our students are celebrating the results they deserve and are now able to progress onto the next stage of their lives."
---
College leaving A-level provision on a high
A college set to replace its A-level provision with the government's new flagship qualifications T Levels is leaving the general qualification on a high.
The Manchester College has said 99.3 per cent of A-level students have secured pass grades in this year's examinations.
The same proportion of its students on technical subjects (BTECs, UAL) have received a pass grade this year.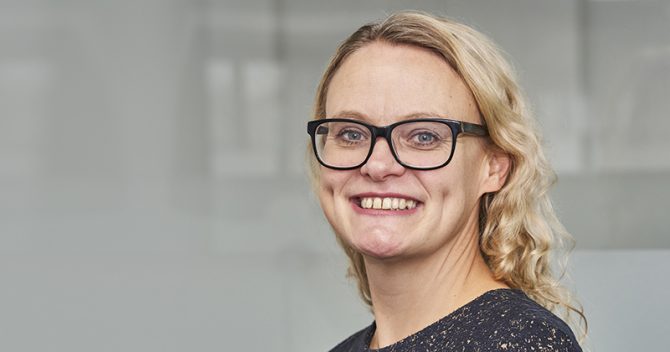 Principal Lisa O'Loughlin said: "With these fantastic results under their belts students in the class of 2021 are now in an excellent position to go on and take their next steps towards securing a role in their dream career.
"We know it is a challenging economic environment currently but, regardless of whether the students are moving on to further study or employment, I have every confidence that they will go on to become the next generation of industry excellence and have a rewarding career."
Two of their students have won places at Oxbridge: Jeneve Hines-Braham will study English at the University of Cambridge after passing her Access to HE in English, Writing and Media course.
Jamie-Louise Lucas is off to study law at the University of Oxford after achieving an A* in English literature, A* in psychology and A in history.
Jamie said she "absolutely loved my time here.
"I really enjoyed my courses but it's all the other things as well. Even when we were learning from home because of Covid-19, I still felt like part of a community. There is no rulebook on teaching during a pandemic but the college did it really well."
---
Nearly a quarter of a million level 3 BTEC students receive results
More than 230,000 students have received the results for their level 3 BTECs, awarding body Pearson has announced.
Many of them have completed qualifications in areas the education giant says are "suffering from a huge, and growing, skills gap".
Thirty thousand and three hundred students will have completed a level 3 BTEC in applied science, 33,700 in health and social care, 23,500 in IT and computing, 16,500 in engineering, and 4,200 in construction.
Pearson's senior vice president for BTEC and apprenticeship Cindy Rampersaud has paid "a heartfelt thank you to every teacher, tutor, lecturer, school and college leader and parent for the incredible effort they have made to support students achieving the grades they have worked so hard for this year".
"Congratulations to the class of 2021! We wish each and every one of you all the very best on your next steps." 
Pearson has said BTEC results data will be published in full in the autumn.
---
Sector groups respond to results
Sector representatives have been commenting on today's results, with Sixth Form Colleges Association chief executive Bill Watkin saying: "Teachers' dedication and relentless focus on high standards, and students' determination and resilience have been the bedrock of this year's results."
He says talk of grade inflation is "wide of the mark" as: "This years' results cannot be compared to the pre-Covid era as students have been assessed in a very different way and have had a very different educational experience."
Association of Colleges chief executive David Hughes has said, as well as congratulating students who have won university places, people should also "celebrate the many students moving onto great apprenticeships, further training and work".
"Every single result has been earned by the student and is a fair reflection of their performance and abilities," he insisted.
The AoC will be studying the equalities impact of this year's results closely, but Hughes called it "reassuring that today's grade distribution suggests that there is no significant worsening of these achievement gaps this year". 
The Association of Employment and Learning Providers' research director Paul Warner has called on the government to extend employer incentives to hire apprentices, which were first introduced in August 2020 and are due to expire next year.
"For students considering their options, now is the time for the government to extend these incentives, specifically targeting them to increase opportunities for young people," Warner said.
Federation of Awarding Bodies chief executive Tom Bewick has highlighted how vocational students have been receiving results throughout the year.
"While the spotlight isn't always on achievement outside of results days, we must celebrate the accomplishments of every learner who has completed a qualification or apprenticeship this year – overcoming national lockdowns and closures to schools, colleges, training providers and workplaces."
City and Guilds chief executive Kirstie Donnelly has warned students picking up results today: "A university degree might not be the golden ticket to a job that many had hoped.
"As young people get their results this week, it's more important than ever that they explore all the options open to them – whether that's a degree, an apprenticeship, or a degree level apprenticeship – and ensure they are fully informed about career opportunities, so they can make the smartest choices about their futures."
National Education Union joint general secretary Mary Bousted congratulated students and staff for their "resilience and dedication throughout an extraordinary year".
But after education secretary Gavin Williamson paid them congratulations yesterday (see below), she said this "praise comes too late – and rings hollow.
"Late and incoherent guidance on how they should submit grades resulted in increased workload and stress for teachers as well as uncertainty for students.
"Government has taken school and college staff for granted and ignored their calls throughout this pandemic, maintaining the silence of a monk for much of it.
"This cannot and must not continue," she said, which is why NEU is supporting an independent commission on assessment and qualifications, chaired by Professor Louise Hayward of the University of Glasgow, Bousted said.
University and College Union general secretary Jo Grady has said this year's bumper exam results should lead to a pay rise for staff, after the Association of Colleges recommended principals award a one per cent raise for staff last December.
Grady said colleges "need to think again and demonstrate they value their workforce otherwise we will see sustained strike action at colleges across England come autumn". 
---
'No large changes' in vocational and technical grade distribution this year, says Ofqual
Ofqual has found there have been no "overall large changes" in the grades awarded for vocational and technical qualifications last spring and this summer.
The qualifications watchdog has published an analysis of applied general qualifications, other VTQ performance table qualifications, and other general qualifications at level 3 to coincide with today's results day.
More than 340,000 vocational and technical qualifications are being awarded to students today, the Department for Education has revealed.
Yet Ofqual's analysis reveals that: "The shapes of the distributions in most cases do not seem to have substantially changed this year compared to previous years.
"There does not seem to have been overall large changes in any single direction across the sector this year," it concludes.
There have been changes in the proportion of top grades being awarded in 2021 compared to previous years, but this varies in direction and size across different qualifications.
The analysis does not suggest any particular regions had a greater degree of change than any other.
While it admits the coronavirus pandemic could explain some of the changes, Ofqual says other explanations are "equally likely," owing to the variability of VTQs.
"Thus, while we can report the changes that have occurred at an aggregate level, we are not able to make any claims as to the cause of those changes."
Association of Colleges chief executive David Hughes remarked how results had remained "stable" for the level 3 qualifications most similar to A level.
"Students can be confident that college staff have used a fair and robust process to determine grades and worked with awarding organisations and exam boards to ensure consistency and fairness across the board," he continued. "They should confidently progress to their next steps with the grades they have received." 
Following the cancellation of most of this year's exams in January, many students have received grades decided by their teachers, though exams and assessments for some VTQs have gone ahead.
---
North west college group celebrating high pass rate
Nelson and Colne College Group is celebrating this morning after achieving top pass rates.
Nelson and Colne College says it has recorded an A-Level pass rate of 99.9 per cent in 2021.
The college, and its sister college Accrington and Rossendale, has also achieved a 100 per cent pass rate on level 3 vocational courses.
Principal Amanda Melton said she was "absolutely delighted for our students. They have worked so hard in such challenging circumstances and it is great to see them achieve the results they deserve.
"I would also like to thank our phenomenal tutors who have worked tirelessly, in an unprecedented year, to support our students to achieve their very best."
One Nelson and Colne student, Grace McWilliam, has achieved A, A*, A* in her A Levels in government and politics; philosophy, ethics and religion; and sociology.
She credits the social sciences faculty with "instilling a lifelong love of philosophy, sociology and politics within me. Their endless encouragement and support has contributed to my ever-growing reading list."
---
Conservatives and Labour congratulate students for their "resilience" and hard work
Education secretary Gavin Williamson has praised students' "resilience and ability to overcome adversity" mere hours before they find out results for qualifications including A-levels and BTECs.
His opposite number Kate Green has said students should be "proud" of results received in "extraordinary circumstances".
Hundreds of thousands of students will find out what grades they have been awarded by their teachers, after this summer's exams were cancelled in January due to Covid-19.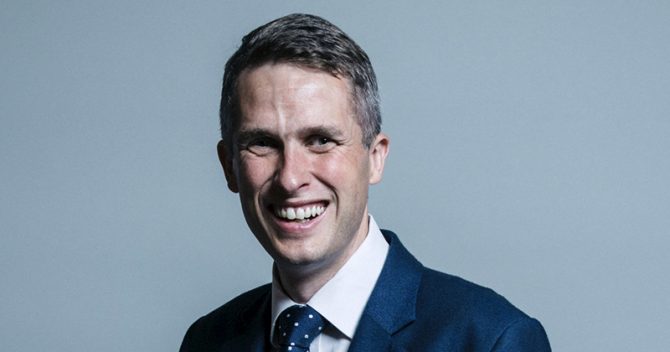 Williamson said students have "worked very hard" through an "extraordinary and challenging year," so "each and every one of them should feel incredibly proud of their achievements".
This comes after the minister earlier thanked teachers for their "hard work" in producing grades for their students this year, which has "earned the trust and admiration of the whole country".
"I am hugely grateful to teachers and also parents for supporting our young people in progressing to the next stage in their lives with confidence," Williamson said.
Results for qualifications including A-levels and level 3 vocational and technical qualifications (VTQs) will be revealed tomorrow, with results for GCSEs and level 1 and 2 VTQs coming out on Thursday.
Labour's shadow education secretary Kate Green has also congratulated students, who she says have "worked incredibly hard in extraordinary circumstances and should be proud of the results they are receiving today".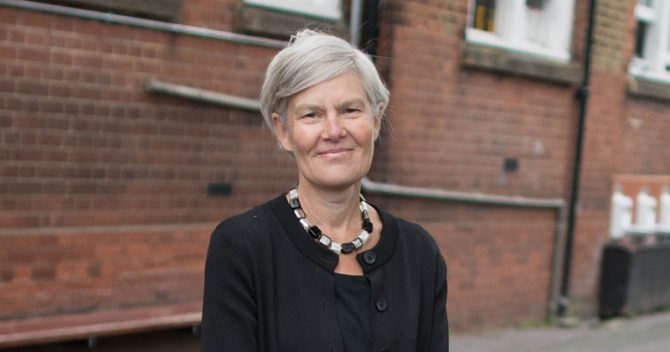 For this week's results days, Labour has made several demands of government, including calling for students to get a 'next step guarantee' to ensure they can move onto their next steps, for government to ensure providers and exam boards can "swiftly" process appeals, and for support to be provided so staff can advise and help students.
The Department for Education has said students who have not achieved the grades needed to take up conditional offers should speak with their provider, university or prospective employer about their options.
The Exam Results Helpline will also be available for students who want additional advice and admissions service UCAS will be helping students find places through clearing.