A-level results day is here!
Today's the day when A-level learners up and down the country find out whether all their hard work has paid off, and what their next step in life will be.
*** The live blog is now closed. Sorry if your pictures didn't make it in – we've been inundated with stories and there simply hasn't been time to add them all. We really appreciate you sending them and don't forget to send them in next year. Congratulations to all the learners who got their results today and best of luck for the future.***
As with previous years, we'll be sharing some of the success stories from colleges, sixth form colleges and providers up and down the country on this live blog.
---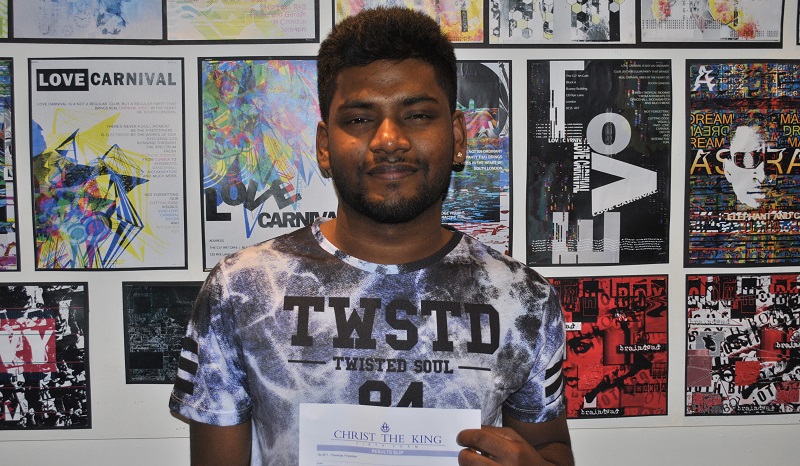 Christ the King Sixth Form College student Piriyankan Thavaraja has beaten the odds after securing D*D*D* in BTEC engineering.
The 18-year-old is one of just seven per cent of looked-after children to progress to higher education, as he takes up a place at Brunel University to study civil engineering.
Piriyankan is estranged from his family in Sri Lanka, and had been living with his brother in the UK until three years ago when his brother had to return to their home country.
Since that time he's been in care. For the first year of his studies at Christ the King he was in accommodation a long way from the college, and has also been working at two part-time jobs in order to send money back to his family.
Christ the King principal Rob McAuliffe said: "Piriyankan is one of a number of our students who have overcome enormous obstacles to achieve academic success. He's an extremely talented and modest young man and we are confident he will go on to a successful and fulfilling career after university. We're extremely proud of him."
---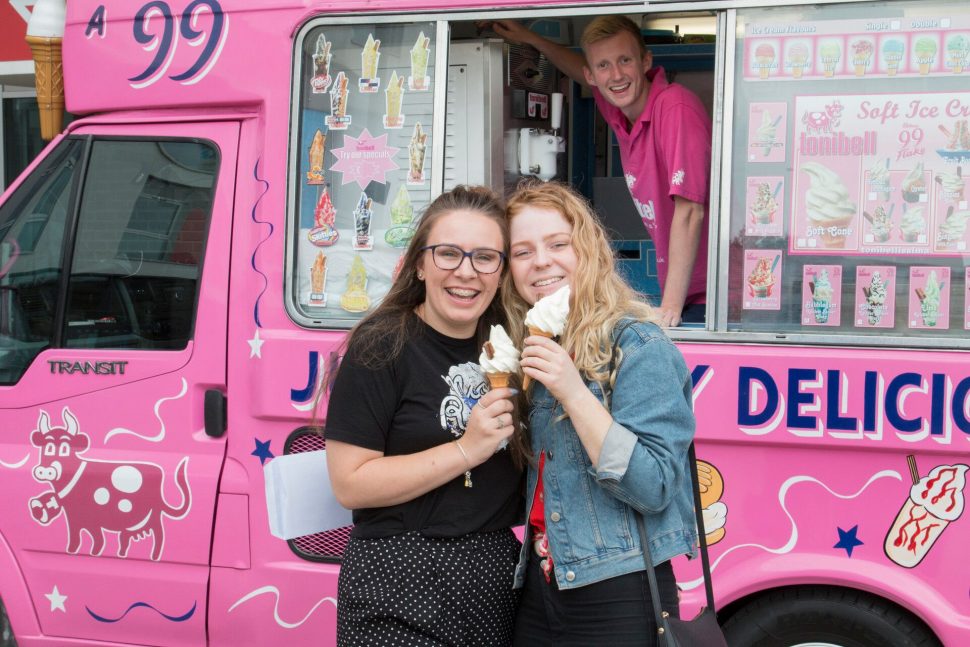 What better way to celebrate your A-level results than with free ice-cream?! Zoe Hogg, 18, and Chloe Pearce, 19, are all smiles after picking up their A-level results at West Kent College today.
Zoe is still deciding between Cardiff and Swansea universities, after gaining ACC in English literature, history and law.
"I'm hoping to eventually join the police force, working in the counter-terrorism unit, or sit the Bar and become a barrister, but that's a decision for further in the future," she said.
Like her friend, Chloe also hopes for a career in the police. She's off to the University of Plymouth to study law and criminology after scoring scored ADD in law, biology and English literature.
Kelly Bennett, head of A-levels at West Kent, said: "We're delighted with the fantastic set of results our students have achieved this year. We are very proud of all their achievements, with a number of them achieving beyond their expectations."
---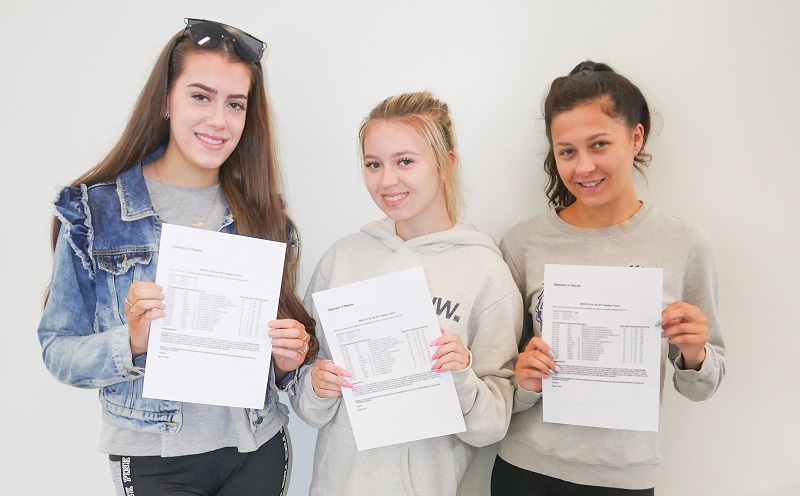 Three Pendleton Sixth Form College students are all off to university after each achieving D*D*D* in BTEC forensic science extended diploma.
Olivia Splaine (left) said she was "really pleased" with her results, which mean she's off to Manchester University to study psychology – which she hopes will lead to her dream job as a clinical psychologist.
Mia Morris (centre) will be studying biomedical science at Manchester Metropolitan University, which she hopes will lead to a career as a pathologist.
"I knew when I chose Pendleton the results were always good and I was right," she said.
Kaydee-lea Gibson (right) has a place at Edge Hill University to study psychology and criminology.
"I'm hoping one day to become a criminal psychologist and college has certainly helped me gain the independence and confidence I'l need for the job."
---
Luke Mackey and Lillian Anderson are among more than 800 students from Bury College heading to university after picking up A-level and other level three vocational course results this week.
Luke, 18, will be studying modern foreign languages and cultures at Durham University after achieving ABB in A-level English language, English literature and French.
"I am absolutely ecstatic with my results and very relieved that all my hard work has paid off," he said.
Meanwhile Lillian, 18, is off to Manchester University to study zoology after scoring A*A*A in biology, psychology and chemistry.
"I am really happy and very excited for my future. My results are a dream come true. I have loved my time at Bury College and I have received great support from my tutors. They have gone above and beyond to help me," she said.
Bury College principal Charlie Deane said it had been "an exceptional year for student achievement".
---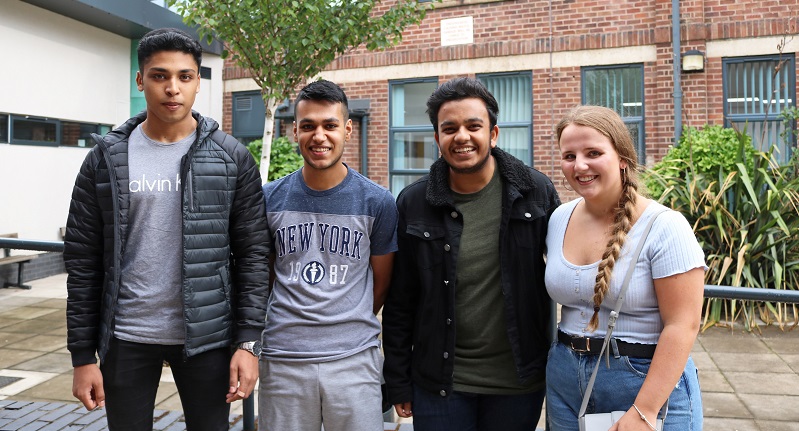 Four future dentists and doctors are a step closer to realising their dreams after picking up their A-level results at Ashton Sixth Form College today.
Akhil Sebastian (far left) and Ciara Blackhurst (far right) are both heading off to study medicine. Akhil, 18, will be going Sheffield University after achieving A*A*A*A* in biology, chemistry, maths and extended project, while Ciara, 18, is going to Liverpool University after getting A*A*AA in chemistry, geography, biology and extended project.
Meanwhile, Bhavik Patel (centre left) and Mohit Mistry (centre right) are both starting their dentistry studies soon. Bhavik, 18, will be going to Manchester University after getting AABB in chemistry, maths, biology and extended project, while Mohit, 18, will be joining Akhil at Sheffield University after scoring AABA in the same subjects.
Anton McGrath, Ashton SFC principal, said today's results were "the best in the college's long history".
"Each and every one of our students should take some time to reflect on their magnificent achievement; we are proud of all of our students and wish them well for the next stage of their career, whether moving to university, beginning an apprenticeship or joining the world of work."
---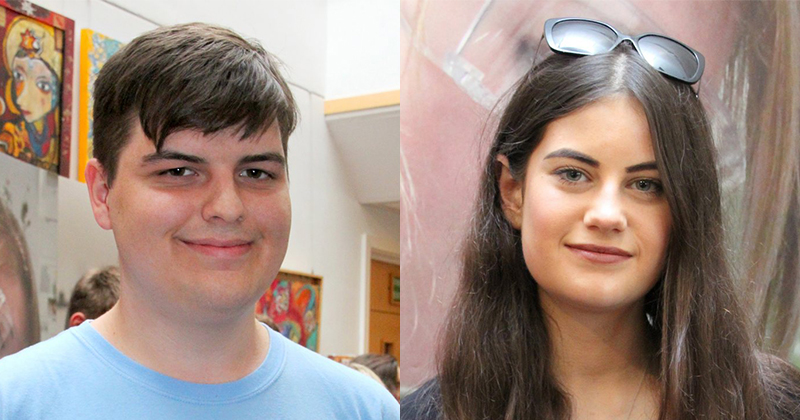 When 19-year-old Izzy Buratta got her results from Strode College this morning she was so emotional her mum thought she'd failed.
"I started crying my eyes out. I was so shocked at my results but at the same time I'm so happy," she said.
Izzy left school with just two GCSEs, and now has A*AA in maths, philosophy and economics and is off to the University of Warwick to study economics.
"I would not have achieved this without the encouragement and support from the teachers at Strode; they are so friendly!" she said.
18-year-old Louis Davies is off to Cambridge to study physical natural sciences, after achieving A*A*A*A in maths, chemistry, physics and further maths.
"When I opened my results, it felt surreal; I never expected to do this well," he said.
"The support from everyone at the college has been outstanding; the teachers kept me on track and never allowed me to drop."
---
If at first you don't succeed… It's been second time lucky for 21-year-old Nottingham College student Khaled Zoubiri (pictured with his tutor Jeff McQuone), who gained an impressive four As in maths, further maths, physics and chemistry today.
This was Khaled's second go at A-levels, having failed to complete them first time around at school.
"I'm so pleased, it was good to take some time out to decide what I really wanted to do," he said.
He's now off to Manchester University to study chemical engineering, which both he and his family are "really happy" about.
---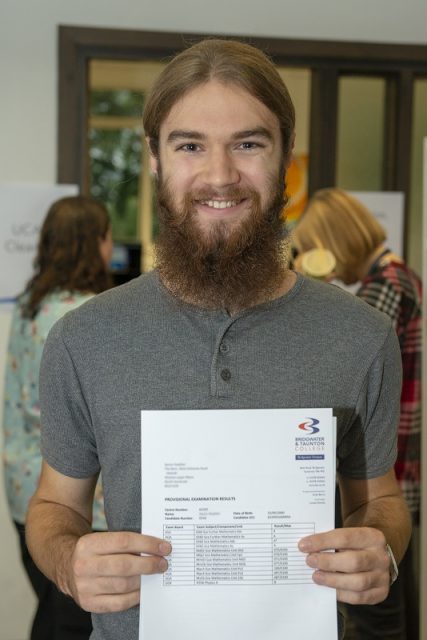 Aaron Heather is just one of Bridgwater and Taunton College's A-level students celebrating today after achieving outstanding results.
The 18-year-old is heading to the University of Exeter to study physics after gaining A*BB in maths, further maths and physics.
"College has been fun and I've met great people," he said.
Overall, the college had a pass rate of 98.5 per cent, with 30 subjects seeing a 100 per cent pass rate.
Principal Andy Berry said, "We are absolutely delighted that our students have achieved the best ever results the college has seen.
"It has been great to be part of today's results day and hear all of the success stories and exciting plans of our students who are off to pursue their passions at some top universities."
---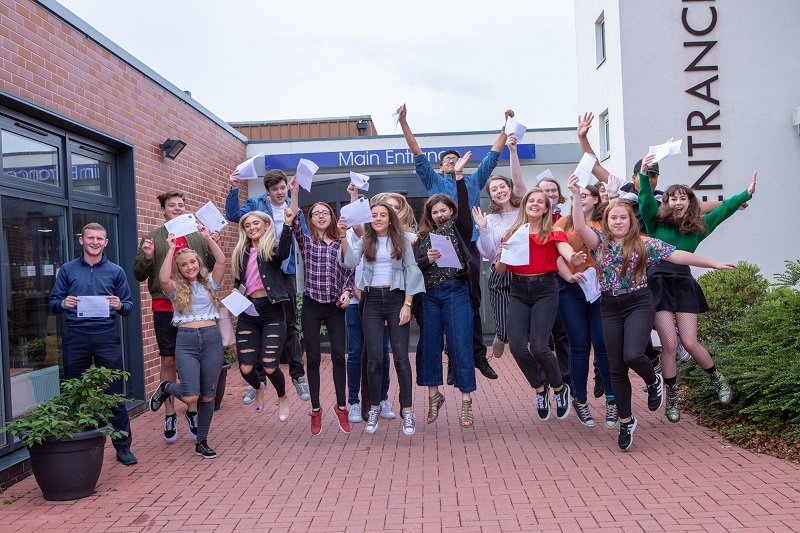 A-level students at Cronton Sixth Form College have reason to be happy today – they achieved a remarkable 100 per cent pass rate! Amazingly, almost a third of all grades were either A or A*.
Principal Mary Murphy said: "We are absolutely thrilled with the remarkable A-Level and vocational results our students have achieved this year. A 100 per cent pass rate is rare and it truly is a testament to the hard work of both our talented students and inspirational staff.
"It was wonderful to be able to celebrate today with staff and proud teachers who have all worked so hard to achieve these spectacular results. We wish all of our students the best of luck as they embark on their next steps."
---
Bill Watkin, chief executive of the Sixth Form Colleges Association, offered his congratulations to all students receiving their results at SFCs across the country today.
"This year's A-Level and Applied General results show once again just how successful sixth form colleges are. Exam results are important and SFCA is delighted that so many students in colleges have done so well," he said.
"Students and their teachers have worked tirelessly and deserve proper recognition and celebration of their successes and achievements."
He added: "It is wonderful that students have done so well in their exams today, but colleges are far more than exam factories. The government must increase investment in sixth form education to ensure that all young people can access the extra-curricular activities and support services they need to progress to higher education or employment."
---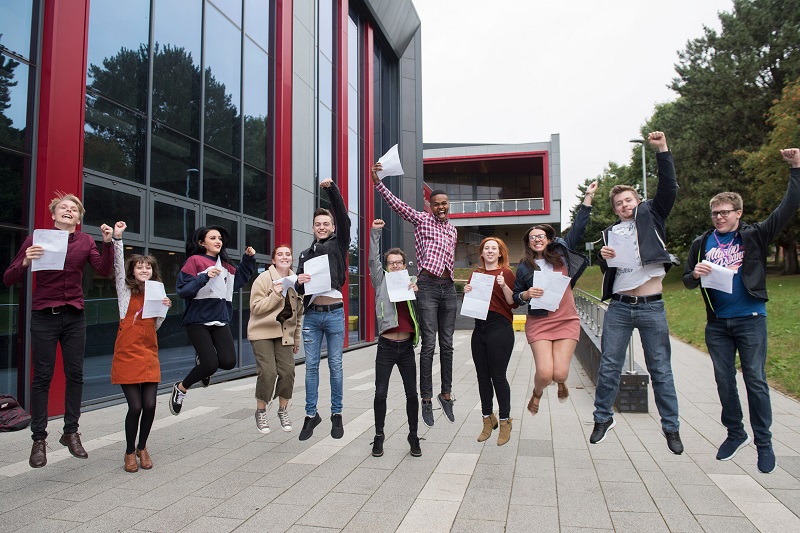 A-level students at West Nottinghamshire College are jumping for joy after receiving their results today.
The college has an overall pass rate of 99.7 per cent this – up one percentage point on last year's results.
Principal and chief executive, Dame Asha Khemka, said: "This is the second year that our A-level students have been tested under the revised, even tougher system, and despite widespread talk about the impact this could have on high grades and pass rates nationally, once again they have risen to the challenge and performed extremely well under such rigorous conditions.
"Congratulations to each student, to their families who play such an important role in supporting them, and of course to our staff, who have given each learner not only the knowledge and study skills to fulfil their potential, but the mentoring and guidance to develop as individuals."
---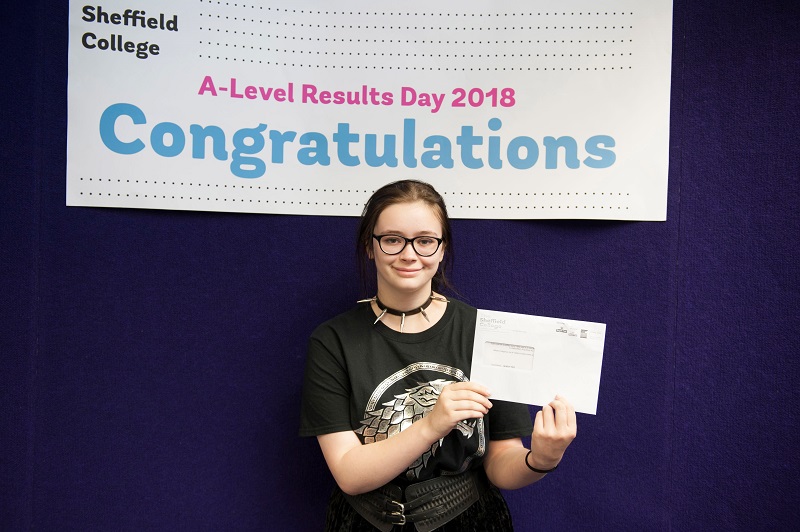 A Sheffield College student whose juvenile arthritis meant she sat her A-levels exams at her kitchen table (under the watchful eye of an invigilator) is celebrating after gaining BBD in English language, English literature and history.
Keavey Green, 18, said she was "so happy and relieved" with her results, and is now heading to Nottingham Trent University to study English and history.
"When my condition flares up, it affects the immune system as well as the joints which makes it very difficult to move. As a result, I become wheelchair bound," she said.
"Despite these challenges, I was determined to succeed. The Sheffield College has helped me to go further than I thought was possible."
---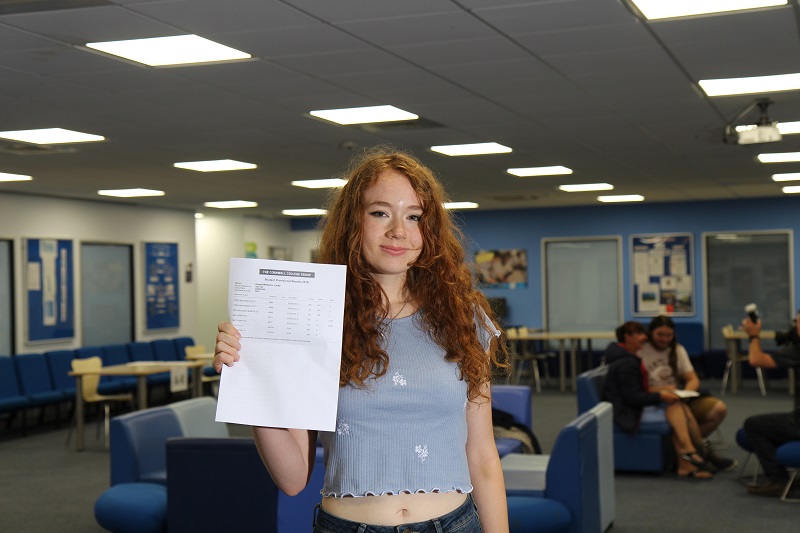 Three A* grades in biology, chemistry and maths A-level are helping 17-year-old Libby Williams on her way to achieving her dream career.
The Cornwall College student is off to Plymouth University to study biomedical science in order to become a medical researcher, which will involve "researching cures and vaccines for diseases".
"When I see people suffering with diseases then I wish that there could be something that could sort that out, so I want to be part of the movement," she said.
Studying at Cornwall College has been "a really great experience", and the teachers "really cared about what we were going to get".
---
---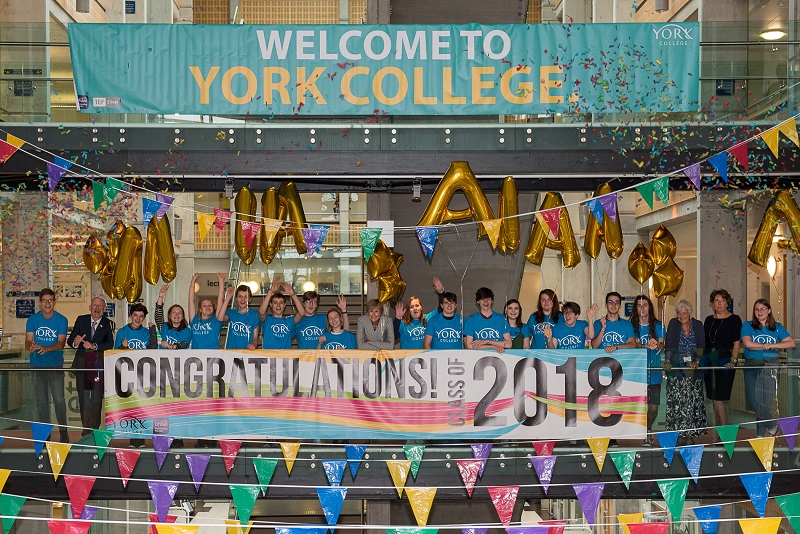 York College has pulled out all the stops to celebrate its students' amazing A-level results, which saw a record-breaking 99.9 per cent pass rate.
An impressive 35 students got at least three A or A* grades, and eight managed an amazing three or more A*. Six of this year's crop of students will be heading to Oxford or Cambridge this year.
Dr Alison Birkinshaw, York College principal, said: "These results are sensational and I am thrilled that our students have done so well.
"We are all so delighted they can now move onto top universities with confidence and be proud of their achievements."
---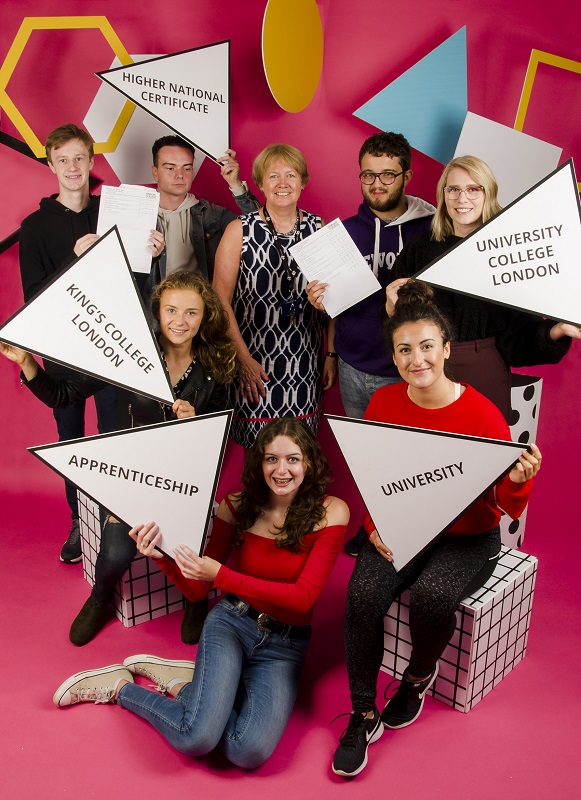 Harlow MP Robert Halfon offered his congratulations to all the students at Harlow College receiving their A-level results today.
"Harlow is becoming the skills capital of the east of England and ensuring that students can climb the education ladder of opportunity to achieve the very best," he said.
"This is all to do with the hard work, commitment and sheer non-stop effort of the governors, principal, staff, students and parents. A proud day for Harlow and congratulations to all."
Among those celebrating their results today is 18-year-old Jade Driscoll (seated on the floor), who gained ABB in her history, chemistry and maths A-levels.
She had an offer to study law at the University of Kent, but turned it down in favour of an apprenticeship. She'll be training to be a solicitor at Eversheds Sutherland in Cambridge.
The apprenticeship will "better suit my lifestyle as I can stay at home and learn on the job," she said.
"I know that I'll have equally good experience to be a solicitor, as I would have gained if I'd gone to university."
---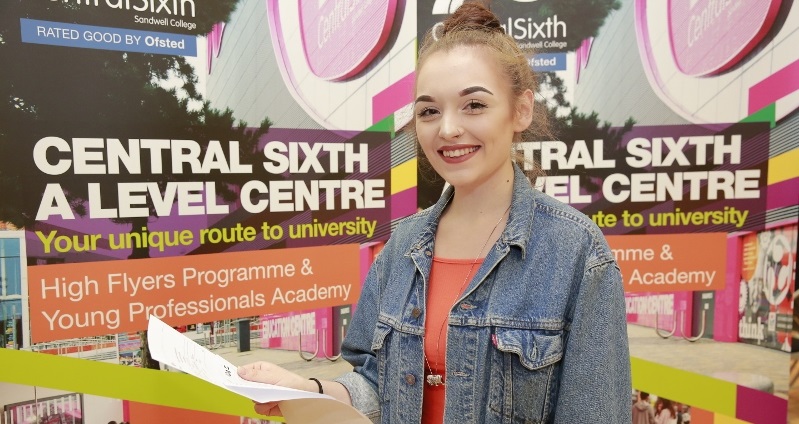 The stage is set for 18-year-old Sandwell College learner Katy Forrester, whose A-level results mean she's off to Lancaster University to study theatre and English literature.
She scored A*AA in English language and literature, drama and theatre, and sociology.
"Thank you to the supportive staff and subject lecturers who were always reassuring and gave me confidence boosters whenever I lost faith," she said.
---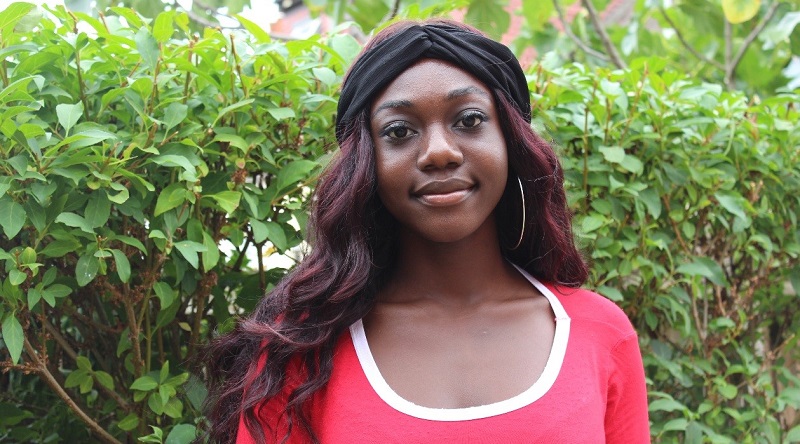 Leyton Sixth Form College student Keisha Asamoah is off to Manchester University to study politics and social anthropology, after achieving an amazing A*AAB in her A-levels in communication and culture, media studies, politics and government, and history.
The 19-year-old is clearly focused on the future. She says she enjoyed studying at the SFC thanks to its "studious" environment which "helped me progress onto my chosen career".
---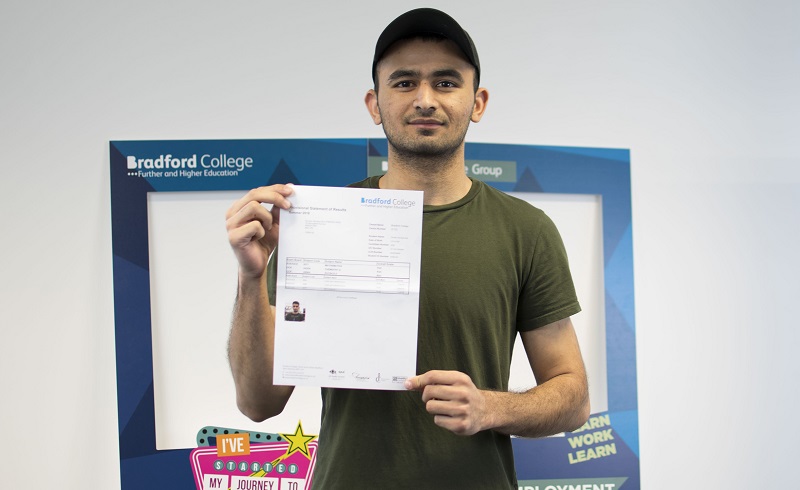 Just five years after he arrived in the UK, 20-year-old Bradford College student Ghulam Murtaza Butt is one step closer to his dream career as an aeronautical engineer after scoring AAB in A-level maths, chemistry and physics.
After five years of studies at the college, he's now taking a year off to work in the family business before heading to university next year.
"Bradford College has been great for me. It has been like home and I am pleased to have achieved the grades I did," he said.
---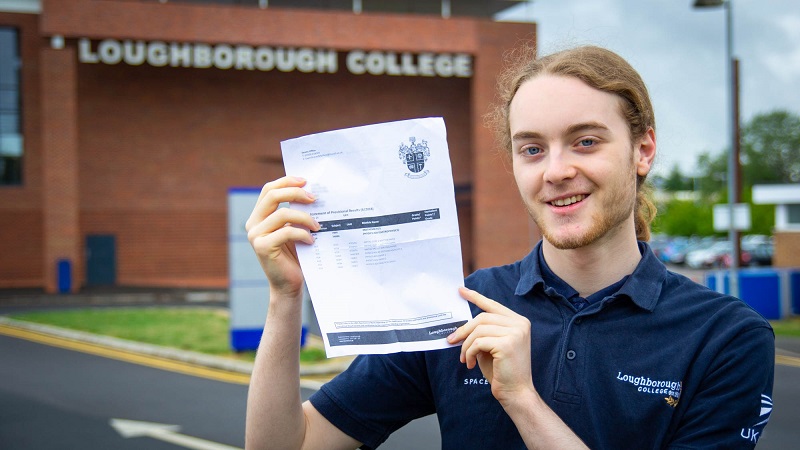 A grades in physics and maths A-levels and a D*D* in BTEC engineering are just the latest accolades for Loughborough College student James Brown.
The 18-year-old was named BTEC Engineering Student of the Year at last month's BTEC Awards, and was also been named student physicist of the year by physics education charity the Ogden Trust. On top of that, he was recently awarded the college's George Fraser Award for outstanding academic achievement.
James, who is off to the University of Southampton to study aerospace engineering, isn't letting his success go to his head, however.
"I'm going for lunch with friends to celebrate but then I'll just get the bus home. I'm not much of a party person but I'll still enjoy my success over a good cup of tea!"
---
Derby College student Saida Acugba is over the moon after receiving her A-level results today. The 19-year-old achieved A*CCA in business, maths, psychology and extended project. She's now off to the University of Lincoln to study finance.
She professed herself to be "ecstatic" about her results, particularly the A* which she "never expected".
"I now can't wait to go to university," she said.
The overall pass rate at Derby College's sixth form centre is up one percentage point from last year and now stands at an impressive 97 per cent. The proportion of students scoring the highest grades (A* to B) is at a record level, at 32 per cent.
"We are delighted with these results on all fronts," said Stacey Adams, the centre's head.
---
Sometimes the smallest changes can make the biggest difference. That was certainly the case for 18-year-old Harry Smales, who is off to Leeds to study maths after scoring A*AB in maths, further maths and physics at Nelson and Colne College.
When he first started his studies Harry was struggling to get through his exams on time, and wasn't doing as well as he felt he could. On his tutor's advice, he was tested for visual stress, to aid the way he processes information.
"Since then, I've had everything on blue paper instead of white and there was a massive improvement in my progress and achievement, and I was finishing my exam questions.
"I'd definitely recommend Nelson and Colne College to others. I've thoroughly enjoyed my time here, and it's a shame it has only been two years!" he said.
---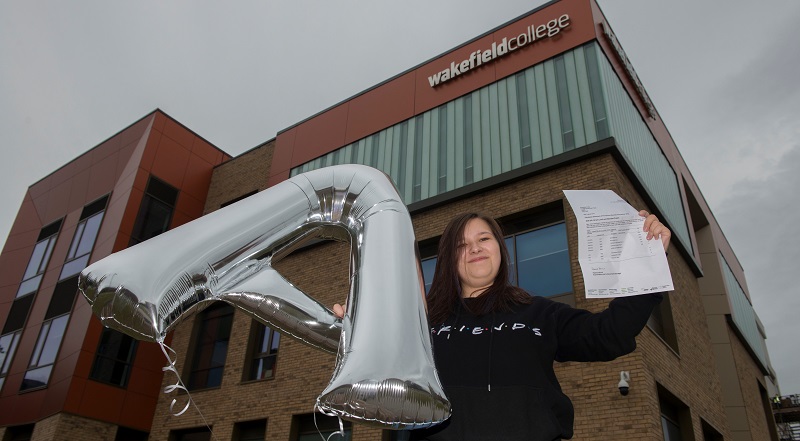 Students at Wakefield College managed an impressive 97 per cent pass rate in this year's A-level results – the 15th year in a row the college's pass rate has been over 95 per cent.
Among the college's high-fliers are 18-year-old Andzelika Duda, who is off to the University of Sheffield to study medicine after achieving ABBB in maths, chemistry, biology and extended project.
"I'm very happy with what I have got. I had great teachers that always supported me, and I couldn't have done it without them," she said.
Wakefield College principal Sam Wright said she was "absolutely delighted" with this year's results.
"I along with all the senior team and governors, would like to congratulate all of our students and staff on their hard work and success."
---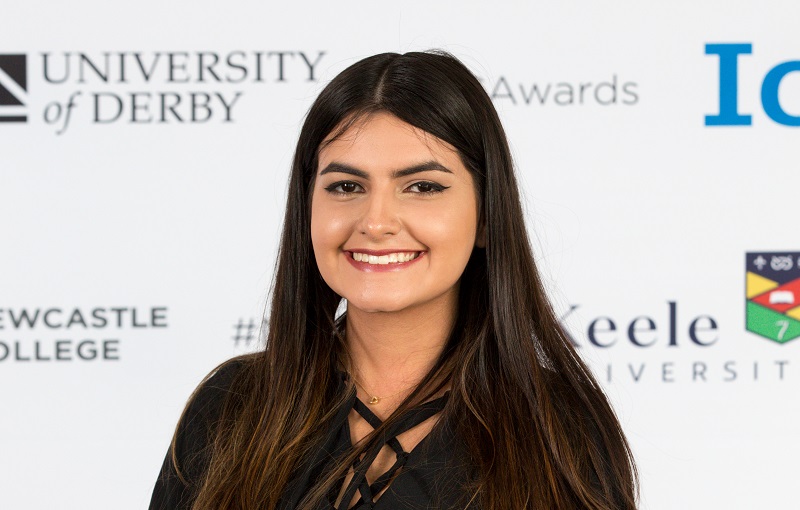 It's not just A-level students getting their long-awaited results this week – BTEC learners have also been finding out if all their hard work has paid off.
It definitely has for 21-year-old Paola Simoes Gomez, who is off to study mechanical engineering at Manchester Metropolitan University after achieving D*D*D* in her BTEC level three  in engineering at Newcastle-under-Lyme College (part of Newcastle and Stafford College Group).
Paola arrived in the UK from Venezuela in 2014 to improve her English, but was unable to return due to the political unrest in the country. She began her studies at the college on a foundation level course before progressing through to her BTEC course. Her journey was far from smooth, however: in 2015 she was hit by a van on her way to college and nearly lost her foot as a result, and shortly afterwards she was abandoned by the relative she'd been staying with.
"The college saw potential in me and have been really supportive. And my dad is so proud of me – he always said I should do engineering," Paola said.
---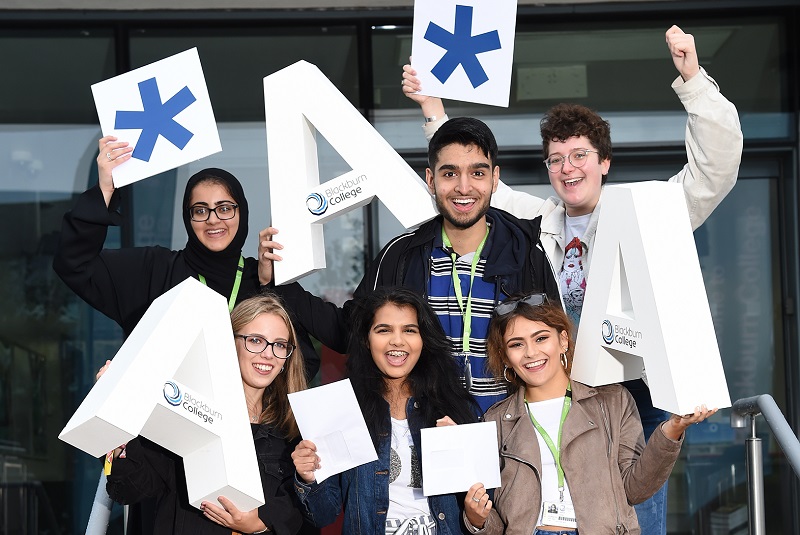 We kick off today's blog at Blackburn College, where students achieved a 100 per cent pass rate in 23 subjects – an increase of five subjects from last year.
Among those celebrating their results today are Unaisa Adam (pictured above left) who achieved A*AA in her chemistry, biology and psychology A-levels. She's now heading to the University of Manchester to study a BSc in optometry.
"My future ambition is to become an optometrist and I hope to maybe one day manage my own firm of opticians. Blackburn College has helped me to be confident in my academic abilities and pushed me to follow my ambitions of becoming an optometrist," she said.
[pictured above: l-r top Unaisa Adam, Abdullah Ali, Lotte Neil, l-r bottom Stella Robinson, Tabassum Vaka, Jessica Carrie]
---