Eight teams compete in the Lake District for top honours in a national contest for apprentices
Scores of youngsters descended on the Lake District last week to take part in the gruelling finals of a national competition aimed at boosting the profile of apprenticeships.
Eight teams from as far afield as Plymouth, Norwich and Burnley rowed, paddled and orienteered against each other — and the elements — in the grounds of Brathay Hall in Ambleside.
The two-day Brathay Challenge was the culmination of six months' hard work in which the teams raised funds and visited schools to promote vocational learning. More than 90 teams entered the competition, now in its second year, which is organised by the Brathay Trust charity and supported by the National Apprenticeship Service (NAS).
A team of engineers from Innovia Films, Cumbria, were this year's victors, fighting off stiff competition from last year's winners, Cobham  who were pushed into joint second place with Norse Group.
"I cannot put into words how happy I'm feeling right now," said Aidan Harrison, 20, a member of the winning team.
"We didn't think we'd do this well — it's incredible."
The electrical engineering apprentice from Wigton said that his team took the charity element "very seriously", winning the round with a race night and auction that netted £6,275.
Everyone was apprehensive. But we stepped it up a gear . . . it was great team building"
"Winning or not we were so proud to raise that much," he added.
Teammate Sam Ogle, 19, also from Wigton, said: "We raised money for a heart machine for a hospital in Newcastle after my mum had surgery there. It meant a lot to me."
Other teams came from East Midlands Housing Group, Unilever, Plymouth City Council, Burnley Borough Council, and BCTS, a team from small Norwich businesses trained by Broadland Council Training Services.
Between them they raised £34,000 for charity and made around 300 school visits.
Jaine Bolton, NAS director, said: "The real point of this event is to showcase what apprenticeships can do. To get out the message about the diversity of the young people involved. The community work they have all done is amazing."
Plymouth apprentices topped the awareness-raising element with a careers' fair. Other teams went along to school assemblies while some held CV workshops.
Although Cobham was the first side to power over the finish line of the whaler boat race — a nail-biting final element, fought in driving rain — Unilever was the victor after the team picked up bonus points for strategically stopping at markers along the way.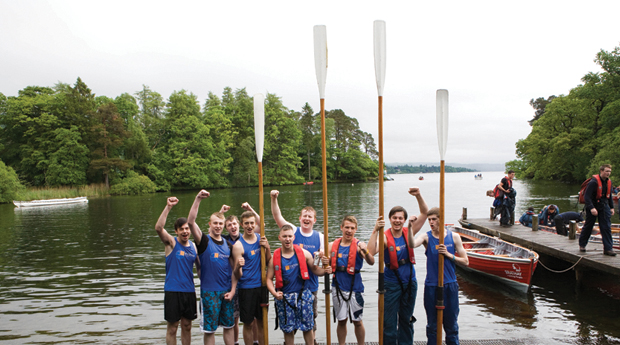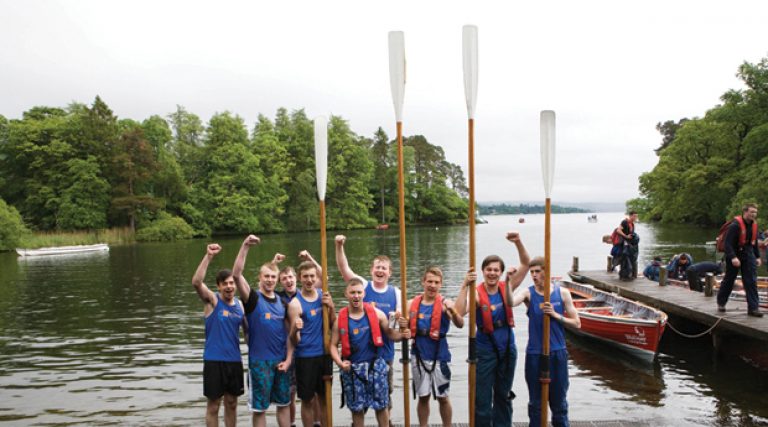 Innovia after the whaler boat race
Alex Hunt, 19, a Unilever chemistry apprentice, said: "Everyone was really apprehensive until we got into a rhythm — but then we really stepped it up a gear. It was a great team-building exercise."
Godfrey Owen, chief executive of the Brathay Trust, said: "The competition was of a high standard this year and we are pleased to recognise Innovia Films as the apprentice team of the year."
Skills Minister Matthew Hancock said: "The competitors in this year's challenge are an asset to their companies and an inspiration to other young people."
Eleanor Radford goes on the ropes at this year's Brathay Challenge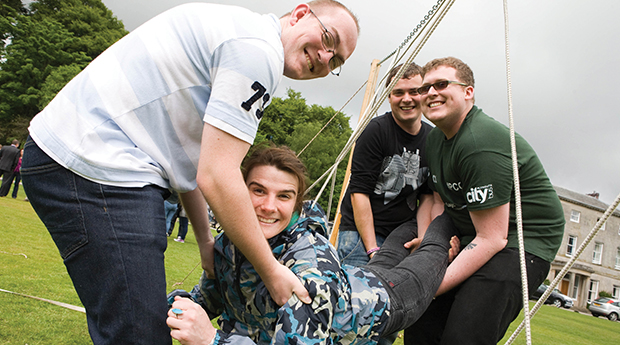 As Team Cobham's war cry echoes around the shores of Lake Windermere you'd be forgiven for thinking a herd of stags is in the surrounding woods.
Not lads on a pre-wedding weekend or on tour, but a herd of the real stuff.
Their macho call "ouwooo", shouted in unison, makes me realise how seriously these young apprentices are taking this competition.
Armed with megaphones and some wearing false moustaches, the support teams are pretty ferocious, too. Innovia Films, for instance, has chartered a yacht where executives loll, cheering on their team.
I am in the Lake District to catch up with the teams and "have a go" at the challenges they face on the two-day Brathay Challenge final.
It is relentless. Two days of orienteering in the Lake District fells while attempting challenges such as balancing 14 nails on top of a single one. How does anyone do that?
Then there are gruelling stints of rowing, canoeing, and balancing on high wires, all between non-physical activities such as assembling puzzles and guiding each other through tests, blindfolded, into the night. It doesn't stop . . . breaks are used to plan strategies for the next stage.
Elliott Dobbs, 19, from Marlow and a member of the Cobham team, takes me under his wing to have a go on the high Vs, a tight rope strung about 30ft up in trees.
We scramble up rungs on a pole, then hold hands and lean against each other to prevent ourselves falling off. We are in harnesses, but it is nerve-racking stuff.
The electrical engineer immediately puts me at ease, guiding me along as his teams mates calmly shout tips of support. We complete it, almost.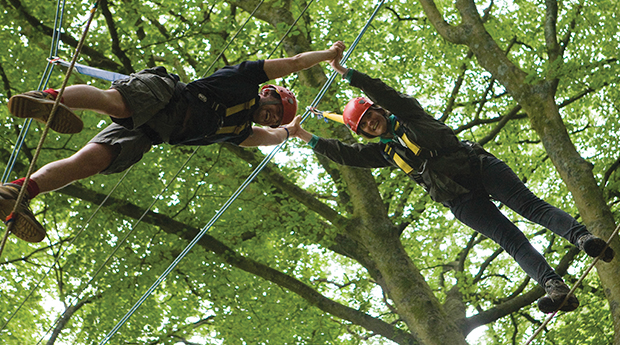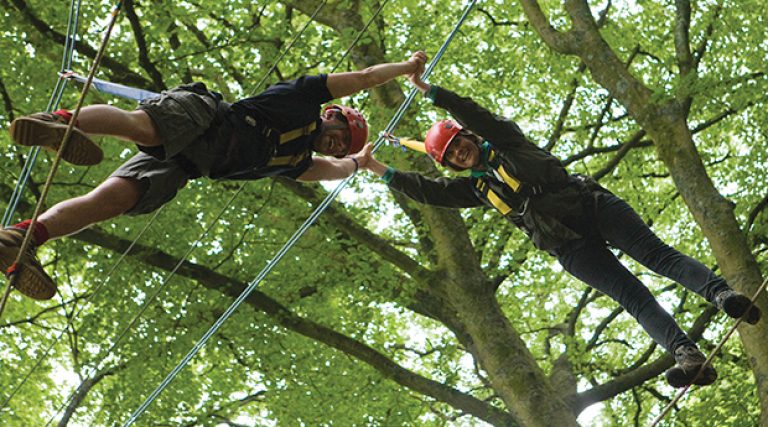 Eleanor Radford takes to the trees (right) with Elliott Dobbs
What comes through strongly is how friendly and open all these apprentices are.
I'm not sure that I've come across such a self-assured, confident, bubbly, yet professional, group of young adults. And I believe this comes from the vocational pathway that they have chosen.
Gregg Black, a customer service apprentice from Plymouth City Council, tells me that his apprenticeship.
"I did other jobs, I tried college, I tried a degree but it didn't work for me," says the 23-year-old.
"What worked for me was learning skills while doing the job."
The tension mounts before the final results are read out.
Proudly defending their title as last year's winners, Elliott says Cobham  is "gutted" to come joint second to Innovia.
But after the trophies are given out to jubilant cheers, everyone shakes hands and heads back to work.