More than 1,500 staff from colleges are expected to take part in a second day of strike action, and more walkouts are planned up to the end of April.
The dispute is over what a spokesperson for the University and Colleges Union described as "a disappointing" pay offer of one per cent, made last September by the Association of Colleges, which represents the colleges on pay.
The first walkouts took place yesterday, and UCU's head of further education Andrew Harden has looked ahead to more industrial action.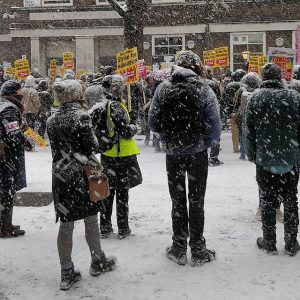 "Strong action was reported from all the colleges on strike yesterday, with many members in London joining the thousands marching through the capital to a rally in Westminster," he said.
"We've already notified the bulk of those colleges that there will be three further days of action between now and the end of April. The ballot paper was explicit that what members were being balloted on was escalating strike action."
The union said it was expecting more than 1,500 staff from colleges across the country to take part in strike action today.
They did not elaborate on what degree heavy snow across the country had undermined picket lines, and efforts to disrupt college life – considering how the icy conditions would have negatively affected many lectures and decisions to attend anyway.
But a spokesperson for New City College in London claimed the strike had made very little impact there.
"The strike action – and snow – have caused very little disruption," they said. "All NCC campuses are fully open and students are attending timetabled classes."
The union announced last month that staff at more than a dozen colleges had voted overwhelmingly to strike over pay.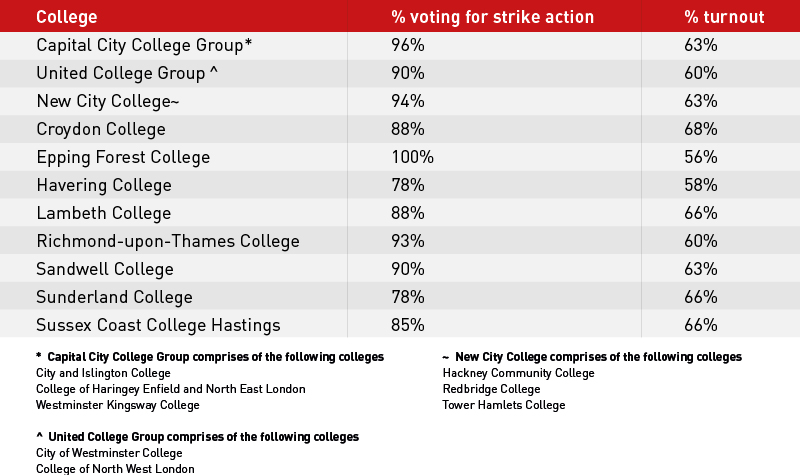 The UCU said staff at all the London colleges that voted and Sandwell would strike today.
The AoC expressed "regret" that it was unable to offer more last September.
The National Joint Forum, made up of the unions representing college staff, had submitted a claim for an across-the-board rise of around six per cent in April.
But the final offer was just one per cent, or the sum of £250 "where this is more beneficial".
"When we made the recommendation of one per cent, or a minimum of £250, we were clear that this was the maximum we believed was affordable by colleges, given the severe funding cuts which they have been subject to in recent years," said AoC boss David Hughes.
But the mood will have darkened further among general FE college staff, after it was announced yesterday that teachers in sixth-form colleges in England will get a pay rise of up to two per cent, backdated to September 2017.
The agreement will give those on points one to six of the national pay scale an extra two per cent, while those above point six will get one per cent from the same date.
"Sixth-form college teachers will be pleased that their pay will increase in line with school teachers for another year," said Dr Mary Bousted, the joint general secretary of the National Education Union.