The Conservative Party manifesto, published yesterday, pledged "50,000 more nurses" as the first of six "guarantees", signed on page two by the prime minister, Boris Johnson.
And Matthew Hancock, the health secretary and former apprenticeships minister is, according to his Twitter feed, particularly grateful to the Daily Express.
In a triple digit font size they've written "BORIS PLEDGES 50,000 EXTRA NURSES" on their front page.
But we now know, after it was pointed out the budget was significantly short of the cost for 50,000 nurses, that in fact around 20,000 (40 per cent) are already nurses.
I listened to Nicky Morgan doing the media rounds this morning, floundering on the BBC Today radio programme and on ITV's Good Morning Britain, where the interviewers were not convinced by the "we'll improve retention" spin.
'There will be overall 50,000 more nurses, if you look in 10 years time, than there are today.'

Culture Secretary Nicky Morgan defends the Tory's pledge to deliver 50,000 more nurses.@piersmorgan | @susannareid100 | #GMB pic.twitter.com/LMVFEKUBQR

— Good Morning Britain (@GMB) November 25, 2019
And it reminded me of something Nick Boles said about the method of arriving at another previous centrepiece manifesto recruitment target: "To create 3 million apprenticeships for young people by 2020."
Boles, who took over from Hancock as the apprenticeships minister in the summer of 2014, was interviewed by the Institute for Government in late 2017 and said: "Well, we had delivered two million apprenticeships in the 2010–15 Parliament. So in the manifesto process, there was a classic exercise in 'Well, okay, what are we going to promise for the next Parliament?'
"There was this feeling that you can't say two and a half million, that sounds a bit tame, nobody would be excited by that, so we're going to say three million. Then three million is really a lot of apprenticeships, it's big growth.
"Where's the money going to come from? In advance of the election, we were lost in the noise and fury, as it were. I hadn't expected or wanted to be reappointed, but when I was reappointed I was quite aware that we had a bit of a challenge here."
It would appear that the priority when it comes to manifestos is that a target must sound exciting and be a lot higher than what came before – worry about money and a plan latter.
Basically, round it up to 50,000 or 3 million – seems to be the methodology within the Conservative Party.
But, to give the Conservatives the benefit of the doubt, maybe they subsequently put in place a plan to achieve the 3 million target?
If they did have a plan, then it has spectacularly failed.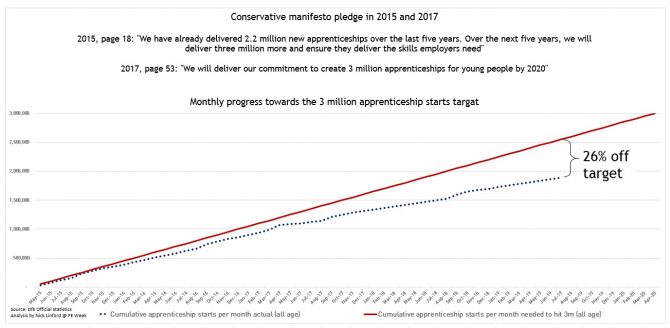 The number of apprenticeships in recent years have not risen and nor has the pass rate.
By May 2020 there will have been around 2.2 million starts, the same as the period prior to the setting of the target and around 800,000 (a quarter) short of 3 million.
And, far from supporting "young people" as the manifesto promised, last year apprenticeship starts for those under the age of 19 fell by 9 per cent whilst for those aged 25 and over, starts grew by 14 per cent.
The government has since excused the sluggish numbers on the grounds that quality is more important than quantity.
So, does the data show quality has risen?
The official figures actually show a 4.4 percentage point fall in the apprenticeship pass rate and Ofsted has expressed concern about the influx of inexperienced training providers.
Based on the most recent figures, for 2017/18, just over 30 per cent of apprentices at all ages are not finishing the course and for the growth area, adults, it is over 35 per cent.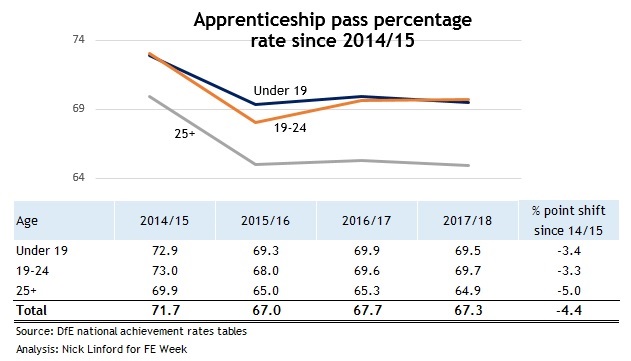 History, and specifically the apprenticeship manifesto target, demonstrates the Conservative Party like a big number and don't seem to care if it does not stack up.
But maybe this time, when it comes to nurses, there will actually be a rise in recruitment levels, even if it isn't as many as 50,000.