A South Gloucestershire and Stroud (SGS) College student has returned from the Acrobatic Gymnastics World Championships in China with a bronze medal for Team GB.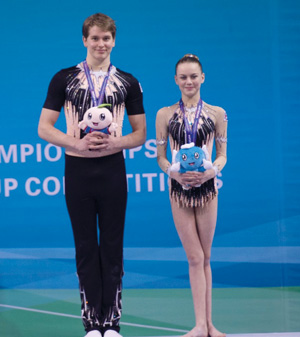 A-level learner Vada Finniear competed in the mixed pair category in the 13-19 age-group with his partner Kennedi Cross.
Going up against 12 other partnerships, the pair got off to a shaky start with their first routine but "calmed down" for their second which saw them qualify for the final.
After a nervous final round, they placed third with Russia in second and America
in first.
Vada said: "The competition was so exciting, and we never imagined we would get a medal, so that made the competition even more memorable.
"Whenever someone has asked me what I want to achieve with gymnastics in the future, the one thing I've always said is to compete in the world championships as a member of Team GB — I'm ecstatic to have actually done it."
The 18-year-old, who studies classical civilisation, design technology, film studies and product design at SGS, is a member of Harriers Acrobatic Gymnastics Club.