Matty Lock saw more than he bargained for during a rugby coaching trip to Africa this summer, but it was all worth it as his efforts were Royally rewarded with a visit to Buckingham Palace,
writes Billy Camden.
After returning from a rugby coaching trip to Africa inspired by his studies, a former East Riding College student has a new outlook and appreciation on home life.
Matty Lock, aged 18, said he always wanted to do charity work but something a bit different from "normal projects".
He developed his own rugby programme and took it to four small communities within the Kwahu Eastern regions of Ghana.
Over four weeks, he worked with around 30 children aged seven to 11 in each community, coaching them in ball catching techniques and co-ordinating games and activities to improve their motor skills.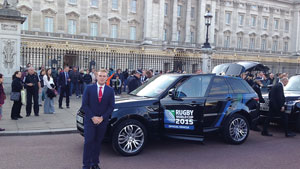 Matty said: "For years I've been wanting to tick things off my bucket list and traveling to Africa to volunteer and make a difference in the world is one of them.
"All of my ideas came from training courses with the Rugby Football Union (RFU) and on my sports course at college."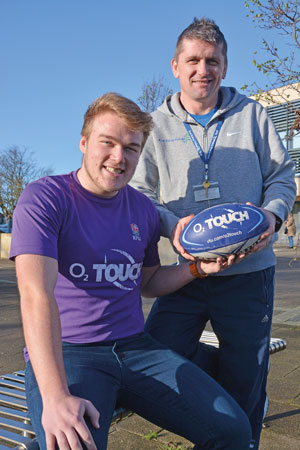 Matty completed a level three BTec diploma in sport coaching, development and fitness course last year at East Riding, and supported Matt Jeffery, the college sport maker, in delivering sessions to students in all courses. He has also travelled all over the UK with the RFU delivering coaching sessions in schools with the aim of promoting the legacy of the 2015 Rugby World Cup.
He said he was "overwhelmed" with the enthusiasm and encouragement the African children gave to each other, especially considering it was a new sport they were learning.
"Going over there [Africa] with a ball that is oval shaped, the children looked a bit bemused at first. But they adapted really well learned a lot through practical work."
But the experience was also a "surreal" one for Matty.
"When I was out there I didn't expect to see what I saw and it was quite hard sitting there and thinking of the facilities and resources we have at home. Despite the poverty, as the children I was with always had a smile on their face and emotionally it did get to me."
Determined to make a permanent impact, Matty spent money he had saved up for university to supply clean and sterile resources for the local hospital, take large quantities of food and water out to remote villages with no access to clean water or food, and provide safe drinking water for the schools he taught in.
He also paid £200 for an unemployed builder called Quasi to construct toilet blocks at a local school, as pupils previously had to urinate next to the school building.
To top off his experience, Matty was invited to a private celebratory reception at Buckingham Palace in recognition of his work in promoting the importance of this year's Rugby World Cup.
He said meeting the Royals was an "unforgettable experience".
"The highlight was seeing Prince Harry, especially because he has done so much work out in Africa. We seem to have a couple of things in common now."
East Riding sport maker,
Mr Jeffery, said the college is "very proud of what Matty has achieved in his studies, in supporting and running extra-curricular sports sessions
and in his project in Africa".
"His story is an inspiration to other students and shows what can be achieved with the right mix of motivation, enthusiasm and determination."
Main pic: Matty Lock coaching school children in Ghana