An investigation is being carried out by government officials into apprenticeship giant Aspire Achieve Advance, after claims made by a whistleblower.
FE Week revealed last week that Ofsted's latest inspection of 3aaa – which holds the largest ESFA apprenticeship allocation – had been declared "incomplete" following intervention from the Education and Skills Funding Agency.
We can now reveal that 3aaa had been expecting a grade 1 outcome and the inspection has been classed as incomplete owing to an ongoing investigation led by the ESFA.
FE Week also understands that the provider is facing an employment tribunal claim from a former employee who does not wish to be named.
The employee raised concerns that now form part of the ESFA investigation after they were set out in a letter to 3aaa bosses, seen by FE Week, dated February 28, 2018.
A response from Di McEvoy-Robinson, co-founder and director of 3aaa, also seen by FE Week, stated that this had sparked an "internal review", and that the allegations had been referred to the ESFA.
Neither 3aaa nor the ESFA would confirm to FE Week whether the allegations were shared.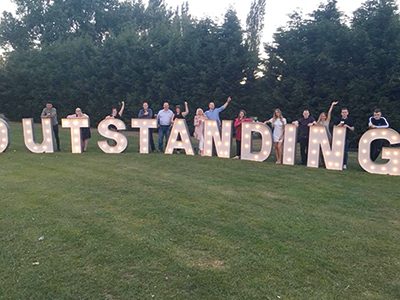 Ofsted originally confirmed on June 20 that it had inspected the provider in May and nothing was amiss.
"The report is currently going through our normal processes and will be published in due course," a spokesperson said at the time.
And FE Week can reveal that 3aaa held a staff conference at Derbyshire County Cricket Club where it is believed they celebrated the expected outstanding grade (see picture).
And co-founder and chief executive Peter Marples took to social media to describe an "amazing week – challenging but back to back 1 it could be".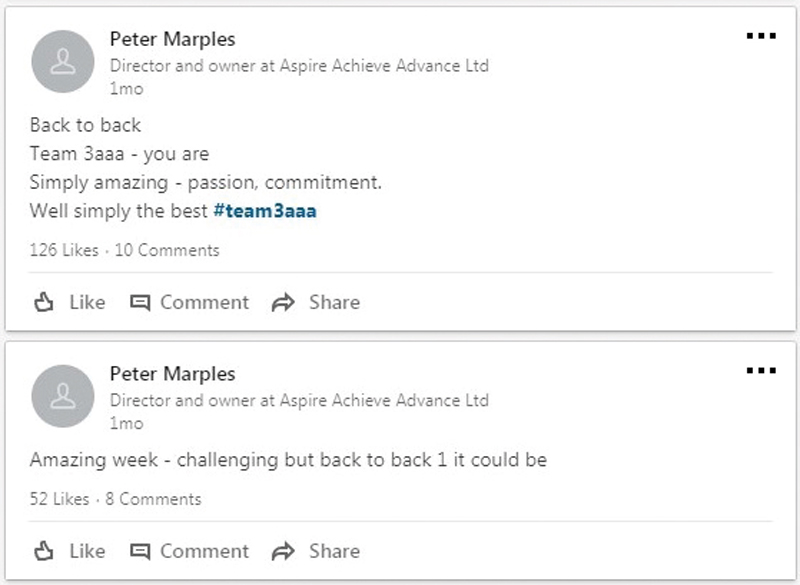 But there was a change of position shortly before the report was published and the inspectorate released a second statement to FE Week mentioning "new information".
"Given new information that has come to light, we have decided to declare our inspection of Aspire Achieve Advance Limited incomplete," a spokesperson said.
"In due course, pending further information from the EFSA, we will decide whether we need to return to the provider to gather further evidence."
The provider has seen significant growth under the leadership of Marples and McEvoy-Robinson, its chief executive and director respectively. In 2015 the provider was awarded an "outstanding" grade by Ofsted.
Its allocation for non-levy apprenticeships now stands at nearly £22 million, which is up from £5.5 million at the start of the academic year.
Direct ESFA funding increased from just £390,000 in 2012-13 to £3.6 million the following year. It rose again to £12.5 million in 2014-15 and to £21.7 million a year later.
Its apprenticeships include IT, software, digital marketing, accountancy, financial services, business administration, customer service and management.
3aaa, at the time of going to press, has not provided a comment on Ofsted's decision, the ESFA investigation, or accusations made by the whistleblower.
The ESFA would say only that it never comments on whether investigations are taking place.