Meet Rachael Carr — one of Team UK's six-strong alumni support.
Rachael, aged 26, who grew up Knott End, Lancashire, started as an advanced apprentice for BAE systems in 2006, and competed in WorldSkills London 2011 in the team manufacturing challenge (pictured above).
She's now a systems engineer at BAE and has returned to WorldSkills to help the UK competitors prepare and cope with the mental challenges of the world finals.
FE Week caught up with Rachael to find out more about engineering, competing  and her love of variety.
How did you get involved in WorldSkills?
"Our company entered the national and regional competition and we got a silver in nationals and we were training up towards Calgary in 2009 and then the government stripped back the funding and they couldn't take us, because MTC is a really expensive skill.
"And then in 2010, because it was going to be in London in 2011 they ploughed a lot more money into it.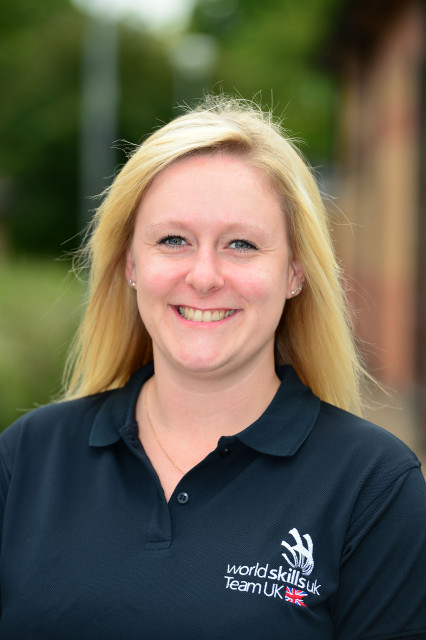 "And they were trying to showcase the engineering and manufacturing side of things to show the best of British — so we got our funding back again.
"The company said 'Do you want to go back?' And we were like 'hell yeah' so we just started training."
What was your favourite thing about WorldSkills?
"The networking side of things — I work in a big company and what I do in my company is quite small and specific compared to every other skill you ever see at WorldSkills, I've got quite a lot of knowledge of what I'm doing but I've got no idea about stonemasonry and mobile robotics and I was absolutely fascinated by it all.
"It's a massive eye-opener — I work in a massive company and its nothing compared to WorldSkills."
Team UK has just over a week to go. How were you feeling at this point?
"I was really excited— it doesn't hit you until you're there. And I'm a list writer and I was making sure I'd packed everything and just going through everything.
"I wasn't practising too much because you can over-practice but made sure I had all the procedures in my head so I didn't break any rules."
What have you done since?
"I've just completed my degree. I graduated this summer. It was amazing, I was the only girl who graduated in my course and there were two of us in the school of engineering and computing, so I was in the minority again but I really, really enjoyed it. It was a really good day."
How did you get into engineering?
"I went to a careers event at Blackpool and the Fylde College when I was at school in Year 11 showcasing all the BTecs rather the academic route. I knew I wanted to go down the vocational route because I'm not a massive fan of being sat and talked at but on a vocational course, the way they put it was 'you're talked to, not at'.
"And I just fancied it — and there were a few courses on offer and I ended up going down the route of a BTec in electronic engineering because it looked fun.
"It was quite varied because you cover 18 topics in two years which is quite a lot. However, it was perfect if you didn't know what you fancied or you didn't know much about it — which you don't when you leave school — because it was just a sample of different things."
What attracted you to engineering?
"I didn't really get told about it at school. I didn't know much about it, I was just wandering  around the college.
"But I love my maths. I'm a big fan of science and anything sort of problem solving-ey and it seemed like an ideal course that encapsulated all of that.
"I love maths because I find it challenging but good challenging — whereas English I find challenging and I get mad because I don't understand it.
"In maths you're right or wrong and if you pick it up, you pick it up and that's it — and science is quite similar in that respect."
What did you make of your apprenticeship?
"I loved it. It was really varied — so you spent a year at the training centre in Preston, doing 12-week tasters and then at the end of the first years you pick what you want to do and I picked a technical apprenticeship over a craft apprenticeship because a technical one was a bit shop floor and a bit office.
"Then I spent two and half years doing 16-week placements in different parts of the business, so you get and overview of the whole company."
What are your plans for the future?
"I want to stay in BAE System — there are just so many different places where you can move and work within the company. I don't really need to look elsewhere because we have everything here. Everyone's just really nice."
Keep up with all the action before and during the competition with FE Week – on feweek.co.uk or on Twitter with the handle @FEWeek and the #GoWSTeamUK hashtag.