Sir David Collins earned £0.5m in three years as FE commissioner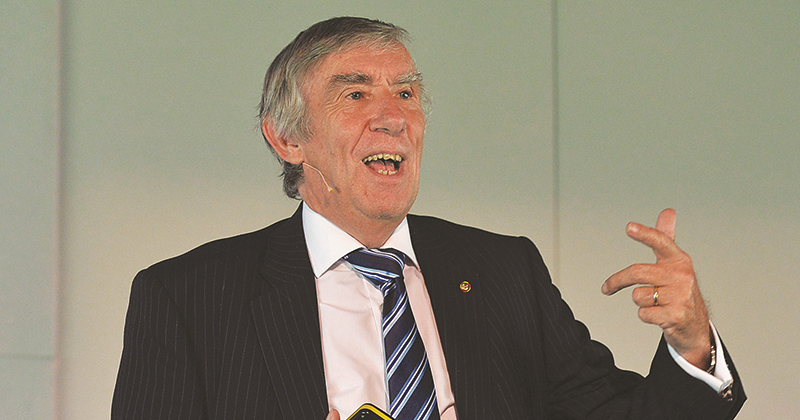 The former FE commissioner Sir David Collins earned just under £500,000 for doing the job part-time, it has been revealed, though he also did twice as much work than had originally been planned.
The role was advertised in 2013 with a rate of £800 a day for an average of two days' work a week.
A Freedom of Information request by FE Week revealed that Sir David (pictured) worked for a total 618 days over the three years he was in the job, which equates to an average of four days a week.
He earned £494,400 in consultancy fees, and tendered £44,310 in expenses.
The extra workload is understood to have come about from the area reviews of post-16 education and training, for which Sir David took a hands-on approach.
He discussed his punishing schedule during FE Week's area review summit at the Festival of Skills in July.
He said: "I have done 15 steering group meetings in different parts of the country in 15 working days, which doesn't make me very popular at home but which does make me really popular with Premier Inns, where I seem to spend a lot of my time."
As reported by FE Week in 2013, the original job listing for the FE Commissioner role said: "The post is offered on a two-year fixed-term contract, with an expected commitment of around 80 to 120 days each year."
The role was created to tackle failing colleges and to drive improvement across the sector through the intervention process – although it was widened in 2015 to include the area reviews.
Sir David worked on 49 interventions and 22 area reviews between November 13 2013, when he was appointed, and November 11 this year, when he retired
These began in September 2015, and are due to finish by March 2017.
The majority of the 37 reviews have been chaired by either the FE commissioner or the sixth form college commissioner, Peter Mucklow.
Sir David has also been part of the overall area review advisory group.
FE Week's FOI showed that Sir David worked on 49 interventions and 22 area reviews between November 13 2013, when he was appointed, and November 11 this year, when he retired.
Despite Sir David's heavier-than-planned schedule, the workload was advertised unchanged when the search for his successor began earlier this year.
That advert said the role was "being offered on a two-year fixed term contract, up to a maximum of 330 days. The role will be remunerated at £800 a day."
It is thought this is because the work of the commissioner is likely to slacken off as the area reviews wind down.
The Department for Education announced Richard Atkins, the former Exeter College principal, as the new FE commissioner in October.
According to information published by the DfE, he is leading four of the eight reviews in the final wave, and is understood to have taken over any unfinished reviews from earlier waves that were previously led by Sir David.
During his first major speech since taking over the role, Mr Atkins told delegates at the Association of Colleges conference in November that he hoped to be much less busy once the reviews were complete.
He said: "I hope that it'll be lighter after March. I hope the workload will become more manageable and I'll have the chance to spend more time out and about sharing with you the lessons we've learned."
He also joked about having had "one of those very short apprenticeships we don't approve of" with Sir David as his "master".
"He left me with the two essentials for this job – the Network Rail map of England and a guide to very best Premier Inns," he said.