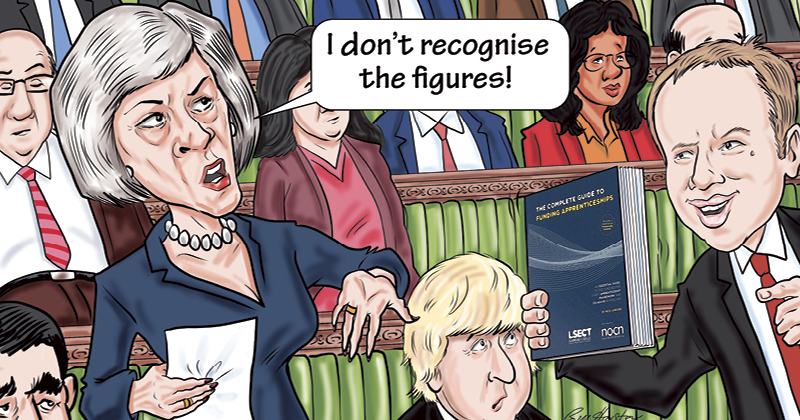 The prime minister is like a "drunk in a china shop", according to one motor industry chief, because she claims she does not "recognise" potential cuts of up to 50 per cent to apprenticeship funding.
Responding to Theresa May's comments, which were made during a grilling at Wednesday's prime minister's questions, Steve Nash, the chief executive of the Institute of the Motor Industry (IMI), accused her of being unaware of the damage she was doing to apprenticeships.
Ms May told the Labour MP Richard Burden that "I simply don't recognise the situation [he had] set out in relation to apprenticeships" after he quoted Mr Nash, who previously described the situation as a "car crash".
FE Week first revealed contentious cuts of between 30 and 50 per cent in apprenticeship cash for 16- to 18-year-olds in August – a scenario that has sent shockwaves through the further education sector, especially as cuts seem set to fall across some of the most deprived areas of the country.
I simply don't recognise the situation he's set out in relation to apprenticeships – Theresa May
In his question to the prime minister, he first asked her to congratulate engineering firm ADI Group for its scheme to boost the interest of 14- to 16-year-olds in engineering, before saying: "Her words of congratulation would mean rather more if they were not accompanied by cuts of between 30 and 50 per cent in apprenticeships funding, a programme which the institution of the motoring industry has described as 'a car crash'."
Rattled, Ms May replied: "I, of course, am happy to commend the company that he has referred to, and of course the West Midlands are an important driver in terms of engineering skills in this country, but I simply don't recognise the situation he's set out in relation to apprenticeships.
"We've seen two million apprenticeships created over the last six years, we're committed as a government to ensuring more apprenticeships are being created – that's giving young people opportunities, like the young people I met when I went to Jaguar Land Rover, to learn a skill, to get into a job, to get into the workplace and to get on where their talents will take them."
According to Mr Nash, her answer was "typical of this administration".
"They are either deliberately misunderstanding or, like a drunk man in a china shop, they are unaware they're about to break everything," he said.
The controversy arose when new funding rates for apprenticeships, which are due to kick in from May 1 next year, were unveiled by the Skills Funding Agency in August.
Analysis by FE Week demonstrated that funding for 16- to 18-year-olds would be slashed by between 30 and 50 per cent, especially in deprived areas.
A large number of the courses currently used by the motor industry, filling around 13,000 apprentice spaces each year, will be subject to significant cuts – a fact which concerns the IMI.
The news has "sparked fears" within the retail motor sector that it will suffer a trainee drought when the cuts are put in place next year, which it says will worsen "an already critical skills shortage across the country".
"Employers around the country will struggle to get training places for their apprentices under this system," said Mr Nash at the time. "It begs the question: how this can possibly support the government's aim to create more apprenticeships?"
The prime minister's comments followed another grilling, for the education secretary Justine Greening, who was quizzed by MPs about the cuts during an evidence session of the Commons education select committee the same morning.
Asked if she shared the "very serious concerns" about the cuts, particularly in relation to social mobility, she said she would "look really carefully" at the responses to the ongoing consultation.