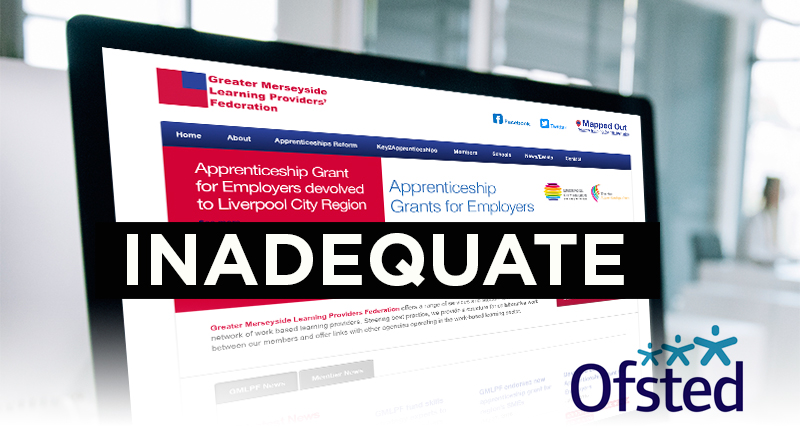 A damning inadequate Ofsted rating has been handed out to a not-for-profit organisation that subcontracts out all its Education Funding Agency provision.
The report on Greater Merseyside Learning Providers' Federation returned grade four ratings in all headline fields.
The organisation, which subcontracts its provision to 15 EFA-funded work-based learning providers that deliver traineeships and study programmes on its behalf, was previously rated good-overall by the inspectorate in May 2013.
The first of Ofsted's key findings was that the federation's "safeguarding is ineffective — managers do not require subcontractors to report safeguarding incidents to them promptly and systematically".
The board was also criticised for failing to "focus closely enough" on monitoring the quality of subcontractors' provision.
The report, published yesterday (Thursday), added: "Several directors are employed by subcontractors which results in a lack of impartiality and objectivity."
Inspectors also found that managers at the federation, which had an EFA allocation of almost £2.1m in 2015/16, failed to "set individual performance targets for subcontractors relating to the quality of teaching, learning and assessment", or "achievement of learning goals".
While managers had "invested significantly in activities to improve the provision", inspectors found the impact of these activities had not been properly checked.
Concerns over learners' achievements, attendance and progression were also highlighted.
Inspectors complained that "too many" were not achieving their qualifications.
"Learners are unable to improve their work because teachers do not provide sufficient constructive feedback on its accuracy and quality," the report added.
English and maths attainment was further criticised, with Ofsted noting that "managers place too little importance on the need for learners to improve" in these areas.
But inspectors praised its commitment to "recruiting young people who are not in education, employment or training", and for the support it gave to "enable learners to overcome barriers to learning".
The subcontractors, all based within the Liverpool City Region, include Alder Training, Alt Valley Community Trust, Jelli Studios, JM Education, Joint Learning Partnership, Mactac Training, and Maritime and Engineering College North West, and Mode Training Limited.
The others listed in the report are North West Community Services Training, Progress Sports Limited, Riverside Learning and Education Centre, Street League, Training Plus (Merseyside) Limited, Ellesmere Port-based TTE Training Limited, and Young Persons Opportunities Project.
James Glendenning, chief executive of the federation which employs seven full-time members of staff, told FE Week: "We are of course extremely disappointed with the Ofsted report and post-inspection we have taken swift and immediate action and put a robust improvement plan in place."
The Department for Education was still unable to confirm ahead of publication whether or not the EFA would be terminating its contracts with the federation, following the inadequate rating, despite the enquiry being lodged yesterday morning.