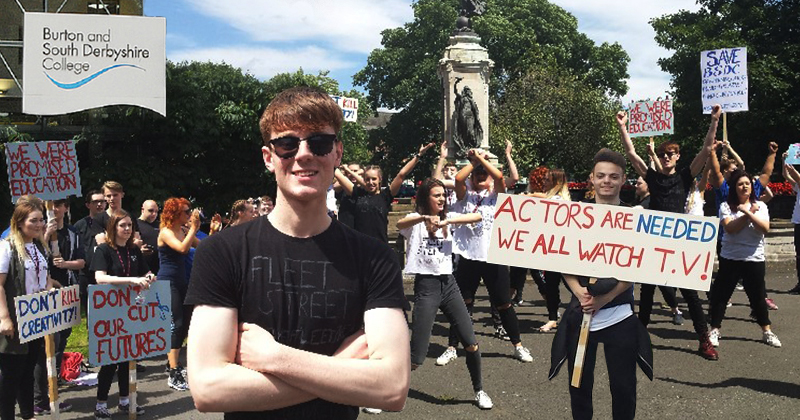 Performing arts students who took to the streets to save their courses are celebrating after college leaders decided against cutting them.
FE Week reported on the protest by a large group of Burton and South Derbyshire College learners — many of whom were expecting to continue in the second year of performing arts courses after the summer holidays — in early July.
The college has now confirmed it has decided to spare this subject from the axe, following a consultation, although a number of other courses will still be dropped from 2016/17.
A spokesperson said: "We can confirm our proposals will move forward with the exclusion of our performing arts provision — as our employees within this department, have brought forward credible plans to mitigate any proposed cost reduction through income diversification.
"Learners wishing to undertake or continue on a performing arts programme from 2016/17 will now be able to do so."
The news was welcomed by level three BTEC extended diploma in performing arts student Euan Broughton, who helped organise the protest.
He told FE Week: "I am absolutely thrilled. Not only for us, but for the prospective year one students that have been granted access onto the course. It feels like a personal victory to every single one of us.
"The fact that we put in a lot of effort and so many past students supported us, shows what the course means to everybody.
"The difference for all of us now is we know where our future lies and that's at Burton and South Derbyshire College."
Another student off the same course, Baylee Haywood, said the protest "showed the college our determination and passion".
The fellow 17-year-old added: "I don't think we would currently have the chance to go back to college this year if it wasn't for the performing arts staff.
"It wasn't just the protest that helped, the department was working hard behind the scenes making business plans and proposals."
Courses that it is understood will still be dropped include E3 motor vehicle, animal care, brickwork (excluding apprenticeships), and painting and decorating.
The college previously blamed falling student numbers and resulting Education Funding Agency funding cuts for the cutbacks.
Burton and South Derbyshire, which Ofsted rated grade three-overall in April, down from 'good' in 2012, was allocated £9.98m by the agency for 2015/16.
A college spokesperson has now told FE Week: "The programmes removed from the curriculum offer have no existing learners affected by the decision, but will no longer be open for learners to enrol on in the future.
"The college's information, advice and guidance team are available to support those who were interested in the affected courses to choose alternative provision at this college or provide options to study similar courses elsewhere."
Photo caption: Students protesting in early July (photos taken by Burton Mail)