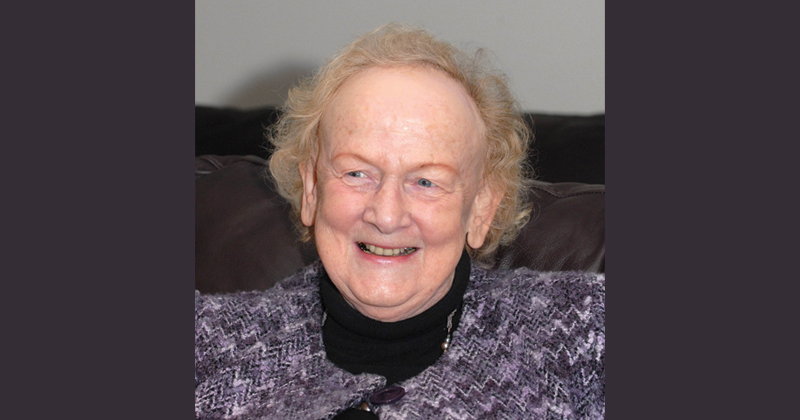 Liberal Democrat Peer and tireless FE advocate Baroness Sharp warned of the chaos being created by rushed apprenticeship reforms in her farewell parliamentary speech.
The 77-year-old, who was Liberal Democrats education spokesperson in the Lords from 2000 until 2010, is officially retiring from the House of Lords.
She spoke exclusively to FE Week after dedicating much of her final speech yesterday to her hopes and fears for the sector — expressing concern that the government was trying to do too much at once with apprenticeship reforms and "the result at the moment is pretty chaotic".
The former academic, who joined the Social Democratic Party in the 1980s before working closely with Liberal Democrats leader Paddy Ashdown in the 1990s on policy development, explained why she developed a passion for the sector.
Baroness Sharp said: "The first legislation I ever took through the Lords was the Learning and Skills Bill in 1999 – 2000 .
"This set up the Learning and Skills Council, which basically oversaw and provided support for colleges after incorporation.
"Working on the Bill put me in touch with all sorts of FE-related organisations, like the Association of Colleges, which really helped improve my contacts with and knowledge of the sector."
She has fond memories of working closely with former skills minister John Hayes after the 2010 election— during the early years of the Conservative and Liberal Democrats coalition government.
"He was firmly behind the idea I promoted of FE colleges taking much more of a lead role in their communities – through linking with employers and organisations like the NHS and Job Centres to ensure local skills training really reflected the needs of the local labour market.
"We had some success, but that was unfortunately swept aside when Matthew Hancock took over as minister, as his emphasis was more on handing control to employers."
She opposed the introduction of 24+ advanced learning loans for FE students, explaining: "I think the government must maintain some responsibility for skills training and that should involve a degree of subsidy.
"We have seen a huge drop in numbers of more mature people in both FE and higher education since loans were launched, because these people have more responsibilities than under 19-year-olds – like a mortgage or family to support – which puts them off taking on more debt."
Last year she was a member of the House of Lords Select Committee on Social Mobility, which came out in favour of a new 14–19 transitional education stage, saying that it would "enable a tailor-made route to work to be developed".
Baroness Sharp, who was profiled by FE Week in 2013, has also been an active member of the All Party Skills Commission, and is still working with them on a report looking into what innovation in the skills sector is required to boost the UK economy.
She said: "I have built up quite a lot of knowledge of FE over the years and would like to continue putting that to use, which could mean working on more reports in future. I just won't be sitting in the Lords and voting according to a party whip.
"It has been a huge privilege to serve in parliament, but it does eat into your outside life. I suppose I'm a pretty conscientious team player, so always wanted to contribute as much as I could time-wise.
"My husband has actually started asking if I really need to go in.  He wants us to spend more time together, and I think that is right.
"We plan to do some travelling, to Thailand next year for example, and it will be nice to have more time to go to the theatre, see friends and for that matter sort out a mass of papers, books and photographs at home."
Baroness Sharp will stay on as president of the Association of Colleges Charitable trust until 2018. She was given a huge vote of thanks from Carole Stott MBE, who is chair of the trust, following her valedictory speech.
She said: "Baroness Sharp has long been a supporter of FE and colleges and it's a pleasure working with her. She has worked tirelessly to promote the benefits of FE."
Many people have taken to twitter to thank Baroness Sharp and wish her well:
@h157_helen @emfec_team totally agree

— Julie Bell BCA (@buliejell) July 15, 2016
Baroness Sharp has been a champion, ally & friend for many years. We all wish her a very happy retirement. https://t.co/4wXuzxglwW

— Shane Chowen (@LWShane) July 14, 2016
Well earned retirement but great loss. Baroness Sharp a fantastic supporter of FE & a wonderful patron of @157Group https://t.co/Ezz2AGr0XS

— Ian Pryce (@ipryce) July 14, 2016
Baroness Sharp will be hard act to follow. Combined political credibility with great economic insight. https://t.co/dcZNTQwEud

— Chris Minter (@ChrisMinter8) July 14, 2016
We wish Baroness Sharp well following her final speech in the Lords – a true champion of #FE, social mobility and lifelong learning #HoL

— emfec (@emfec_team) July 14, 2016