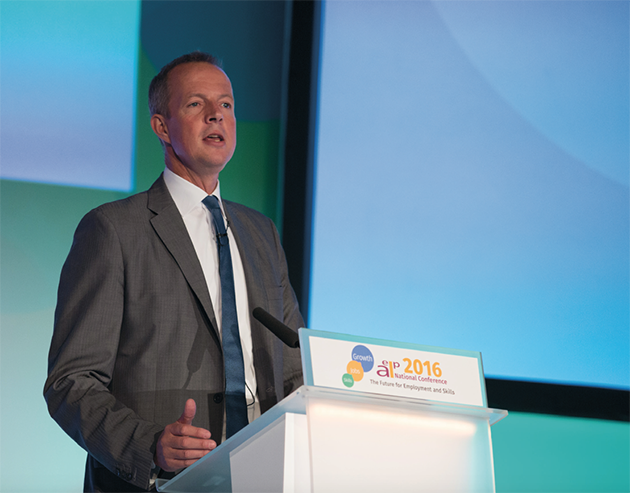 FE Week understands that a long-awaited update to the apprenticeship levy guidance was due to be released tomorrow morning (July 14).
However, skills minister Nick Boles resigned this afternoon, which makes it likely the government will delay any policy announcement before appointing and briefing a replacement.
Mr Boles announced at the Association of Employment and Learning Providers annual conference in June that there would be a "little delay" to the anticipated additional detail about the reforms, which was expected within the month.
He put the extended wait down to the British public's decision to leave the European Union – but told delegates that the information could be expected before the summer recess.
The government had said in April that the additional guidance would cover on a number of critical areas, including provisional funding bands, which will set the maximum amount of funding that is available for each apprenticeship, and the provisional level of government support available towards the cost of apprenticeship training if you aren't a levy paying employer.
Other expected details include the provisional level of the extra payment you can get for hiring 16- to 18-year old apprentices, and the provisional amount that will be paid to deliver English and maths training for apprentices who need it.
The sector is also waiting for the specifics of the eligibility rules that set who you are able to spend apprenticeship funding on and where.
Finally, the latest announcement should bring more information on who can provide apprenticeship training and how to set up an organisation to deliver apprenticeship training.
Mr Boles said this afternoon in a post on his Facebook page: "As David Cameron prepares to visit HM the Queen and tender his resignation I want to add my voice to those praising his remarkable service as Prime Minister and leader of the Conservative Party.
"It was a huge privilege to be part of his Government.
"I want to thank him for offering me the opportunity to serve my country.
"I believe that this is the right time for me to return to the back benches.
"I have greatly enjoyed my time as minister for skills and minister for planning."
When asked this afternoon about the overdue levy guidance, a spokesperson from the Department for Business, Innovation and Skills told FE Week: "There has been no update on the timings for when it will go out."