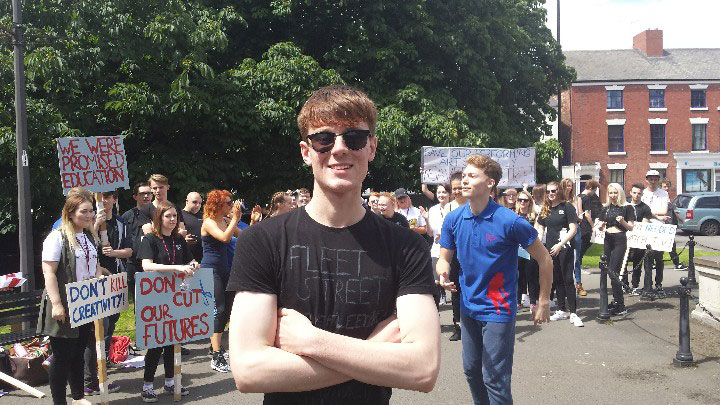 Students protested today outside Burton and South Derbyshire College over plans to axe their courses.
The college confirmed to FE Week that all performing arts, painting and decorating, animal care, brickwork (excluding apprenticeships), and entry level three motor vehicle courses for 2016/17 could be scrapped next academic year, under plans now being consulted on.
The college blamed this on falling student numbers and resulting Education Funding Agency (EFA) funding cuts.
The move sparked a large protest by students — many of whom were reportedly expecting to continue in the second year of performing arts courses after the summer holidays.
A Burton and South Derbyshire spokesperson said: "The College's EFA allocation has reduced as our recruitment of young people is lower than in previous years.
"Our catchment area has seen a decline in the 16-18 demographic and this is what has driven the reduction.
"In addition, the college has been successful in growing 16-18 apprenticeship numbers which have also had an impact."
She added that to mitigate the loss of funding, "we have entered into consultation with a small number of curriculum areas that we are proposing will not run next academic year.
"We are working closely with other providers who can offer courses that are proposed not to run and who are happy to transfer learners so that their learning to date is not affected."
The college, which Ofsted rated grade three-overall in April, down from 'good' in 2012, was allocated £9.98m by the agency for 2015/16.
Allocations for next academic year won't be published by the Department for Education until October.
And the college spokesperson was unable to say what the figure would be for Burton and South Derbyshire in 2016/17 ahead of publication.
Drama student Abbie Wilson, 17, told the Burton Mail that the consultation had come "out of the blue".
She said: "I am devastated as we have just been told our target grade and all got onto the course for our second year.
"When I was told, I just cried – we all have the hope of going to drama school but that might not happen now."
When asked about the funding cut, a Department for Education spokesperson told FE Week the "main reason" for Burton and South Derbyshire's funding cut was a drop in student numbers.
He said the college had been "funded for 2,165 students in 2015/16 against 1,839 in 2016/17", adding "this isn't a cut we have made, rather it is a reflection of their recruitment pattern changing between academic years."
Pic caption: Protesting students (taken by the Burton Mail)