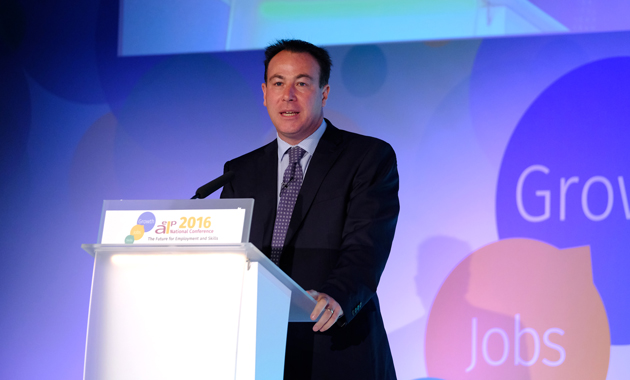 There will be no special treatment for employers which become providers in order to use their apprenticeship levy funding, Ofsted has said.
The education watchdog's apprenticeship inspections will carry on "regardless of where that provision is delivered", according to Paul Joyce (pictured), the regulator's deputy director for FE and skills.
"I can assure you we will not have a two-tier inspection system," he said in a speech to the Association of Employment and Learning Providers' annual conference on June 28.
He confirmed that he is "committed to ensuring that the same inspection regime is used to evaluate the quality of apprenticeships provision, wherever that provision is offered and regardless of provider type".
Ofsted inspections will "apply equally" to colleges, independent learning providers, and "new and existing employer-providers", he added in an effort to reassure a concerned audience.
Mark Dawe, AELP's chief executive, welcomed the speech, saying: "For Paul to say publicly that everyone will be treated the same, not a two tier system – you can't get much more commitment than that."
A spokesperson at the Department for Business, Innovation and Skills (BIS) told FE Week that Mr Joyce's comments on not having a two-tier approach "are correct" and said BIS "will be inviting feedback on the administrative process".
She added: "BIS and the Department for Education continue to work closely with Ofsted who welcome feedback to ensure that their inspection approaches are appropriate."
FE Week understands that employers are nervous about the process of becoming a registered provider, which brings them under the scope of Ofsted inspections – as a bad inspection could undermine their reputations.
Employer-providers have already suffered as a result of this; Citroën UK became the second employer branded 'inadequate' by Ofsted under the new common inspector framework at the end of May.
The report on Citroën, which has a Skills Funding Agency allocation of £1.07m for 2015/16, highlighted concerns over leadership and safeguarding arrangements.
Inspectors found leaders had failed to set their subcontractor "robust and challenging apprenticeship delivery targets" and safeguarding arrangements for apprentices were deemed "inadequate".
A spokesperson for Citroën said: "We acknowledge and accept the need to update the safeguarding elements of the programme.
"This is currently being actioned and will be in place, alongside further enhancements to maths and English provision, prior to a follow-up meeting with Ofsted."
At the time, Mr Dawe warned: "Those organisations engaging with the apprenticeship programme for the first time under the apprenticeship levy may be better off sticking to their core business and instead using the services of an experienced training provider."
Citroën UK's result meant that a quarter of the employers inspected under the new framework launched in September had been awarded the lowest possible rating.