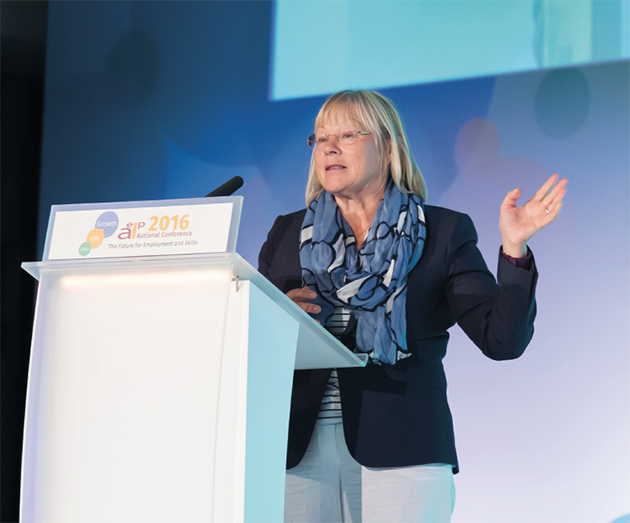 Learning providers should "push their foot through the door" with local enterprise partnerships (LEPs) and not be "downhearted", the chair of one LEP told conference delegates on Monday morning.
Ann Limb, chair of South East Midlands LEP also urged members of the Association of Employment and Learning Providers (AELP) not to worry about LEP board representation and to focus their attention on chief executives and skills leads.
Her remarks came after a welcome address by AELP chair Martin Dunford, in which he revealed that almost half of AELP members felt LEPs weren't involving them in strategic planning.
Honestly, the boards of the LEPs are the last places where you get any business done
Ms Limb told the audience: "Every LEP does have a skills lead."
"I would like to encourage you not to be downhearted by any reaction you've had, and to find out who that skills person is, to push your foot through the door if you need to in terms of getting a meeting," she continued.
LEPs' focus on apprenticeships and willingness to engage with private sector business provided a justification "to go and have that conversation" she said, and find "a way in which you might be able to work with them".
Responding to comments by Mark Dawe, AELP chief executive, that some LEPs had colleges on their boards, Ms Limb said independent training providers shouldn't "worry about being there on the board"
of LEPs.
"Honestly, the boards of the LEPs are the last places where you get any business done," she said.
"The important thing, in any real sense, in terms of the real what we understand as 'business' – because that's at such a high level, a strategic level – you do need to get in with the chief exec and the skills lead. That is critical."
She urged: "That's the level to get in at, don't worry too much about board representation."
Earlier in her speech Ms Limb had acknowledged it was difficult for ITPs to get in to the "LEP space" at the moment, "because if LEPs are thinking about skills they are having, predominantly, to think of it in relation to the area based reviews".
She added: "But I do think you can build on that, and this is an opportunity to try and position yourself as the area based reviews get implemented now."
Ms Limb told ITPs not to think of colleges as "the bogey person".
She said: "You're equally as valid in the training space as they are. You just need to get in there and make your case."
Ms Limb said the AELP "brand" was a good one, but it wasn't as "well known as it should be" by LEPs.
She added: "But there's an opportunity if you keep that brand in people's minds, and keep it in mind because of what you deliver. Please don't be too downcast. Please don't get too swayed out of the zone that you know best, which is fantastic training delivered very effectively because more than ever those training programmes are needed, the skills are needed and valued by LEPs and you have a very significant part to play in helping us work with you to get people skilled up," she concluded.