Furious colleges and training providers slam 16-18 growth funding shortfall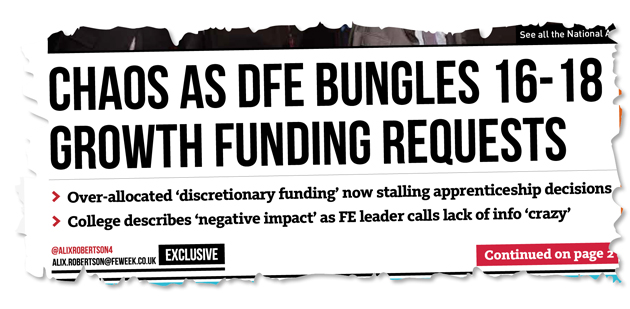 Angry providers have slammed the government's failure to fully fund all their apprenticeship growth requests as "appalling" and "destabilising".
The comments were made by respondents to an FE Week survey carried out in the wake of the Skills Funding Agency (SFA) announcement on 5 February explaining how the money would be portioned out.
The funding agency said it had awarded £25m to colleges and training providers to deliver 16 to 18 apprenticeships in 2015/16 — but that left many providers short-changed, with many receiving much less than they had asked for.
In addition, no requests for traineeship growth had been funded.
The 30 people who completed our survey told FE Week they had put in a combined total of £3,187,179 in 16 to 18 apprenticeship growth requests for the period from August to March 2015/16 (period 1 to 8), but had only received 63 per cent — or £2,009,466 — of that amount.
Jill Nagy, the chief executive of Rochdale Training Association (RTA), said that while they had received all the 16 to 18 apprenticeship growth requests they'd put in for period 1 to 8, they had received no growth funding for the period from April to July.
RTA had already committed to over-delivering to the tune of £150,000 for this period, which was "a risk to us as a charitable body which could potentially rise to £350,000 if we dare to continue to recruit", she said.
Mark Durham, the chief executive of the Training Trust, in Essex, called for "answers from government" on the situation, adding that "the public need to know this to put the pressure on".
Adrian Gunner, the managing director of South West Regional Assessment Centre (SWRAC), described the news that there was no cash for traineeship growth as "appalling".
SWRAC put in a bid for £100,000 in traineeship growth over period 1 to 8, having been effectively encouraged to over-deliver, Mr Gunner said.
As a result, they now have "a substantial number of very vulnerable learners whom we now have a big doubt over how we can help them", he said.
Steve Roe, chief executive of Yorkshire-based Avant Partnership, which had unsuccessfully bid for extra apprenticeship and traineeship cash, described the situation as "potentially destabilising for the whole sector".
In a statement, the SFA said: "We assess all provider growth cases to ensure they secure high quality opportunities for young people."
SFA chief — we can't operate in a demand-led environment
Peter Lauener, chief executive of the Skills Funding Agency and Education Funding Agency, was asked about the growth requests chaos during a talk at The Skills Summit in London on Thursday. He said: "We were not able to allocate so much money to 16 to 18 apprenticeship growth although we were able, after carefully balancing the books in the Department for Education, to allocate £25m additional funding in the current year. It took three weeks longer than we'd originally hoped, but I don't think we reached a bad place even if not everyone got everything that they asked for.
"What no department or agency can do is allocate money that's not there. We've never been able to give an absolute guarantee on growth funding. But we then need to work that into future plans. We're looking now at the allocations for 16/17, which of course are due out very soon. And we'll say, have we got enough in the apprenticeship pot? And if more young people are going into apprenticeships, are there fewer young people going into other routes? We've got the data on that, so we're having to adjust and calibrate.
"We did allocate £25m extra. What we can't do is operate in a demand-led environment. We can't allocate money just on whim. That would get me appearing at the Public Accounts Committee in an indefensible case faster than anything else."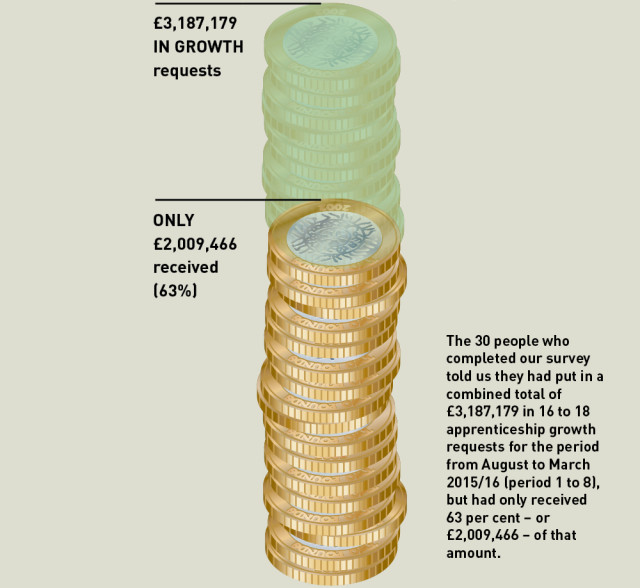 Jill Nagy, chief executive, Rochdale Training Association
"SFA has given us funding for period 1 to 8 to cover all 16 to 18 apprentices on the system at the of period 4 – 100 per cent of period 1 to 8 request. No new funding for traineeships and no growth funding for periods 9 to 12. Our existing apprenticeship carry-in value to period 9 to 12 already exceeds our MCV by circa £150,000. This is a risk to us as a charitable body which could potentially rise to £350,000, if we dare to continue to recruit. The SFA performance management process clearly broke down at review point 1. We now have no confidence in the system and have been given no reassurance that funding will be available and that timetables will be adhered to. The notification that we had been successful with our bid for period 1 to 8 came 80 per cent of the way through that financial period. This is clearly not a sustainable model for managing any business, let alone something as important as growing apprenticeships by 3 million in this parliament."
Mark Durham, chief executive, Training Trust (WFCCTT)
"I think we need some answers from government, not just through the Skills Funding Agency. Also the public need to know this to put the pressure on, not just kept between us in the wider college/provider network.
These numpties were elected on the promise of a future in building the country from within and now the goal posts have been ripped out of the pitch, nowhere to aim at now!"
Steve Roe, chief executive, Avant Partnership
"We will also not be the only provider in this position. Many others, like us will have invested substantial resources (including staff time, equipment, materials, marketing and liaison with referral agencies) in developing what we understood to be priority provision for young people. It is unacceptable and extremely inefficient to continually operate on a stop/start basis, which is unprofessional but also potentially destabilising for the whole sector. How would the SFA want us to respond to the young people and employers?"
Angela Middleton, chief executive, MiddletonMurray
''The position we, along with many other training providers, now find ourselves in is disappointing. The system permits growth requests but in order to be in a position to prove your ability to meet such requests you need to have over-achieved contract tolerance which due to the success of our award-winning 16 to 18 programme, is exactly what we've done. To then be told that due to the national overspend in 16 to 18 provision there is now no funding for growth after all, effectively means that MiddletonMurray has made a 'donation' to the government of over £600k in free training. Whilst we pride ourselves on our commitment to the communities we serve, we hadn't planned on being quite so altruistic as this!"
Adrian Gunner, managing director, South West Regional Assessment Centre
"In response to government policy we have worked to develop traineeship provision to meet a significant need within the local authority areas of Bournemouth, Poole and Dorset. A provision which has been successful and well received by the authorities – working with the most NEET people. The SFA had alluded that growth in this area could be requested and it was clear that the only way to demonstrate an ability to meet growth was by over-delivering. We are now in a position where the SFA have effectively encouraged us to work for no income and we have a substantial number of very vulnerable learners whom we now have a big doubt over how we can help them. For the SFA/EFA and government to take so long to come up with this is appalling and their inefficiencies really do need to be called into question."