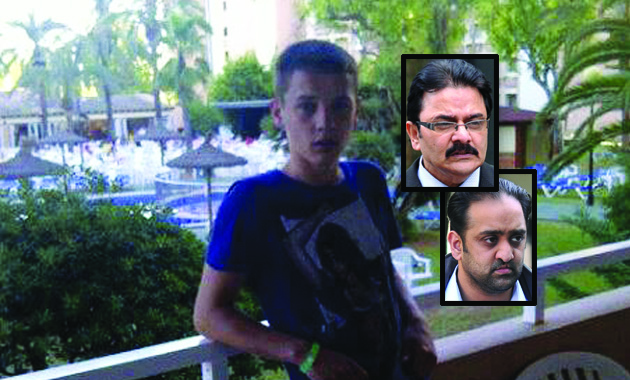 An employer has been jailed for eight months over the death of an untrained 16-year-old boy who became trapped in a factory lathe he was left to operate on his own just a month into his apprenticeship.
Cameron Minshull died after his oversized workwear became entangled with a computerised numeric lathe (CNL) at Huntley Mount Engineering, in Bury, in January 2013.
The teenager, who had only started on the NVQ level two apprenticeship in performing manufacturing operations a month earlier, was pulled into the machine and suffered fatal head and arm injuries.
A Greater Manchester Police (GMP) spokesperson said that Cameron, who was placed in the post by Yorkshire-based provider Lime People Training Solutions (LPTS) which went into liquidation five months ago, had been left to operate the machine "unsupervised, and having been given no meaningful training".
Huntley Mount Engineering boss Zaffar Hussain, aged 59 and of Bridgefield Drive, Bury, admitted neglect under health and safety laws and was jailed on Tuesday at Manchester Crown Court for eight months and banned from being a company director for 10 years.
His son, Akbar (pictured above inset, bottom), 35, who worked as a supervisor at the firm, also admitted breaking health and safety rules and was given a four-month jail sentence suspended for a year, a £3,000 fine and told top pay £15,000 costs. He must also do 200 hours' unpaid work in the community. The company was also found guilty of corporate manslaughter, fined £150,000 and ordered to pay £15,000 costs.
Meanwhile, LPTS was found guilty of failing to ensure Cameron's safety, fined £75,000 and must pay £25,000 costs.
And the Skills Funding Agency (SFA) said it was "looking into the implications of the case" as to whether it should take action with LPTS having been a subcontractor of HIT Training, which has distanced itself from LPTS saying it "played no part in the selection of Cameron onto his apprenticeship programme".
A GMP spokesperson said that Cameron, who was reportedly being paid £3-an-hour, had been instructed to "perform a task which involved him putting his arm inside the machine while it was running, which was made possible due to the safety lock on the machine door being disabled".
Health and Safety Executive (HSE) inspector Sarah Taylor said: "What happened was simply inexcusable. Safety devices are fitted to CNC [computer numerical controlled] machines for a reason and must never be defeated to allow access to dangerous moving parts."
She added: "Organisations that place apprentices with employers should make checks in proportion to the level of risk present in the workplace."
But she said that "LPTS placed Cameron without conducting even basic checks to ensure that it was a safe and healthy environment for any worker, especially a 16-year-old boy".
A HIT Training spokesperson said: "We would like to reiterate our sincere condolences to the family of Cameron. HIT Training has fully supported every step of the HSE investigation and appeared in court as a witness for the Crown Prosecution Service."
LPTS was, she said, approved as a subcontractor in October 2012, following a "rigorous" quality assurance check. However, Cameron was "never processed as starting his apprenticeship" because HIT "was not satisfied with the paperwork provided by LPTS, which was incomplete".
She added that "HIT was not involved with the selection of Huntley Mount Engineering as a company for apprenticeship placement and HIT played no part in the selection of Cameron onto his apprenticeship programme".
Jill Whittaker, managing director of Ofsted grade two-rated HIT, added that "LPTS went into liquidation some time ago. We terminated our contract with them at the beginning of the 2013-14 financial year.
"I believe that the total number of learners who were trained by them, through the subcontracting arrangement with HIT, was about 80 before we cut ties [through SFA contracts worth around £100,000]," she said.
An SFA spokesperson said: "There are clauses in all SFA contracts, imposing requirements in relation to the health and safety of learners with which all lead providers, and their subcontractors are required to comply.
"However, the primary responsibility for the health and safety of an apprentice sits with their employer".
She added: "While LPTS was not an SFA-funded provider, it was subcontracted by HIT Training to deliver this apprenticeship. LPTS and HIT Training did not receive any SFA funding for the apprentice in this case.
"HIT Training is still funded by the SFA and we will now be assessing the implications of the case to determine whether there is any action we should take."