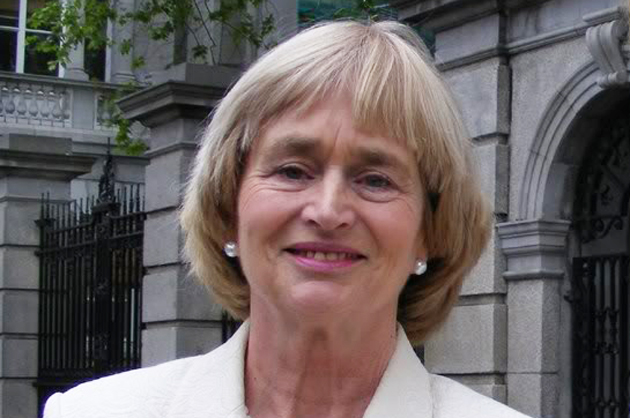 Careers advice, the government's 3m apprenticeship target and impact of the FE funding cuts were at the top of list for the House of Lords social mobility committee in inaugural hearing.
The committee, chaired by Lady Corston (pictured above), was set up to investigate the transition between school and work, and what happens to young people who do not go on to university but are not included in the statistics for young people not in employment, education or training (Neet).
In its first evidence session on Wednesday (July 8) for a report due in March, the committee heard from Peter Clark, joint head of the Department for Education (DfE) participation and careers unit, and Juliet Chua, DfE director for post-16 and disadvantage.
It also heard from Oliver Newton, head of apprenticeship growth, strategy and legislation at DFE and the Department for Business, Innovation and Skills (BIS) and Andrew Battarbee, BIS deputy director, vocational education strategy.

The committee had dubbed the young people they were interested in as "the missing middle", however, Ms Chua said the government did not recognise the term.
She outlined the options available to a 16-year-old, pointing to A-levels, apprenticeships and vocational courses.
She added: "We wouldn't recognise that missing middle as a homogenous group, we would say there is different programme available depending on a young person's employment and interests."
When asked by committee member Lady Sharp what the government was doing to promote the apprenticeship option, to allow people to progress through to top level careers, Ms Chua replied: "Our strategy for meeting the 3m is to essentially grow provision across a number of strands — firstly, we want to continue the reforms we've started.
"We know that giving employers greater control over the development of apprenticeships and the standards means that they'll be relevant to their needs, and we know that we want to encourage existing employers to keep offering apprenticeships and to draw new employers into the programme and we know that a having the right product is the core building block of that.
"Secondly, the public sector needs to pull its weight so we're bringing forward new legislation that will place a duty on public bodies to create new targets and do more to offer apprenticeships."
She added the third strand would be to expand higher level apprenticeships and continue to address quality.
There was a heated exchange between members of the panel and Lord Patel over the effect of the cuts to the adult skills budget.
Mr Battarbee said: "It is very much on colleges to respond to these funding changes.
"What we have done is reduced the funding in ways which reflect the priorities that government has set, so over the past years we've more than doubled the funding that we've put into apprenticeships."
However, Lord Patel accused him of not answering the question, again asking what the impact would be on colleges, learners and potential learners — and whether it would limit their social mobility.
Ms Chua said: "In tackling the deficit the government has had to take some difficult decisions.
"This has clearly been very tough for colleges and we've seen some very good examples of colleges really grappling with some difficult financial decisions but that is because we're prioritising apprenticeships in the way that the budget is being used and given what we know about the return from apprenticeships we want to see the programme grow."
A key concern for committee members Lady Howells and Lady Sharp was careers advice.
Lady Howells asked whether information, detailing clearly and simply the progression and earning expectations for individual careers, was available to young people.
Mr Clark said: "There is that sort of information available from the National Careers Service and individual professions will often make that information available through national websites of professional bodies."
Ms Chua said: "We know Ofsted has highlighted that for careers guidance in schools, the pattern of provision is variable across the country and there's more to do to strengthen it and this is an area we have seen as a priority for us as a department."
She also pointed to the careers and enterprise company launched by the Education Secretary Nicky Morgan in December.
Lady Sharp asked how the company would "fill the gaps" in careers advice provision.
She added: "Will it provide advice across the whole age group? — Because it is as important that a 12-year-old knows about careers education as that the 15 or 16-year-old does and sometimes it's the 18-year-old who needs it."
Ms Chua agreed. She said: "The company's remit is to cover the age range from 13 to 18."
Lady Sharp also asked whether those working for the careers company would be "appropriately qualified", however, Mr Clark said that would not be relevant.
"It will be a championing and facilitating body involved in linking up schools and employers and good practice and so we don't envisage a role in providing careers advice directly to young people so that question about the standards for providing guidance won't apply directly."
Afternoon session of the House of Lords social mobility committee on social mobility — #HLSMC
Evidence came from Dr Claire Crawford, research fellow at the Institute of Fiscal Studies, Dr Abigail McKnight, senior research fellow at the Centre for Analysis of Social Exclusion, London School of Economics and Moira McKerracher, deputy director of the UK Commission for Employment and Skills (UKCES).

Lady Tyler asked what the three panel members thought were the key things the government should bear in mind when trying to improve social mobility in the transition from work to school.
Ms McKerracher said: "Streamlining and improving the vocational pathway for young people. We have about 50 per cent going through the traditional university route but for the other 50 per cent, the progression routes are not clear, they're not easy to navigate and you can't always guarantee this will lead to a really good outcome.
"Yes that means apprenticeships but … the others are going to college or school to do vocational qualifications so we must make sure these other qualifications count as much as apprenticeships do — they should be based on a similar occupational standard."
Dr McKnight said: "I think we shouldn't think that there's a magic bullet to this, small incremental gains are going to be the way to go. There isn't one policy change, otherwise we would know what it was and we could do it. As an economist, we need to improve numeracy — the UK is particularly bad in terms of the gap in numeracy skills between rich and poor children.
Dr Crawford said: "We need to watch out for what's happening in the FE sector.
"FE has seen very big [funding] falls and that is the sector which is going to be the one catering to the people your committee is most interested in.
"And I'm sure the FE sector is doing its utmost to ensure the quality of provision doesn't fall but when you're seeing cuts of 30 per cent to date and expect to see more, it's inevitable that that's going to have some impact on education being offered."
The committee is next expected to meet on Wednesday, July 15, when it will hear from former Deputy Prime Minister Nick Clegg, who had responsibility for social mobility in the last government. Click here to view the first two evidence sessions.