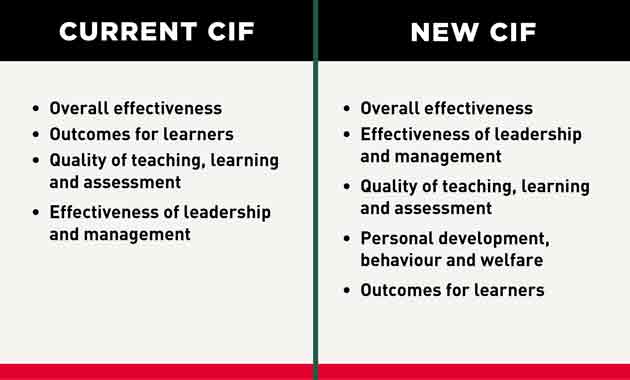 New regional scrutiny committees will consider complaints about Ofsted from September as the education watchdog acts to address transparency criticisms.
The eight bodies, each made up of an Ofsted official not involved in inspections along with an "external" provider leader put forward by "appropriate national representative bodies", will rule on internal reviews of complaints about inspection.
The news comes almost 18 months after the watchdog's complaints system was branded "utterly pointless" by Dame Jackie Fisher, who famously threw inspectors out of Newcastle College in 2012 when she was its chief executive.
It also comes after FE Week revealed last year that of 35 formal complaints from September 2012 to mid-November 2013, 13 were upheld and at least one produced a significant uplift of grades from 'requires improvement'.
The committees will form part of a new common inspection framework (Cif) spanning FE, schools and early years from September.
And the handbooks for the new Cif, which comes just under three years after the current Cif was introduced, were launched at an event in Westminster on Monday (June 15).
Ofsted chief inspector Sir Michael Wilshaw, speaking at the event, said: "I intend to set up a high-level scrutiny committee in each of Ofsted's regions, made up of HMI and senior education practitioners not involved in carrying out inspections for Ofsted. They will assess and rule on the internal reviews of complaints about inspection. Their decision will be binding on Ofsted."
It was exclusively revealed in FE Week in August last year that the education watchdog planned for inspections to be "harmonised" under one CIF.
Ofsted's resulting eight-week consultation on the unified Cif plans, entitled Better inspection for all, closed before Christmas and its subsequent report on almost 5,000 responses indicated broad support.
Gill Clipson, deputy chief executive of the Association of Colleges (AoC), said she was "pleased" to hear about the assumption during short inspections that good colleges remained good.
She added: "Too often we hear from colleges that inspection teams begin from a negative hypothesis which is dispiriting to say the least.
"We are also pleased to see the Ofsted complaints procedure is to be made transparent as this is something AoC has long been calling for."
Stewart Segal, Association of Employment and Learning Providers chief executive, said: "While we are generally content with the direction of travel Ofsted has taken over the new Cif, we have expressed concern at the short timetable for its introduction, especially as the current framework has only been in place for two years.
"Providers' preparation has not been helped by the fact the Ofsted handbook has only just appeared so we need to understand how some of the new elements in the framework such as the application of the Prevent strategy and the delivery of English and maths will be judged.
"We need to ensure Ofsted recognise the differences as to how those policies apply to learners that are employed, such as apprentices."
He added: "The establishment of regional scrutiny committees is a very welcome step.
"For independent providers, for whom a grade four can automatically mean a loss of contract and hence the possible closure of the business, having this new avenue of appeal is a very sensible reform.
"We are pleased we will be involved in ensuring those panels are fair, open and transparent."
The new Cif handbook further sets out a plan to give the assessment of learners' welfare, behaviour and personal development more sway over the outcome of inspections of providers from September.
During the new inspections, judgements will be made on each major type of provision, including study programmes, apprenticeships, traineeships, adult learning programmes, high needs provision and full-time 14 to 16 provision.
But inspectors will no longer make judgements on specific subject areas. Ofsted will also launch new short inspections — as short as two days — for providers previously rated good, conducted on the assumption the institution under scrutiny remains good.
Click here for an expert piece on the new Cif by former FE and skills Ofsted inspector Phil Hatton