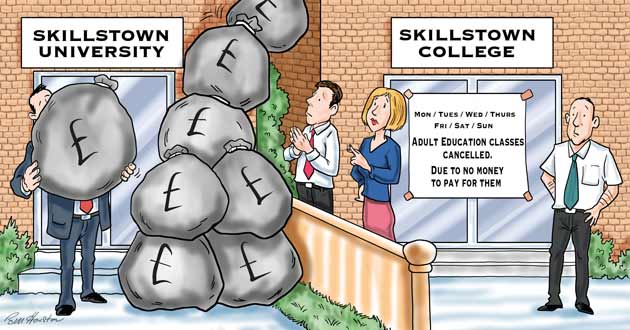 The government should take some of the "buckets of cash" given to higher education and use it to prop up FE, a leading policy adviser has said.
Jonathan Simons (pictured front), head of education at the right-leaning Policy Exchange think-tank, which counts Skills Minister Nick Boles as founder, said the Department for Business, Innovation and Skills (BIS) should divert cash from universities to help FE, which is "falling over".
In an exclusive interview with FE Week, and expanding on his above comments from the Northern Rocks pedagogy conference in Leeds this month, he said the government needed to ensure value for money for "all students, regardless of what route they take".
He said: "In advance of a challenging spending review, we need to think hard about how we best spend all available government funds. When it comes to post-secondary education, the field is currently skewed in favour of higher education."
The sector, already hit facing a 24 per cent budget cut, is waiting to hear how a £900m in-year cut across BIS and the Department for Education would affect funding.
Indeed, at the time the 24 per cent cut was announced, Association of Colleges chief executive Stewart Segal said: "This is another major cut in budgets for the employment and skills sector while the funding for higher education continues to increase. This is the wrong focus while we are trying to give vocational learning the status it deserves."
And cashflow concerns after the Skills Funding Agency (SFA) announced it was delaying a decision on growth requests for extra provision already delivered until after the July 8 Budget, have prompted some providers to halt apprenticeship intakes.
Mr Simons said: "When the adult skills budget is being cut by 24 per cent in 2015/16, and at the same time the higher education sector reports discretionary reserves for 2013/14 equivalent to just under half of their entire annual income, I'd expect BIS to think hard and work with colleges, universities, employers and training providers to ensure value for money in education for all students after the age of 18, regardless of what route they take and which qualifications they study."
A BIS spokesperson said: "Any funding decisions will be made following the spending review."
But Mr Simon's call for a review of higher education funding in relation to FE was echoed in the National Institute of Adult Continuing Education (Niace) submission for next month's Budget.
"Partners across the sector recognise that to improve both understanding and take-up of skills training, from employers and individuals alike, we need to strive for greater simplification of the structures, funding streams and qualifications levels underpinning both FE and higher education," it said.
It added: "We propose that government creates a single funding agency for all post 19 funding, merging the functions of the Skills Funding Agency and the Higher Education Funding Council for England."