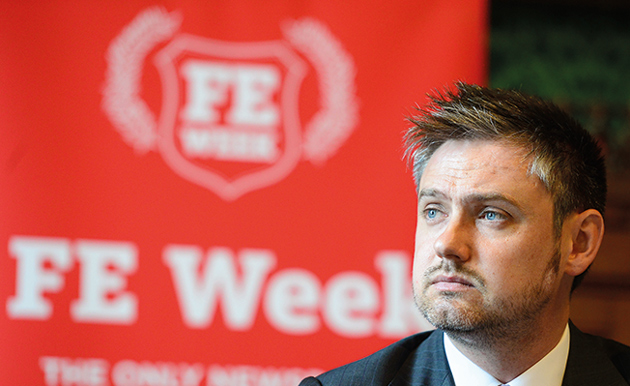 The government is making a "dog's breakfast" of apprenticeships by making providers wait until after next month's Budget before learning if they'll get paid for provision already carried out, Shadow Minister for Young People John Woodcock has said.
In an exclusive interview with FE Week, he said the block on the Skills Funding Agency (SFA) telling providers the outcome of their quarter three growth requests was "needlessly creating problems".
The uncertainty over whether providers will be funded for apprenticeships already started, as revealed by FE Week a fortnight ago, has forced providers to stop taking on learners for the programme.
It is likely the government's target of 3m apprenticeship starts by the end of this Parliament will be hit, and some providers have even warned of having to lay off staff in the wait for news until after Chancellor George Osborne's July 8 Budget.
Mr Woodcock said: "It is clear colleges and independent learning providers across the country are reeling from the decision to just out of the blue rearrange their budget — and they're doing their best to provide the education and opportunities that the young people coming through rely on but they're at sea at the moment.
"The government does have a real responsibility to put back some stability into the system or it is going create damage beyond even the scale of the cuts it has already committed to make."
He added that Labour had "a critically important role try to help hold government to account as it is making the decisions like the dog's breakfast that has been made over the growth requests".
He said: "It is crazy and it is needlessly creating problems and difficulties for providers to deliver the service that they do and are passionate about."
The delay in announcing whether providers would receive extra cash for over-delivery of apprenticeships and traineeships — seen as key areas for the government — follows an announcement by Mr Osborne that he wanted to see in-year savings of £450m each from the Department for Business, Innovation and Skills and the Department for Education, with FE earmarked for cuts.
However, Skills Minister Nick Boles told MPs that the £900m of cuts would not all fall on the sector.
Apprenticeships were protected in this year's budget allocation, which saw swingeing cuts of up to 24 per cent for all non-apprenticeship funding.
The SFA declined to comment on Mr Woodcock's remarks, repeating the statement that was made when FE Week first reported the growth funding announcement delay. An SFA spokesperson said it was "to ensure in-year funding is considered in line with government's wider financial position".
She added: "So far, in the 2014 to 2015 funding year, we have fully funded credible growth requests at performance points one and two, recycling £50m funds into apprenticeships and traineeships."
Mr Boles declined to respond to Mr Woodcock's comments.
Click here for coverage of the FE Week meet the new Shadow Minister event at Parliament and here for the event programme, including list of attendees
---
Editor's comment
---
Growth cash today with no further delay
When FE Week exclusively reported the SFA delay to the quarter three growth allocations the consequence was inevitable.
Independent learning providers and colleges posted comments online to say they would be, or indeed had started, scaling back on apprenticeship recruitment.
At the FE Week event in Westminster on Tuesday (June 18), one provider also described how this was damaging its hard-won relationships with employers.
It is clearly ridiculous for the sector to scale back at the same time as the government has set ambitious growth targets. So how have we found ourselves in this position and what should be done about it?
The Treasury blocked the SFA from making allocations ahead of the July budget.
But the government's 3m apprenticeships target requires a strong partnership between government and the FE sector.
It simply can't be achieved against a backdrop of mistrust and uncertainty.
So, with the support of the SFA, the Association of Employment and Learning Providers should invite Treasury officials to their annual conference.
Let these policy-makers hear first-hand how damaging the delay is proving and demand the growth funding is allocated without any further delay.
Chris Henwood
chris.henwood@feweek.co.uk