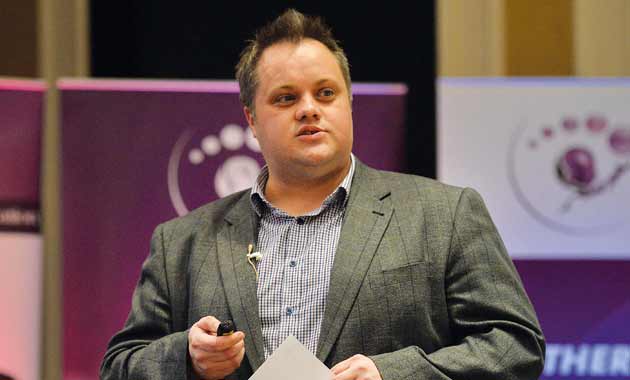 Providers hit with an unexpected and "agonising wait" to find out if they will be paid for apprenticeships and traineeships they have already started have halted further recruitment and are even contemplating job cuts.
The Skills Funding Agency (SFA), as exclusively revealed on feweek.co.uk, said it was delaying the outcome of growth requests from providers who have over-delivered on their contracts until after the budget on July 8.
The uncertainty over whether providers will be paid — even for government-prioritised 16 to 19 apprenticeships — has forced providers to turn away learners while some could be forced to lay off staff.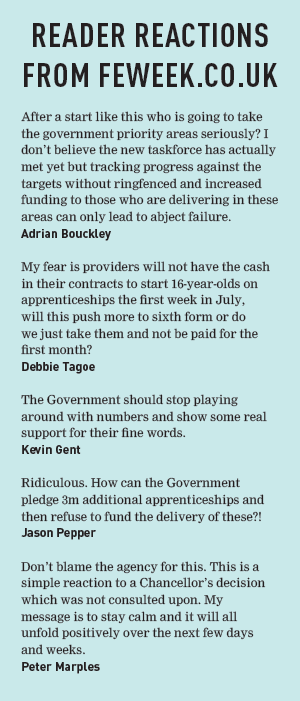 Mike Gore, director of Blue Apple Training, a provider with more than £800,000-worth of SFA subcontracting, told FE Week he could be forced to cut jobs because of uncertainty about the future in connection with the delay.
He said: "We are in the process of trying to agree with our lead contractors for next year but because everything is on hold we don't know what we will get, so it doesn't allow us to plan for the future, which has an impact of security of staff jobs."
And Chris Baker, of Crackerjack Training, a lead provider with a current SFA allocation of almost £1.5m, said in a comment on feweek.co.uk website that his firm had been forced to suspend its traineeships intake as "we cannot afford to take the risk of delivering a programme that may not be funded".
It comes after Chancellor George Osborne's announcement that he wanted to see in-year savings of £450m each from the Department for Business, Innovation and Skills and the Department for Education — although Skills Minister Nick Boles told MPs that the £900m of cuts would not all fall on the sector.
However, concerns have been raised about the impact of potential curbs to growth funding on the government's
3m apprenticeships target
in this Parliament.
And sector bodies have warned that providers should not be left "short-changed" by non-payment following delivery.
David Corke, director of education and skills policy for the Association of Colleges (AoC), said the 3m apprenticeships target was "ambitious", and that a "common-sense" approach from the SFA was needed if it is to be met.
He said: "I hope the SFA and other agencies will take a common sense approach to make sure colleges and other providers are not short-changed.
"Although this over-delivery of apprenticeships affects a small number of colleges and other providers, it is important that they are paid for the work they have done."
Dr Lynne Sedgmore, 157 Group executive director, said: "We appreciate that much is unclear in the realm of public finances at the moment, but the need to grow apprenticeships is not one of those things.
"Colleges and providers who have delivered on the clear priority for growth now face yet another agonising wait at a time when their financial position is already difficult.
"If the apprenticeship growth target is to be met, it has to be accompanied by a durable funding settlement which leaves those delivering the provision in no doubt that it will be properly funded. That must happen soon."
An SFA spokesperson said it was awaiting the outcome of the budget before communicating about growth requests to "ensure that in-year funding is considered in line with government's wider financial position".
She added: "So far, in the 2014 to 2015 funding year, we have fully funded credible growth requests at performance points one and two, recycling £50m funds into apprenticeships and traineeships.
"Colleges and providers are responsible for managing their funding allocation or contract value."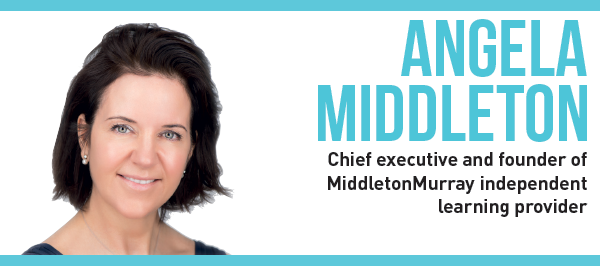 Why the government should guarantee funding for apprenticeships and traineeships
The Skills Funding Agency's delay in announcing whether requests to fund growth in provision sent shockwaves through the sector. Angela Middleton explains how the delay will affect apprenticeship numbers.
This week's announcement that funding for quarter three growth requests will be delayed has understandably caused frustration and fear among providers gearing themselves up to deliver more apprenticeships and traineeships.
The Chancellor announced that the government will save £0.5bn from FE, but there are still plans to protect apprenticeships.
The Skills Funding Agency (SFA) contacted organisations on Monday [June 8] that provide traineeships and apprenticeships to inform them of the delay.
While it was nice to receive an individual call and the representative I spoke to was very understanding of the concerns felt by myself and other training providers, there was very little explanation as to why this has happened, or of the steps that will be taken to rectify the situation for those whose growth requests are outstanding.
MiddletonMurray as a training provider, like many others, has grown capacity steadily in order to deliver in line with government priorities and this involves taking a sensible risk as a commercial business that growth in funding will be forthcoming so long as the stated criteria are met.
The announcement throws us into uncertainty and makes us pull back on the business development we do with employers and the encouragement we offer to young people in relation to apprenticeships, because as much as we want to deliver this service, we have costs to cover and cannot be left overly exposed financially.
Progress in apprenticeship starts for our specialist area of 16 to 18-year-olds will stall
Stuart Segal, chief executive of the Association of Employment and Learning Providers (AELP), has said that he was "disappointed" by these developments and stressed that the delay would cause problems for both prospective apprentices and employers, who have made a commitment to a programme, the terms of which have now suddenly been changed.
We at MiddletonMurray are making schools and colleges aware of the opportunity of apprenticeships, and are effectively building the desire of young people to go into the world of work through an apprenticeship, often preceded by a traineeship.
Like many, we work tirelessly to help young people not in education employment or training (Neet) and small and medium-sized employers (SMEs) see the benefits of apprenticeships. We've also worked hard to achieve a grade two in our recent Ofsted inspection thus making us eligible to obtain traineeship funding, but despite this, we are now effectively in limbo.
It's completely understandable that cuts need to be made, and the new government is under obvious pressure to do so. Upon his election, Prime Minister David Cameron's first promise was to create 3m new apprenticeships, and I don't believe he will backtrack on this promise.
What seems to have happened is that while the cuts are being worked out, funding for apprenticeships and traineeships has been grouped together with all other funding within the education system and rather than going ahead with growth on those protected categories, everything has been held up while cuts in those other areas are being calculated.
I myself am confident that the funding for the traineeships and apprenticeships is 'safe' and will ultimately be awarded to providers such as MiddletonMurray.
However, being made to wait for the government to make cuts in other areas means that the progress in apprenticeship starts for our specialist area of 16 to 18-year-olds will stall, young people who were excited to be going into jobs through apprenticeships will be disappointed, and SMEs will wonder why having made the decision to give youth a chance, they are now being told to wait. Let's hope this isn't for too long.